Federal stimulus payments have been critical to Kentuckians making ends meet during the COVID-19 crisis and to spurring a modest return of jobs, new data shows. But unless the U. S. Senate agrees to further rounds of payments and other aid in the midst of the resurging pandemic, the recession will be longer, deeper and more painful.
Stimulus payments supported families and boosted the economy
The CARES Act provided federal stimulus payments of $1,200 to adults and $500 for children, payments that totaled $4 billion in Kentucky. Those checks have been successful in helping shore up family budgets and boosting otherwise collapsing consumer spending in the face of coronavirus-caused job losses.
New Census data shows that 65% of Kentucky adults reported using the payments primarily for expenses; 13% used them mostly to pay off debt (which can help support consumer spending down the road); and only 13% used them mostly for savings. The payments were even more important for Kentuckians struggling to get by with low-incomes: 90% of those with a household income below $25,000 reported using them mostly for expenses.
In addition to meeting vital needs, as intended the payments helped prop up spending at a wide variety of businesses that were facing cratering demand for their products and services. Of those using payments primarily for expenses, 86% reported using a portion for food, 75% for household supplies or personal care products and 65% for utilities and telecommunications, as shown in the graph below. Significant shares also reported using portions for rent or mortgage payments, car payments, clothing and paying off debt.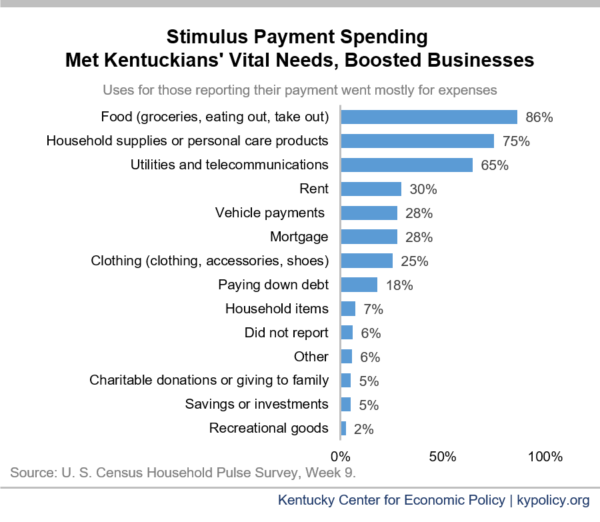 Those payments were essential to preventing layoffs from rising further and to bringing back at least some jobs more recently in hard-hit industries. Real-time data shows the receipt of stimulus payments was the critical turning point in the return of Kentucky consumer spending, as shown in the graph below. The major spike in consumer spending happened when stimulus payments began being received around April 15, compared to the more modest growth in spending as businesses started reopening. Notice Kentucky consumer spending has fallen for the last few weeks, in part because the effect of stimulus payments has begun to fade.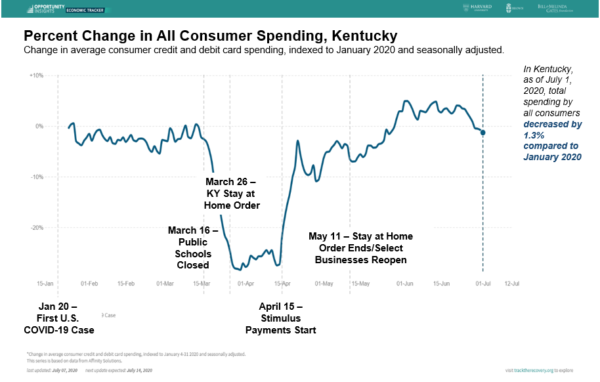 Much more aid is needed until the recession and pandemic are behind us
The economy remains weaker than perhaps at any point in modern history. States reopening too early and failing to provide adequate protections are leading to rapidly rising COVID-19 cases and reduced economic activity. The reemerging crisis makes federal aid to a damaged economy absolutely critical — including support for state and local governments, extensions of the supplemental $600 a week in unemployment benefits and more stimulus payments.
The U. S. House passed the HEROES Act in May, which contains many essential forms of aid including additional stimulus payments that would total $5 billion in Kentucky. Those payments take the form of $1,200 in direct cash payments to each adult and each child up to a maximum of $6,000 for a household. The Act also makes people eligible for payments who were left out of the CARES Act, including working immigrant households who pay taxes with an Individual Taxpayer Identification Number.
The U. S. Senate, however, has not yet agreed to more aid, and there are serious concerns Senate leadership will only concede to modest levels of assistance that fail to meet the severe economic challenge we face. Unless the Senate agrees to robust aid that continues until the economy has fully recovered and the pandemic is behind us, Kentucky families and communities face more trouble to come.