June 25, 2023 – June 28, 2023
Kentucky State University, Frankfort KY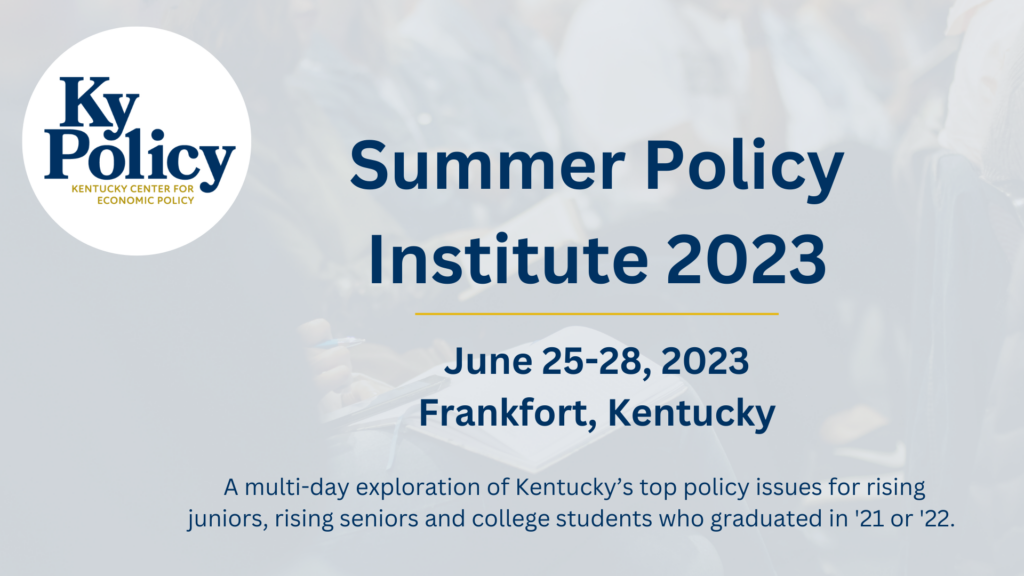 KyPolicy Summer Policy Institute will bring together students from across the state to participate in a multi-day exploration of Kentucky's top policy issues through a combination of seminars, panel discussions and workshops.
Students will stay in our state capital at the historic Kentucky State University, build their network with Kentucky's public policy professionals, gain confidence in their own advocacy and gain a general knowledge of:
How the state's budget and tax system affect Kentucky citizens
How to use data to advocate for policies that build a thriving future
Policy issues hindering and helping Kentuckians today
The legislative process in Kentucky
Students will be paired with a KyPolicy expert mentor based on their policy interest areas and walk away from the program with a deeper understanding of that issue and a finished project.
Tuition is free.
In its first year, the institute will accept 12-15 participants. We ask students to commit to attending every day of the institute and completing four one-hour video courses the month before the program and to read any prep work handouts.
KyPolicy has a vision of a government that puts people first and fosters equity in all policies. We envision abundant resources for investment in schools, health care, infrastructure, and other public goods by requiring those with the most to pay their fair share of taxes. In order to get there, we will need new leaders who can envision a debate that is informed by facts, driven by hope and not fear, and grounded in a belief that all are created equal.
SPI aims to foster Kentucky's next generation of public policy leaders by providing current college students and recent college graduates in Kentucky – of all ages, backgrounds and geographic locations within the state – with an opportunity to participate in a residential four-day training in policy analysis and advocacy.
Who Can Apply?
Current college students who are at least in the last semester of their sophomore year of college. Former students who graduated in 2022 or 2021. All majors are encouraged to apply, especially applicants studying social work, public policy and related fields.
If you are a college professor, please share this information with your students! Professors can also email aspalding@kypolicy.org with the name and email address of a student/recent student you would like to recommend to the SPI program. We will then reach out to these individuals directly to encourage them to apply.
When will the application be available and what is the application deadline?
The SPI application will go live on Jan. 27, 2023. All applications must be submitted by March 31 in order to be considered.
When will applicants be notified?
Decisions will be made by the end of April.
For access and accommodations questions related to KyPolicy's Summer Policy Institute, please contact natalie@kypolicy.org.
History of KyPolicy Summer Policy Institute
KyPolicy is excited to kick off our first-ever Summer Policy Institute (SPI) in June 2023. The concept was reworked from Oklahoma's Summer Policy Institute model with much influence and support from both the North Carolina Budget & Tax Center and West Virginia Center on Budget & Policy. This inaugural program has grown through the support of the National Social Worker Association – Kentucky Chapter and Social Work professors, students, and professionals across the state.
How to apply.
Please email a letter of interest in participating in the program to Ashley Spalding at aspalding@kypolicy.org. The letter should be no longer than 500 words and specifically describe what participation in the SPI program would mean to you (i.e., how it relates to your personal and/or professional interests and what you are hoping to learn).
Also, fill out and submit responses to short questions in this google form, which asks for your name, pronouns, current county of residence, academic background (degrees in progress or attained and dates of attendance and name/s of institution/s), 2-3 state policy issues you are interested in learning more about, race, ethnicity, phone number, mailing address, T-shirt size, and the opportunity to add anything else you think is relevant.
The form will also ask you to sign a statement indicating that, if accepted, you understand the program includes the following components. Your participation in all aspects of the program is needed in order to be successful: 1) up to 4 hours of prework assignments over the course of a month prior to the SPI program; 2) in-person participation in the program.