While new jobs data from May shows a small uptick in employment, Kentucky continues to struggle with unprecedented job loss. And a close look at the data shows troubling signs as continued layoffs in state and local government partially counteract the modest number of jobs coming back in the private sector. Congress must provide much more in federal aid or we will see additional cuts in public spending that will further weaken the economy and extend the pain of the recession.
Layoffs have been massive, and the uptick in May was very small
Kentucky, like other states, has experienced enormous layoffs due to the COVID-19 pandemic. Over 1 in 6 Kentucky nonfarm jobs disappeared between February and April, according to Bureau of Labor Statistics data. Historic barriers based on systemic inequities have meant Black Kentuckians were hit particularly hard: while they made up 9.8% of those employed and covered by unemployment insurance, Black Kentuckians were a disproportionate 12.4% of those laid off and qualifying for unemployment benefits.
As the economy began to reopen in May, some people went back to work. But as shown in the graph below, the state gained back only 9% of the net jobs it has lost since February.
Modest job gains in restaurants and manufacturing partially counteracted by layoffs in state and local government
The majority of the restored jobs in May came in two industries: accommodation and food services (especially restaurants) and manufacturing. The gains were small, as shown in the graph below, and overall job loss since February in those industries remains huge. For example, while 17,400 Kentucky accommodation and food service jobs returned in May, there were still 63,400 fewer people employed in that industry than there were three months earlier.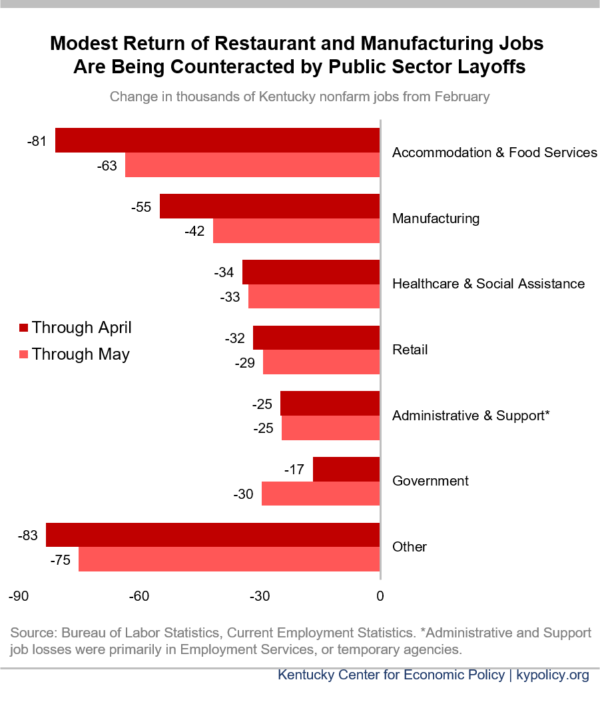 Economic gains from the restored jobs were also partially offset by the loss of jobs in the public sector. As tax revenues dropped dramatically due to business closures and layoffs, state and local governments began reducing their workforces. Kentucky saw the loss of another 12,700 state and local government jobs in May, for a total of nearly 30,000 public jobs eliminated in this recession. A steep decline in public revenues is expected to continue, spelling growing trouble for state and local government employees and the education, health and other critical services they provide.
Recession will be longer, deeper and more painful if U. S. Senate doesn't agree to much more in aid
The small uptick in overall employment in May was not just because of a start to reopening the economy — it was also a result of federal aid measures that passed, particularly the CARES Act. Among other things, that legislation provided $1,200 checks to each adult (plus $500 per child), supplemented unemployment benefits by an additional $600 a month, and provided monies to small businesses and to state and local governments. By providing millions of people money that they, in turn, spent in their communities, the CARES Act and other aid helped prop up the falling economy.
Now, however, that aid is coming to an end unless Congress acts. The positive economic effect of the rebate checks is largely behind us, the extra $600 a week in unemployment benefits is scheduled to end July 31, and aid to state and local governments thus far is inadequate to the huge revenue losses they will face. Aid threatens to end even as COVID-19 cases are increasing in some states, and a vaccine or treatment remains a long way off. If public spending stalls, or if a next round of aid is too small, we'll start to see additional layoffs that will weaken the economy, widen inequities and cause continued pain for families and communities.
The U. S. House has passed the HEROES Act, a bill that would at least temporarily provide the scale of aid that is required to help the country weather the crisis. It is now up to the Senate to agree to a package that includes the assistance Kentucky communities and the economy need in a desperately difficult time.