Black Kentuckians are experiencing job loss at a higher rate as a result of the COVID-19 pandemic than white Kentuckians, according to new unemployment insurance data. A long history of racist policies (slavery, Jim Crow, segregated schools and neighborhoods and white-favoring hiring practices, tax policies and labor standards) has led to black Kentuckians being disproportionately underpaid, underemployed and less financially able to weather economic shocks. To avoid worsening racial disparities and to protect all Kentuckians during the pandemic, the federal government must provide much more in aid.
According to recently released data for April, black Kentuckians made up 12.4% of those who received unemployment insurance (UI) benefits even though they make up only 9.8% of workers whose employer pays for UI – or are "covered." By comparison, white Kentuckians made up 85.0% of claimants, but 86.6% of covered workers.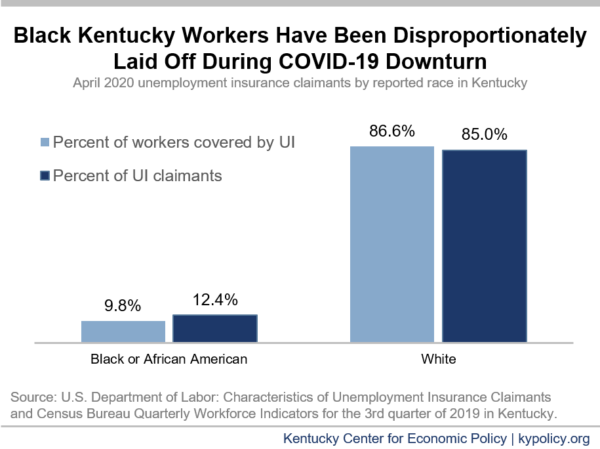 The same data source shows that younger Kentuckians have been much more likely to file for UI than older Kentuckians. For example, year-over-year, Kentuckians age 22-24 had a 2,270% increase in UI claims, whereas Kentuckians age 55-59 had a 733% increase. Young people typically have less wealth to draw from than older people, with young black people especially unlikely to have any accumulated wealth. But even for older black Kentuckians, structural barriers to financial security and wealth make the pandemic potentially economically devastating.
Additionally, UI claims for women rose 1,148% compared to 873% for men, year-over-year. Wage replacement is critically important for the overrepresented increase in layoffs for women, and especially black women who tend to have less to fall back on in hard times than white women or black men.
National employment data for May shows that while the unemployment rate for white Americans ticked modestly downward, the unemployment rate for black Americans continued to rise. Without significant, continued and even expanded federal assistance to individuals through boosted UI benefits (which are set to expire July 31), direct stimulus payments and enhanced food assistance, and to states through further enhanced Medicaid funding and direct fiscal relief, black Kentuckians will continue to bear a disparate share of the immediate economic harm. Robust additional federal aid is essential to preventing  racial inequities from growing further and to helping all Kentuckians get by through this unprecedented economic crisis.