The Senate version of House Bill 358 essentially forces quasi-governmental agencies like health departments and community mental health centers to break the inviolable contract for pensions with their current employees in order to avoid seeing their pension contributions jump to 83 percent of pay.
By taking employees and agencies out of the pension system, the bill would also create added financial challenges for the poorly-funded Kentucky Employees Retirement System (KERS) non-hazardous system.
Bill unnecessarily ties relief for quasis to illegal cut to employees' pensions 
Pension contributions jumped from 49 percent of pay to 83 percent in the KERS non-hazardous system because the governor-appointed majority on the board voted to suddenly lower the actuarial assumptions of the plan to the most cautious in the country. Recognizing that many of the 118 quasi-governmental organizations like domestic violence shelters lack revenue options that would allow them to make those additional payments, the General Assembly froze their contributions at the 49 percent level for one year in the budget that passed in 2018. HB 358 extends that 49 percent contribution level for another year, but with a catch.
Quasi-governmental agencies are required to leave the retirement system. They can elect to opt back in, but starting in 2021 they must start making the unaffordable 83 percent contribution. If they don't opt back in, they must begin a separate payment plan on their unfunded liabilities. All of the current employees of agencies leaving the system will have their pension benefits immediately frozen and workers will be moved to an inferior defined contribution plan for the remainder of their career (new employees are also put into a defined contribution plan). That means an employee who has 20 years in the system, for example, will no longer be able to earn benefits toward their pension even though late in a worker's career is when much of the value is added. It will result in a severe loss of benefits for some, and this change is clearly at odds with the inviolable contract.
Similarly, the bill provides a second exit option for universities that would cap benefits for their existing employees (after 27 years for Tier 1 employees and for Tier 2 employees with an age plus years of service equaling 87). That also contradicts the inviolable contract.
The bill breaks the pension promise to many of the 9,075 employees currently working at quasi-governmental agencies. And it lowers benefits moving forward. Because of inefficiencies, it costs 42 percent to 93 percent more for a defined contribution plan to provide the same level of retirement benefit as a defined benefit plan.
Agencies still face very difficult payments, while KERS stress grows from lower contributions
Agencies leaving the system under the Senate version of HB 358 will still face very difficult payments on unfunded liabilities under the alternate plan that will increase 1.5 percent a year until paid off in several decades. A KRS presentation to the Public Pension Oversight Board in December noted "they could still go bankrupt" at the 49 percent contribution level.
The KERS non-hazardous system will lose the benefit of new employees entering the system from quasi-governmental agencies and the efficiencies of a larger pool of employees (nearly 1 in 4 KERS employees work at the quasi-governmental agencies). Also, the actuarial analysis of the Senate version shows that the terms under which agencies leave the system is a $915 million loss to KERS non-hazardous (if agencies pay in installments) compared to the current terms that are available. That is because KRS will essentially be providing agencies a low-interest loan at approximately 3 percent interest, which constitutes a subsidy because it is less than the assumed rate of return of 5.25 percent.
Better options are available
While the situation is difficult, there are options that do more to ease the pain to quasi-governmental agencies,  protect job quality for employees and decrease the risk to the KERS non-hazardous plan. It is important to note that higher contributions now being made by the state are making a real difference to the pension plan even with the quasi-governmental agencies remaining only at the 49 percent contribution level. As the graph below shows, the plan is experiencing positive cash flow now before even taking investment earnings into account. Should that continue, net assets in the plan will grow, which is what matters most as KERS non-hazardous begins its recovery.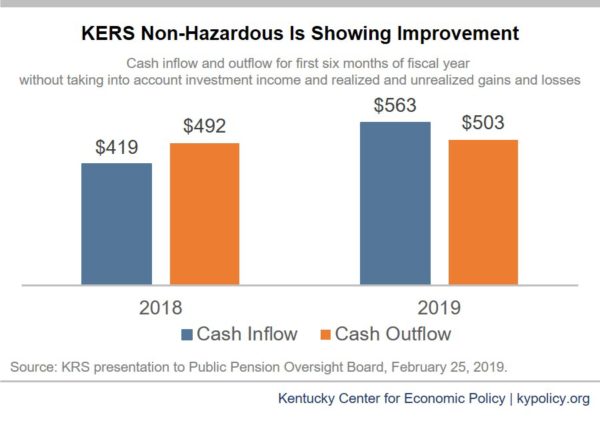 The state could keep the quasi-governmental agencies at the lower 49 percent contribution rate, as proposed by KRS (while converting them to a fixed dollar contribution to ensure payments are made). The General Assembly could also identify new revenue options to help make quasi-governmental contributions possible and allow the state to afford additional payments to KERS non-hazardous when needed to ensure net asset growth. And the state could pause extra contributions aimed at getting retiree health plans to an unnecessary 100 percent funded ratio, contributions which make up 12 percent of the 83 percent total. Most states don't burden themselves with that requirement, yet Kentucky continues to do so despite the rising costs on the pension side.
Updated March 13, 2019. Quasi-governmental organizations include 7 regional universities, 13 community mental health centers, 61 local health departments and 31 agencies including domestic violence and rape crisis centers. They are detailed in this presentation.