In March and April, Medicaid enrollment in Kentucky grew by 67,216, largely in response to COVID-19. This sudden increase in participation is a good sign that Medicaid, as a health insurance program for low-income Kentuckians, is responding exactly as it was designed to – including through a special, temporary form of coverage called presumptive eligibility (PE). To ensure Medicaid can continue to do its job without a huge strain on already cash-strapped state governments, Congress should provide additional funding through an increase in the federal share of the program spending.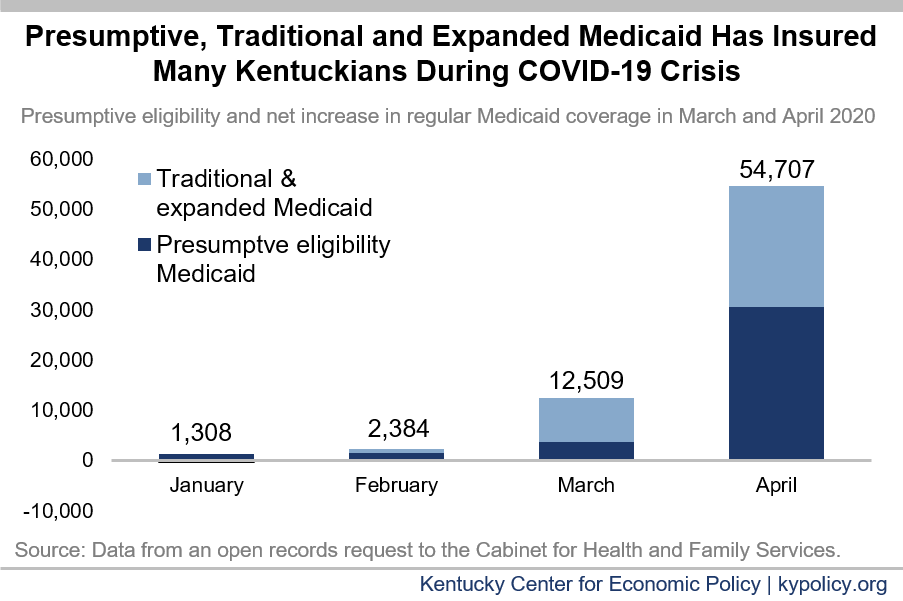 Both traditional and expanded Medicaid enrollment quickly grew after COVID-19 pandemic started
After two years of steady decline, Medicaid enrollment grew in both March and April for a combined net increase of 33,018 (2.5%). Traditionally eligible children and adult enrollment grew by 9,939 (1.9%) and 11,107 (3.0%) respectively between February – before COVID-19 cases were diagnosed in Kentucky – and April. Enrollment for low-income adults newly eligible after the 2014 expansion grew by 11,972 (2.7%).
In addition, the number of people disenrolled from Medicaid fell from 19,174 in February to 6,054 in April, in large part due to a requirement in the Families First Coronavirus Response Act that states stop removing people from coverage except for a handful of reasons (death, moving out of state and asking to have coverage stopped). This stipulation was attached to the 6.2 percentage point increase in the federal government's share of spending on traditional Medicaid programs also in the act. The requirement removes barriers Medicaid enrollees normally face, allowing many to keep Medicaid coverage through the month after the national state of emergency has ended.
Presumptive eligibility played an important role in Medicaid coverage increase
A special health coverage option through Medicaid known as presumptive eligibility (PE) has allowed an additional 34,198 Kentuckians to enroll in March and April. PE provides temporary Medicaid coverage for up to two months with a shorter application than the standard Medicaid application. Kentucky's PE program has two parts: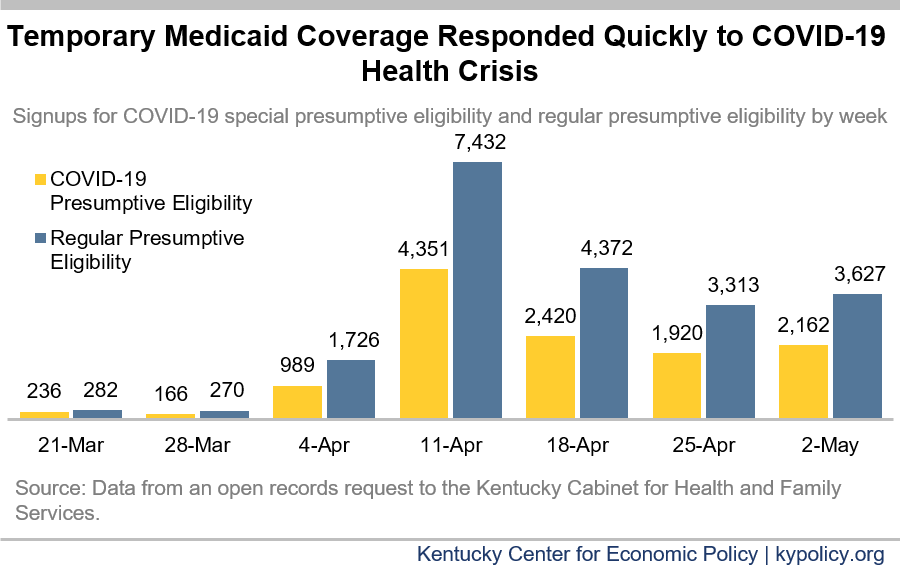 This new PE program in response to the COVID-19 downturn signed up 13,326 Kentuckians since its creation, with regular PE covering an additional 23,736 people in March.
Unlike traditional and expanded Medicaid coverage, PE is temporary, typically lasting 60 days. It is intended to fill the gap that Medicaid applicants experience between when they need care and are finally approved for full coverage, which lasts for a year at a time (though there are exceptions). For those who have enrolled in special COVID-19 PE, coverage will last through the end of the second month following enrollment or through July 31, whichever is greater. This means that the tens of thousands of Kentuckians who got covered with PE will need to apply for full Medicaid coverage, purchase coverage on the health insurance exchange or get coverage through a job (if they are able to safely return to work). Creating ways for those individuals to access affordable health coverage is an important action that Congress should take in the next relief bill.
Medicaid is good for individuals' financial wellbeing and the state's economic health
Beyond providing the medical care that contributes to better health, Medicaid plays a significant role in shielding people from health coverage gaps and financial harm. It also helps hospitals and health care providers continue to get paid during the pandemic and subsequent economic downturn, preserving health care capacity and boosting local economies.
Having health insurance helps keep a health crisis from becoming a financial crisis. Research has shown that Medicaid expansion in particular led to reduced unpaid medical bills, reduced delinquency on medical debt and improved credit scores among households in states that expanded Medicaid compared to those that didn't.
Medicaid is also very important for hospitals and other health care providers. Although COVID-19 related testing should come at no cost for people on most types of coverage, individuals are financially responsible for any other form of medical care if they are uninsured. Often, when an uninsured individual receives care, health care providers go unpaid – what is known as uncompensated care. Already before the COVID-19 crisis, 28% of Kentucky's rural hospitals were financially vulnerable, so a surge in uncompensated care could be devastating. Medicaid coverage, especially Medicaid expansion coverage, is an important tool toward boosting their viability long-term, and therefore preserving health care capacity for all Kentuckians.
This funding doesn't stop at health care providers, though. Every dollar spent through Medicaid generates $1.35-$1.80 in the broader economy. This will be especially helpful in mitigating the harm of the economic downturn we're currently in, and supporting the recovery.
Congress should increase the federal share of Medicaid spending as state revenues shrink and enrollment climbs
As mentioned, the Families First Coronavirus Response Act provided a needed 6.2 percentage point increase in the federal government's share of spending on traditional Medicaid, known as the FMAP. This increase brings the state's share of spending down from 28% to around 22%, representing a reduction in the state's responsibility of $520 million over 12 months, beginning retroactively to January of this year.
While this change is a meaningful first step, estimates for Kentucky's General Fund revenue suggest a shortfall of between $319 and $495 million by July 1, and the state will likely face a shortfall of billions more over the next couple of years. In the past, many states — including Kentucky — have turned to Medicaid cuts to deal with collapsing revenues, which would be especially damaging right now as Medicaid is a key tool for testing, treating and eventually vaccinating against COVID-19, as well as for providing general care for nearly 1 in 3 Kentuckians.
As proposed in the recent HEROES Act, an additional 7.8 percentage point FMAP increase through July 2021 would represent an additional $780 million on top of a 6 month extension of the original 6.2 percentage point increase for a combined $1.7 billion in federal Medicaid funds. This needed increase should be tied to the economy (which the HEROES Act does not propose), only phasing out once the recovery is achieved and state revenues have begun to normalize. This measure would help ensure Medicaid is preserved amidst a global pandemic and climbing enrollment, and alleviate pressure on the second largest appropriation in Kentucky's budget.