For the past three years, 1.7 million Kentuckians on Medicaid have not had to take action to keep their health care coverage. Since that time, thanks to a policy designed to protect health in the midst of the pandemic-induced economic downturn, Medicaid enrollment in Kentucky has grown by 29% as folks have signed up for and retained coverage.
All of that changes beginning in April when the COVID-era protections known as Maintenance of Effort (or MOE) come to an end, requiring nearly 250,000 Kentuckians to take action at some point in the next 12 months to stay on Medicaid or find coverage elsewhere. This is a precarious time for health coverage in Kentucky, where we have seen great improvement in coverage rates that should be protected to the extent possible.
The state will need to act deliberately and carefully to ensure we don't lose those gains, and Kentuckians covered by Medicaid will need to be diligent in responding to the state's requests for information. While federal guidelines and state agency planning have set us up well for an orderly "unwinding" of the continuous eligibility requirement, implementing that plan well will be paramount.
What is the Medicaid "Maintenance of Effort" and why is it ending?
In March 2020, in recognition of the coming increase in joblessness that would lead many to Medicaid for coverage, as well as the increase in state health care costs associated with COVID-19, Congress approved a 6.2 percentage point increase in what the federal government pays for traditional Medicaid. Normally, the federal government pays for roughly 72% of Kentucky's traditional Medicaid program (as opposed to 90% for Kentucky's Medicaid expansion), but under this provision, it paid over 78%. In the three years between when it went into effect (the increased payments were retroactive to Jan. 1, 2020), and the end of 2022, the state received an extra $1.7 billion in federal funds for Medicaid.
But this extra funding came with strings attached. States could only receive it if they offered "continuous eligibility" to its Medicaid members, meaning they could not disenroll someone from Medicaid or enact stricter rules on Medicaid eligibility. The extra federal Medicaid funds that Congress provided more than offset the additional costs of this higher enrollment. This "Maintenance of Effort," or MOE, only allowed states to disenroll members if they passed away, moved out of state, or explicitly asked to be disenrolled from Medicaid.
These were rare exceptions, though, and as a result of the MOE, Medicaid enrollment grew rapidly as hundreds of thousands of Kentuckians lost their jobs, and therefore their health coverage. Between February 2020 (the month before the downturn and MOE) and February 2023, enrollment grew by 396,896, or 30.2%. In doing so, Medicaid prevented a catastrophic increase in the uninsured rate at a time when many needed care and health care providers were facing serious financial strain.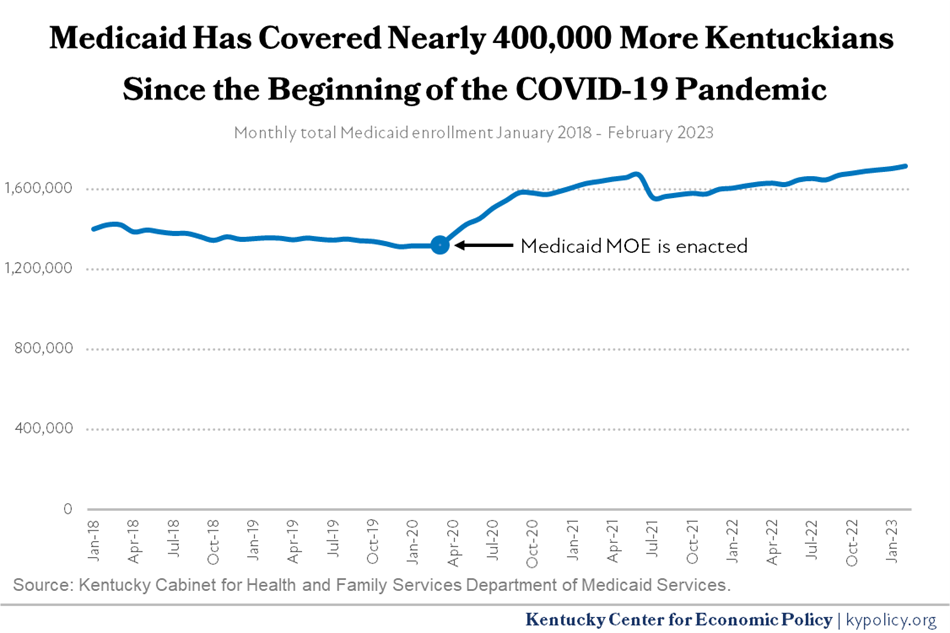 The December 2022 law funding the federal government for the next year made several improvements to public coverage options, but offset the cost for those improvements by sunsetting the increase in its share of Medicaid funding. The enhanced federal funding will be phased out through the rest of 2023
Jan. 1 – March 31: the federal government will continue paying an extra 6.2 percentage points of the cost.
April 1 – June 30: Reduction to 5.0 percentage points.
July 1 – Sep. 30: 2.5 percentage points.
Oct. 1 – Dec. 31: 1.5 percentage points.
With the phase-out of the enhanced federal funding comes an end to the MOE as well. This means that beginning in April 2023, Kentucky's Medicaid program will need to restart its eligibility redeterminations process and require many Kentuckians to submit information to prove they remain eligible.
Who is this going to affect?
For the large majority of Medicaid enrollees, the state will automatically renew their enrollment using existing income and other data. This is known as passive renewal. But 234,131 Kentuckians (13.7% of all Medicaid enrollees, lower than most states) will require what is known as active renewal because the state has checked those same data sources and needs more information to determine eligibility.
While roughly one in seven Medicaid enrollees in Kentucky will need to provide information to the state to keep their insurance or else find coverage elsewhere, the county-level rate varies between just under 8% in Owsley County to over 16% in Washington County. Counties with lower-than-average incomes are more likely to have a higher rate of passive renewals because existing data sources are likely to show that participants' incomes make them eligible. Western Kentucky counties have a larger share of Medicaid enrollees that will need to take some kind of action to keep their coverage over the coming year.
Among those who will be affected by the restarted redeterminations process are Kentuckians who originally signed up for Medicaid based on both their income and a special health condition. Because these individuals are particularly at risk because of their medical needs, they will possibly need to find coverage elsewhere. They include:
4,546 postpartum mothers.
15,991 Kentuckians over 64 years old.
1,485 receiving community-based long term care (1915c waiver participants).
810 Kentuckians in a nursing facility.
Additionally, the state does not plan to passively renew the coverage of 16,448 seniors, 157,471 non-elderly adults and 60,212 children. Children are particularly vulnerable, and the Georgetown Center for Children and Families has identified a serious risk of this group becoming uninsured.
Black Kentuckians with Medicaid are disproportionately among those who will need to take action in order to stay insured. For example, Black Kentuckians make up 9.8% of Kentuckians below 138% of the Federal Poverty Level (the income eligibility limit for Medicaid expansion), but will comprise 14.3% of active redeterminations. Since Kentucky expanded Medicaid eligibility, the disparity in health coverage between Black and white Kentuckians has virtually vanished. It will be critically important that the state is careful in determining eligibility for Black Kentuckians as they are also at a higher risk of losing coverage simply due to paperwork issues, and are less likely to work in jobs that offer health insurance.
How will the state process everyone's eligibility redetermination?
Beginning in April, the state will have 12 months to initiate the 234,131 redeterminations and 14 months to complete them. However, most of the Medicaid enrollees who require active renewal will not even begin that process for several months. The federal Centers for Medicaid and Medicare Services (CMS) that oversees state programs has put specific guardrails in place and will require monthly reports from the states, but otherwise has left it up to each program to determine how to move forward. Kentucky's plan is to organize the renewals by three distinct groups:
May 2023: Approximately 14,000 who were determined ineligible right as the MOE went into place who will likely be disenrolled from Medicaid that month.
May-October 2023: Older or disabled Medicare-eligible members who can stay insured by moving from Medicaid to Medicare.
July 2023-April 2024: Members who will be eligible for coverage through the kynect marketplace and everyone else.
During this time, the state will be reaching out to Medicaid members in a variety of ways. First, roughly 90 days before their eligibility runs out, Medicaid enrollees will get a text and/or email notification that they are about to receive a letter in the mail from the state that they will need to act on if they feel they may still be eligible. When that text/email notice goes out, the state will send out a renewal packet with information the members will need to return. Agency staff are preparing to handle a large number of calls from Medicaid members who will have questions about the process, including what kinds of documents or information will qualify as valid. Call center wait times and the share of callers who hang up before a customer service representative answers the phone are actually two metrics the state will need to report to CMS.
While this process is happening, the state will also be running eligibility checks for the majority of Medicaid enrollees whose Medicaid participation will be passively renewed. These Kentuckians will receive notice of their continued enrollment 60 days prior to the end of their eligibility window.
What options are there for folks leaving Medicaid?
While 234,131 Kentuckians will need to take some kind of action to keep their coverage, not all of them will stay enrolled in Medicaid. For those individuals, it will be imperative that state agency staff help them find another form of health coverage.
Many of these people may already have coverage elsewhere. Because Medicaid is the "payer of last resort," some Medicaid enrollees have a second form of coverage – most often employer sponsored health care or Medicare. In fact, the nearly 16,000 over 64 almost certainly qualify for Medicare if they are not already enrolled.
Additionally, kynect, our health insurance exchange, provides heavily subsidized health insurance for Kentuckians who earn above Medicaid eligibility but don't get health insurance through their job. The state estimates roughly 76,000 Medicaid members who won't be passively renewed likely qualify for subsidized health coverage. Because of the Inflation Reduction Act passed last year, the subsidies on the exchange are more generous than they were in the past. Households will not be required to pay more than 8.5% of their income on premiums — a discount that will be available to households of all incomes (it used to be capped at 400% of FPL) — and reductions in other out-of-pocket costs are available to lower income households.
How can the state improve its redetermination process?
The Kentucky Department of Medicaid Services is already taking many of the steps that national experts recommend for minimizing coverage losses. Specifically, the state has created a public plan for its process, encouraged members to update their contact information, provided an FAQ and created a communications toolkit. With an eye toward transparency, the state also plans to provide a public dashboard with the data it collects throughout the next year. Additionally, the state agency is preparing call center staff to help Medicaid members complete their redetermination paperwork and point members to coverage options elsewhere should they need it.
There are additional steps, however, that the state can take to safeguard health coverage. There are kynectors located all across the state who are able to assist in-person, online or over the phone, and the state can better prepare them to walk Medicaid enrollees through the process. Additionally, there are policy changes that would help children and seniors or people with disabilities ("MAGI" groups). These improvements include changing our Medicaid State Plan to provide longer periods between renewals or limiting the need for in-person interviews, for example.
The state should also simplify the process for creating an account for the online self-service portal through kynect, which is extremely cumbersome and in some cases impossible for Medicaid members to do. The self-service portal is a state-run website where Medicaid and other public assistance participants can view their notices and upload documents rather than mail them or go to an office in-person. By making the account-creation process less onerous, it would allow more members to verify their eligibility online and could reduce call center wait times and prevent unnecessary coverage losses caused by delays and paperwork.
What do Kentuckians who are covered by Medicaid need to do right now?
As mentioned, the state will send letters to all 1.7 million Medicaid enrollees over the coming year, the vast majority of which will be to inform them that their coverage is being renewed based on the state's review of existing data sources. For the remaining 234,131 Kentuckians, the state will provide 90 days notice and specific action steps they will need to take. The most important thing for Medicaid enrollees to do now is make sure their address information is up-to-date so they can receive that letter.
Additionally, starting in April, there are four ways Medicaid enrollees can check to find out when their renewal date will be:
Login into to the kynect self-service portal.
Call the kynect hotline at 855-4kynect (855-459-6328).
Find a kynector to meet with in-person.
Ask your doctor's office to check the KYHealthNet portal that they have access to.