As more Kentuckians are vaccinated, and as American Rescue Plan Act spending supports the economy, people are returning to work in greater numbers and Kentucky's economy is beginning to improve. But the Delta and Omicron variants have been a wrench in the recovery, dampening consumer spending in certain sectors and forcing many Kentuckians to stay home due to illness or care responsibilities resulting from quarantine and school closures. And the depth of the downturn means we have a long way to go to the goal of full employment. 

This tracker brings together some of the most important indicators of how Kentucky's economy is faring, including the falling use of safety net programs. It will be updated as new data are released.
Unemployment Insurance
Initial claims for unemployment insurance for the week ending January 8: 11,219
Continued claims for unemployment insurance for the week ending January 1: 43,652
New unemployment insurance (UI) claims are close to a real-time indicator of labor market health. Continued state unemployment insurance claims are a helpful indicator for how protracted joblessness is, as individuals ask for additional weeks of benefits. The federally-funded Pandemic Emergency Unemployment Compensation (PEUC) program still provides continued claims for some who have exhausted regular state unemployment benefits. But along with other federal jobless benefit programs, it expired in early September and is quickly phasing out for those who remain on the program. 
Supplemental Nutrition Assistance Program (SNAP)
Total SNAP participation in December 2021: 533,897
Percent of Kentucky participating in SNAP December 2021: 11.8%
Value of groceries purchased with SNAP December 2021: $131.7 million
Like unemployment insurance, SNAP responds quickly to changes in the economy, and so it is also a nearly real-time indicator for how Kentuckians are faring. Because it is targeted to people with net incomes below the poverty line ($26,500 for a family of four), it is particularly helpful for knowing the status of Kentuckians with low incomes, who experienced steeper job losses during the downturn. SNAP is a strong tool for reducing food insecurity and improving health, but also for dampening economic harm during downturns.
Because of the COVID-19 pandemic, all SNAP participants receive the maximum benefit per-person, rather than the normal proration of benefits based on income. The temporary 15% increase in SNAP benefit amounts through the December federal relief bill and the American Rescue Plan expired September 2021. However, starting in October 2021, SNAP participants in Kentucky began receiving average benefit increase of 27% thanks to a recalculation of the "Thrifty Food Plan" at the federal level, which is how the value of SNAP benefits is determined. 
Total Employment in Kentucky
Total estimated Kentucky employment November 2021: 1,891,000
Percent change in Kentucky employment from last month: +0.1%
After a historic level of job loss last year triggered by COVID-19, and a steep but partial recovery last summer, the recovery of the labor market has been sluggish. Spurred demand through expanded unemployment benefits and stimulus checks helped to sustain and jumpstart the economy, but those measures have now ended. New proposals in the Build Back Better plan in front of Congress would spur a stronger recovery and create the conditions for a healthy job market in the long term. Changes in total employment reflect the state of the labor market amidst these policy changes.
The following chart tracks the monthly nonfarm employment in Kentucky from the Current Employment Statistics State and Metro Area Employment estimates.
Employment By Industry in Kentucky
Total employment added since April 2020, as of November 2021: 228,000
Employment regained (November 2021) as a share of pandemic-related employment loss (April 2020): 77.6%
As vaccination rates increase and federal relief like the American Rescue Plan Act spurs demand for goods and services, jobs are returning in the commonwealth. But the recovery is being hampered by the Delta and Omicron variants and is not experienced evenly across industries. While industries like construction and financial activities have returned to or are near pre-pandemic levels of employment, low-wage industries like leisure and hospitality are still well behind their employment levels from early 2020, despite having rehired tens of thousands of Kentuckians. Public sector employment continues to remain behind as well. 
Federal stimulus through the American Rescue Plan Act will continue to help maintain the recovery. But proposals in the Build Back Better plan would strengthen the recovery further and help ensure its benefits are widely felt across industries and communities.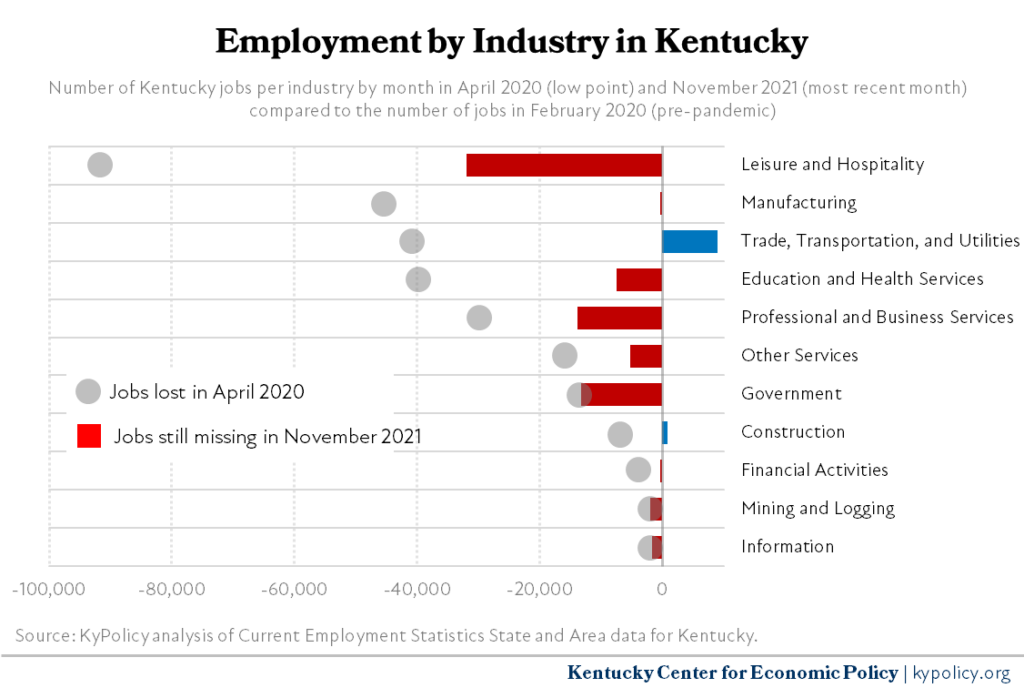 Personal Hardship In Kentucky
The COVID downturn and continuing recovery have made it difficult for many Kentuckians to meet basic needs. While federal programs helped to keep an estimated 707,000 Kentuckians out of poverty in 2021, many of those programs such as the expanded child tax credit, special unemployment insurance programs and stimulus checks have ended. With new variants of COVID-19 continuing to disrupt the progress of the recovery, Kentuckians will continue to struggle to stay current on rent, keep food on the table and afford everyday necessities.