The modest raises provided by most districts this school year were not enough for average teacher pay to keep up with rapid inflation, KyPolicy analysis of new data from the Kentucky Department of Education shows. Average classroom teacher salaries across Kentucky rose only 2.5% this year, which equals a 5.3% decline in inflation-adjusted terms, or a one-year pay cut of $3,152.
This pay cut came after the Kentucky legislature passed a two-year budget without funding dedicated to teacher and school employee raises, and included only modest adjustments to state education funding that fell far short of rates of inflation. It continues a long-term trend. Kentucky teachers now earn $9,704 less per year in the 2023 school year than they did 15 years ago, in inflation-adjusted terms. That's a 14.7% decline, which has affected teachers in every school district in Kentucky and contributed to a growing teacher shortage in the commonwealth — making it more difficult for students to succeed in the classroom and straining the public school system as a whole.
Real teacher salaries in Kentucky are much lower than 15 years ago
The long-term erosion in state funding for local schools — despite a constitutional mandate that makes public education a state responsibility — is the major cause of declining real teacher pay. State SEEK base funding (Support Education Excellence in Kentucky, the state's core school funding formula) is a little over $2.04 billion for 2023 and 2024, slightly less than the $2.06 billion it was in 2022. Years of stagnant funding means that base SEEK will be an inflation-adjusted 27% less in 2024 than it was in 2008.
Yet the problem of public employee compensation was on the radar of the 2022 Kentucky General Assembly. Recognizing years without state employee raises, lawmakers appropriated funds for an 8% raise in 2023 for state workers and an additional, potentially larger raise in 2024. But when it came to schools, the legislature left it up to local districts to stretch existing state and local dollars to cover teacher and school employee raises. The last time Kentucky teachers received a dedicated raise above 2% required by the state was in 2008.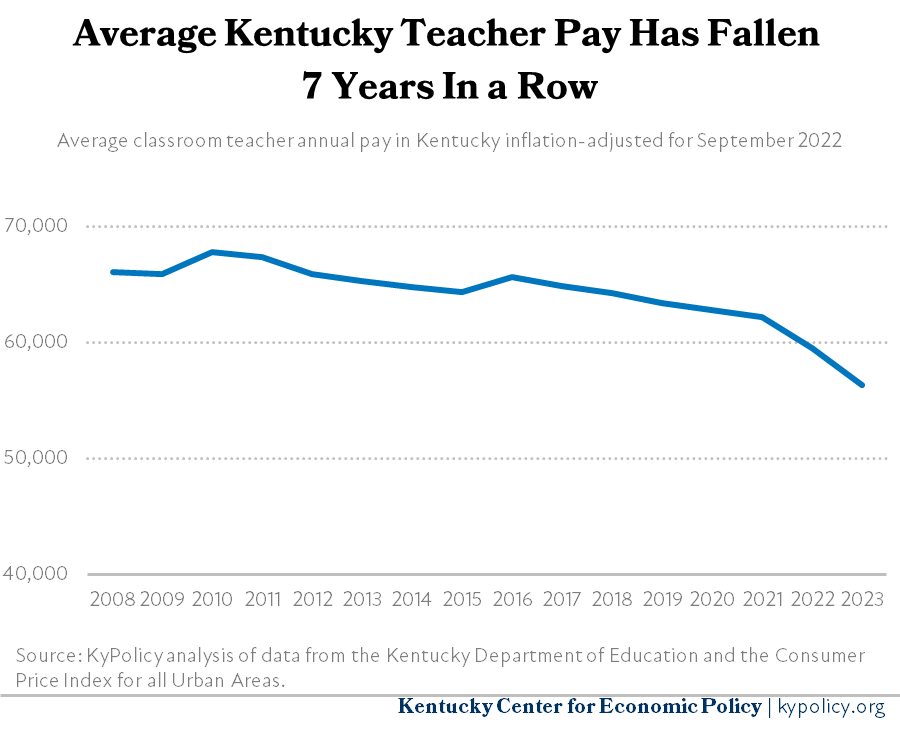 Looking at the district level, teachers have seen a pay cut on average in every district between the 2008 and 2023 school years once inflation is taken into account, ranging from -31.8% in Russellville Independent to -6.0% in Fayette County. Because inflation has been so high over the past year and state funding increases so modest, teachers in all but two districts saw an average pay cut between the 2022 and 2023 school years. Even before adjusting for inflation, average teacher pay declined outright in 18 districts this year. Meanwhile, a total of 13 districts raised average pay an average of over 6 percent before considering inflation.
The problem may even be worse than the data suggest. Data from 2021 shows far fewer new teachers than in 2008, and nearly twice as many teachers with 15-24 years of experience. Because teachers with more years of experience are paid more, the shift since 2008 toward a larger share of higher-paid teachers may have pulled the average wage up, obscuring the real extent of the fall in pay.
In addition, new teachers starting in 2022 have far less generous pension benefits than prior generations of teachers. Falling compensation makes recruitment and retention difficult in a labor market where private sector wages have far outpaced public sector wages. Workload is also a challenge: there are fewer teachers overall now than there were in 2008, despite there being 14.1% more school-aged children in Kentucky.
The General Assembly's long-term underfunding of education is to blame, HB 8 will make it worse
Eroding state funding for public education is the cause of teacher salaries failing to keep up. That problem will become much worse if the General Assembly continues to implement House Bill 8, legislation to cut and eventually eliminate the state income tax. The income tax is Kentucky's largest source of revenue, funding 41% of the state budget. Each half-point reduction in the income tax costs the state budget over $600 million annually.
Teachers and schools require funding that will become even harder to find if the current course of slashing our largest revenue source continues.