The 2022-2024 budget agreement announced today includes only very modest funding increases for critical state services across the budget. Investments in education and other areas are small, especially considering the historic opportunity the General Assembly has with the budget surplus. An important investment the budget does make is substantial and badly needed across-the-board salary increases for state workers of at least 8% the first year and an additional raise the second. However, the incremental increases in the education budget will make it difficult for school districts to afford raises for teachers and other school staff. The budget agreement leaves a significant amount unappropriated in order to pay for the tax cuts in House Bill (HB) 8.
Small changes to education funding given available revenues
The budget fully funds Kindergarten for the biennium. However, total state base SEEK (Support Education Excellence in Kentucky) funding goes down from 2022 levels as shown in the graph below, and in inflation-adjusted terms is 27% lower in 2024 than in 2008, before the Great Recession.
The base per-pupil guarantee amount, which is a combination of state and local funding, increases from $4,000 in 2022 to $4,100 in 2023 and $4,200 in 2024, but the state portion is actually declining in inflation-adjusted terms, as shown in the graph below.
The budget agreement continues to underfund transportation, funding it at $274.4 million a year or 70% of the statutorily required amount; it is currently funded at around 55%.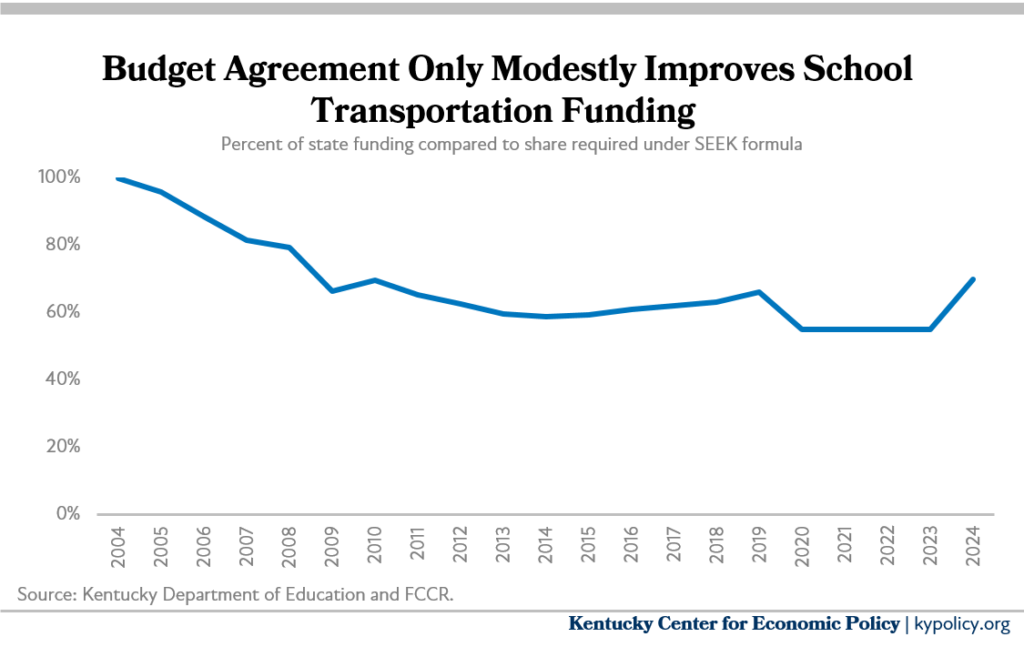 In terms of non-SEEK education funding, there are some increases for Family Resource and Youth Services Centers (FRYSCs), raising the amount from $184 per eligible student to $210, and $7.4 million is provided for mental health professionals for schools. Career and Technical Education funding nearly doubles, with a $127 million investment per year compared to $65 million in 2022. However, preschool and Extended School Services receive no funding increases. And there continue to be no funds at all for professional development or textbooks/instructional materials.
There are no raises for teachers or school personnel (who are not included in the state employee raises). With little additional investment in P-12 education, it will be difficult for school districts to provide adequate raises.
The budget does increase funding for the state's public universities and community colleges, to $1.03 billion in 2023 and $1.08 billion in 2024 compared to $907.4 million in 2022. However, the funding level in 2024 is still 26% lower than in 2008 in inflation-adjusted terms. And $97 million of these funds in 2023 and also in 2024 will be distributed through the performance funding model (compared to $17 million in 2022). The performance funding model tends to provide little or no money to institutions with more low-income students and students of color.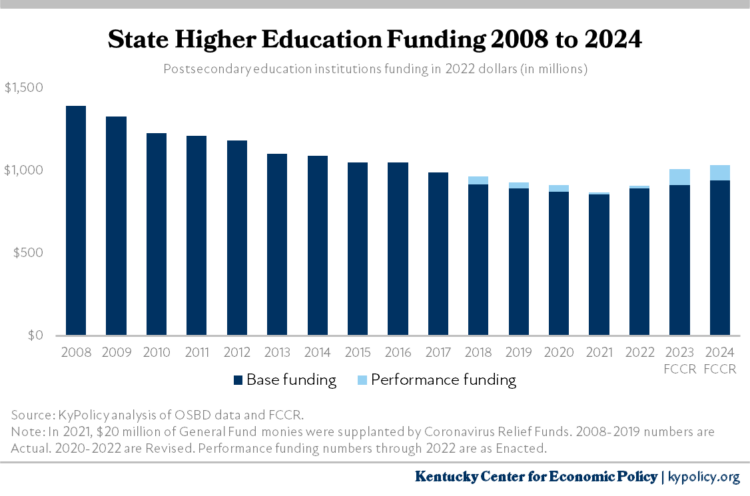 In addition, HB 250 provides $23 million to Kentucky State University (KSU) in 2022 to help address the institution's recent financial issues, with an additional $15 million for the Council on Postsecondary Education over the biennium to distribute to KSU.
Supported by an increase in lottery revenues, the budget agreement does include the full statutory funding for college financial aid, a 42% increase in funding for College Access Program need-based scholarships compared to the prior budget.
Large amount of capital projects in budget
The budget includes significant borrowing with a total of $2.8 billion in bond funds. Most is for state university and community college asset preservation and construction projects requiring matching funds. The budget also includes $260 million in borrowing for renovating the Capitol building, $150 million for state park renovation and $40 million for "Bucks for Brains" at some universities. The parks improvement can happen only with approval of a plan by the General Assembly that must include a 50% match from the private sector and/or local government, opening the door to potential privatization.
The budget also includes $112 million from the General Fund for 39 projects through the Department for Local Government. Those range from $6,000 for a firehouse in Jessamine County to $50 million for a natural gas pipeline project in Todd and Lincoln counties. And the budget includes $170 million from the General Fund for vocational education center construction.
Significant raises for state workers
All state employees receive at least an 8% raise in the first year, with $200 million for a 12% raise banked for next year with the actual raise amounts for 2024 determined by a pay study the Personnel Cabinet is directed to conduct. In addition, many front line workers in the Department for Community Based Services including caseworkers and social workers will receive a $2,400 raise before the 8% raise, and the Department of Public Advocacy receives funding ($7 million) to support salary schedule improvements in addition to the 8% raise.
Raises for Kentucky State Police are included in HB 259. The base salary increases for state troopers and commercial vehicle enforcement officers to $45,000, for ranks below sergeant by $15,000, and for ranks sergeants and above by a formula based on years of service (i.e., 10% based on years of service for sergeant, 20% based on years of service for lieutenant).
The judicial branch budget also includes raises for non-elected personnel of $2,000 followed by an 8% raise in 2023 and an additional raise in 2024 following the completion of a classification and compensation report.
Contributions to pension systems above actuarially required amount
The budget makes pension contributions above the actuarially required amount – $215 million in additional funding for the State Police Retirement System and $250 million for the Kentucky Employees Retirement System (KERS) non-hazardous fund. It also makes a $479 million additional appropriation to the Kentucky Teachers' Retirement System to pay off a portion of older debt a few years earlier than would otherwise be the case. The budget includes funds to support pension contributions for quasi-governmental organizations like health departments and community mental health centers, though the state begins phasing down its financial support. The budget includes no cost-of-living adjustments for state retirees, who haven't received an adjustment since 2011.
In addition, HB 604, which passed the last day of the legislative session, puts yet another $105 million each year in the KERS nonhazardous pension fund.
Only very modest increases in waiver slots for people with disabilities, some additional child care funding
The budget includes only small increases in slots for individuals with disabilities – 100 for Michelle P and 100 for Supports for Community Living (SCL). These increases are low compared to the current waiting list of 10,000 for these services, and is only a third of what the Senate had provided. It also includes $83.3 million for an increase in the nursing home reimbursement rate from Medicaid, $4 million for increased support in making Medicaid determinations at the Department for Community Based Services (DCBS) and $4.5 million to establish the technology needed to implement a new Basic Health Program.
In other human services, the budget agreement provides for $19.6 million to support mobile crisis units and a 988 suicide prevention hotline. Public Health will receive $36.8 million for staffing at local health departments and $24.2 million for a new electronic health records system.
In DCBS, there will be a substantial increase for programmatic costs among various victim advocacy centers, including $10 million more for children advocacy centers, $7 million more for domestic violence shelters and $3 million more for rape crisis centers. Additionally, it provides $24 million for Personal Care Homes, and an increase in the reimbursement rates for Residential and Therapeutic Foster Care Homes totaling $50 million.
In order to hire 200 new social workers, the budget provides $22.4 million, and provides an additional $3.9 million to offer a 10% increase in starting salaries for new social workers in an effort to boost recruitment. There is also a $20 million appropriation for child welfare prevention services.
The budget provides $15 million for a new child care assistance partnership with employers laid out in HB 499.
Some increases in funding for criminal justice system
Funding was provided for new positions within the Justice and Public Safety cabinet, including the Office of the State Medical Examiner, and the Department of Corrections for additional correctional officers, probation and parole positions, and substance use program staff. In addition, $13 million in each year was provided to increase the amount paid to county jails to house people incarcerated for the state by $4 a day, increasing the total payment from $31.34 to $35.34.
Budget spends nearly all ARPA funds
The state will be sent its second of two $1.2 billion of ARPA State Fiscal Recovery Fund (FRF) allotments this year, which it can use to respond to the pandemic and negative health and economic impacts, provide bonus pay to essential workers, prevent cuts to public services and/or invest in water, sewer and broadband infrastructure. The budget agreement, along and HB 315 and 604, appropriated over $1.2 billion of the FRF funds from the 2021 and 2022 allotments. Additionally, HB 315 reduced the FRF appropriation for broadband made in 2021 from $250 million to $67.2 million, freeing up a substantial amount to be appropriated in the future.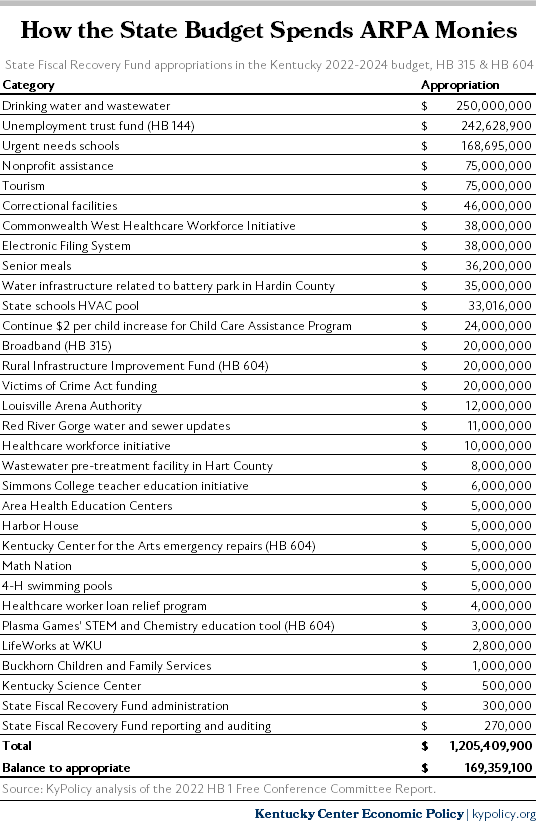 Other budget provisions
The budget continues to include $3.8 million a year from the General Fund to the Kentucky Horse Racing Commission despite language in HB 607 that the industry is responsible for covering these costs through their enormous revenues from historical horse racing slot machines.
The budget includes none of the $2.5 million in statutory annual operating grant funding for local libraries. And once again there is no funding for the Commission on Women.
The budget appropriates $200 million in General Fund monies for 2022 and 2023 to support the creation and implementation of the "Kentucky Product Development Initiative"– $50 million each year to support "mega-development projects" of at least $10 million and $100,000 in 2023 for development projects that will be allocated to each county based on population.
In the transportation budget but a big General Fund expenditure is the Federal Highways Match: $250,000,000 in fiscal year 2022-2023 to match federal funds from the Infrastructure Investment and Jobs Act exclusively for the Brent Spence Bridge Project, the Mountain Parkway Widening Project or the I-69 Ohio River Crossing Project.
An appropriation made in a bill passed early in the session, HB 5, provides $200 million for the newly-created West Kentucky State Aid Funding for Emergencies (SAFE) Fund for communities affected by the December 2021 storms and tornadoes. Of these funds, $30 million is for school districts that were impacted and $15 million goes to the Department of Military Affairs, Division of Emergency Management to be used to procure temporary FEMA-eligible housing units. The additional $155 million is appropriated to the SAFE fund. The budget agreement and Senate Bill (SB) 150 then designated $120.9 million of the SAFE funds to Military Affairs' division of Emergency Management, $25 million to encourage banks to lend in areas affected by the tornados, $9 million to support disaster recovery and relief efforts at the Grain and Forage Center of Excellence in Princeton, KY and finally $110,000 to Murray State University to compensate for housing they provided in the wake of the disaster.
Budget leaves $1.01 billion unspent, which will go to income tax cuts in HB 8
Because of the stimulus provided by federal aid, the state goes into this budget with a Budget Reserve Trust Fund – or "rainy day fund" – balance of $1.5 billion, or 12.4% of annual spending, which is a larger amount than the state has had in the fund since it was created. The budget agreement adds $250 million to the rainy day fund.
The budget agreement leaves $1.01 billion unappropriated, but HB 8 spends $888 million in income tax cuts disproportionately benefiting the wealthy. As a result, the budget makes only muted investments in critical services even with the considerable needs facing the state.
Updated on Apr. 20, 2022