Thanks to aggressive federal pandemic relief that has increased Kentuckians' incomes and strengthened consumer spending, Kentucky's budget is seeing large revenue surpluses that are boosting the state's rainy day fund to a historically high balance. These resources present a critical opportunity to reinvest in Kentucky's public services after over a decade of budget cuts. We should start planning now for a reinvestment budget in 2022 in order to strengthen the recovery from COVID-19 and prepare Kentuckians for a stronger future.
Rainy Day Fund hits historic high
Kentucky ended the 2021 fiscal year with receipts that were 10.9% higher than the prior year's revenues, a staggering $1.1 billion above the official forecast. The overwhelming driver of these positive results is higher sales, income and corporate tax receipts resulting from federal relief provided through the CARES Act, American Rescue Plan Act (ARPA) and other measures. Those monies have increased Kentuckians' incomes directly, such as through supplemental unemployment benefits, kept businesses afloat and boosted sales tax revenues as dollars were spent in the economy.
The $1.1 billion surplus went into the state's rainy fund. Including a $154.9 million deposit scheduled for this year, that brings the balance for the fund to an enormous $1.92 billion.
That number is expected to get even larger. The spending of ARPA monies throughout the year make it likely the state will see another large revenue surplus next summer. The official estimate allows revenues to decline by 7.6% this year compared to last year and still hit the revenue target. If revenues just hold steady compared to last year, that will mean another $1 billion surplus next June; a new estimate from the Office of the State Budget Director projects revenue growth will exceed that benchmark through the first ¾ of the year with 3.3% growth.
The new surplus and a potential surplus in June put the rainy day fund at a level far exceeding what has been the case in the past, as shown in the graph below.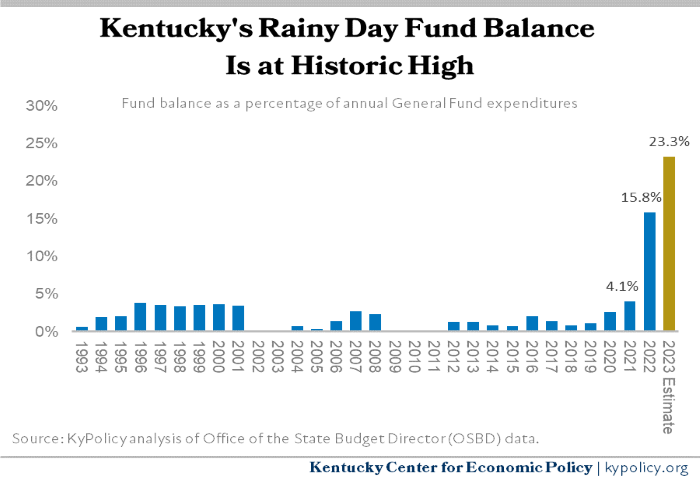 Current budget doesn't reflect Kentucky's needs or the resources that are available
Despite the positive impact of federal COVID relief on state revenues – which was already apparent during the 2021 legislative session – the General Assembly enacted an austere budget that does not reinvest in critical areas. Nineteen rounds of budget cuts since 2008 have severely reduced core government services, eliminating $2.3 billion from state spending. The consequences include no raises for state employees for 9 of the last 11 years and many agency budgets that are 10%-50% below their 2008 levels.
The new state budget again freezes base funding for public schools. It continues to leave out across-the-board raises for state and school employees, and doesn't include state monies to hire new social workers to address the child welfare crisis, funding for textbooks or core funding for libraries. Increases are limited to targeted areas, including pension costs, full-day kindergarten and a 2% increase in funding for universities and community colleges.
Some parts of Kentucky's budget are helped by the direct influx of resources from the ARPA and prior relief packages, including monies for P-12 education and childcare along with funding for infrastructure and relief efforts. However, that aid money is time-limited and intended primarily to address the many harms resulting from the pandemic.
Kentucky should create a budget in 2022 that reinvests
While a healthy rainy day fund is an important part of a sound state budget, it is also possible to overfund the rainy day fund at the expense of the broader economy. The goal should be to slowly build up the rainy day fund during good economic times, and ideally achieve a balance of 5%-15% before the economy goes into the next recession.
But Kentucky's rainy day fund is suddenly funded at very robust levels already even while the recovery is still fragile and getting off the ground. Kentucky has the opportunity to make the recovery more robust by using a significant portion of these one-time monies to start the process of reinvestment. Even more importantly, reinvestment in critical education, health, human services and other infrastructure will strengthen Kentucky's foundation for long-term economic growth and prosperity.
Kentucky could allocate a portion of these one-time monies to provide seed dollars for budget reinvestment while still leaving ample resources in the rainy day fund to begin preparing for the next recession. As illustrated in the graph below, the costs of a sample of needs left out of the current budget are modest compared to the expected size of the rainy day fund. We could do these things and more and still leave a healthy rainy day fund.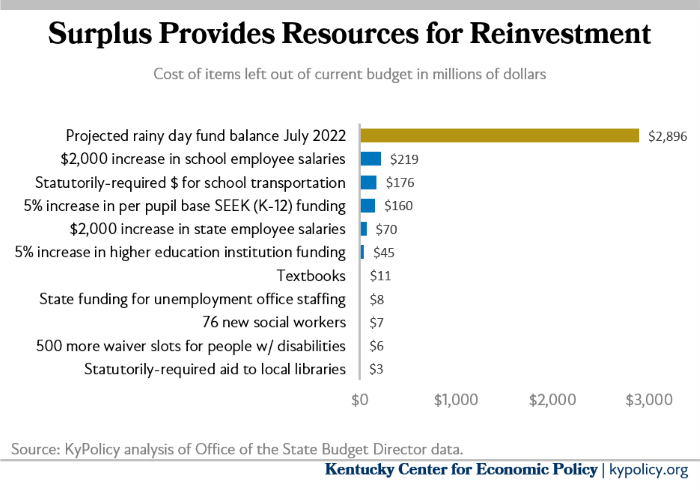 Utilizing a substantial portion of these one-time monies for critical investments is step one of what should happen. Step two is to sustain those investments after a few years by enacting commonsense revenue options that have long been necessary. Throughout, the state must avoid squandering the surplus on new tax cuts.
The historic state surplus combined with federal relief monies from ARPA provide a once-in-a-generation opportunity to begin reinvesting in a better economy and improved quality of life. Kentucky should seize the opportunity to come out of the pandemic stronger than before and better positioned to build an economy that works for all Kentuckians.