After a decade of budget cuts, Kentucky's public universities and community colleges are cut approximately 6 percent in the new state budget (pending action from the Governor). This amounts to an inflation-adjusted 35 percent cut to state funding for higher education since 2008 that's even higher once new pension costs for the biennium are factored in. The new cuts will make college even less affordable, reduce the quality of higher education and worsen inequities in degree attainment.
Cuts Larger Once Increased Pension Contributions Factored In
As seen in the graph below, fixed costs — costs that cannot be reduced such as pensions and health insurance for faculty and staff and building maintenance — continue to grow for the state's higher education institutions, on top of declining state funds.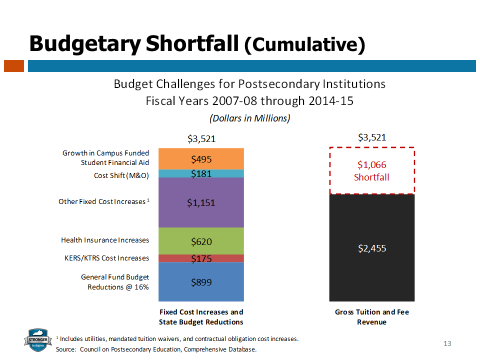 Source: Slide from Council on Postsecondary Education presentation to House Budget Review Subcommittee on Postsecondary Education, Jan. 18, 2018.
In the upcoming biennium, among these growing costs will be a steep increase in required contributions to the Kentucky Employees Retirement System (KERS) for all but the state's two research institutions, University of Kentucky and the University of Louisville, whose faculty and staff participate in different retirement plans. The state's public regional/comprehensive universities are projected to owe a total of $39.2 million in pension contributions in 2019. Once the pension payments are factored in, the approximately 6 percent cut to universities in the budget increases to 18.4 percent. The combined cut for the community college system is 12.1 percent. These calculations do not include the 2019 performance funds in the budget as institutions must compete for and are not guaranteed to receive them. However, some institutions will have their cuts lessened by these funds.
Less State Funding = Tuition Increases
As the state has cut funding for higher education repeatedly over the years, Kentucky's public postsecondary institutions have increased tuition in order to make up for some of the loss in revenue. New budget cuts will be taken into consideration in the state's tuition-setting process which determines caps for how high public universities and community colleges can raise tuition.
Tuition has already gone up an average of 52 percent when adjusted for inflation between 2006 and 2016, with all but 2 institutions raising tuition last year as well. The cost of living has also gone up, yet state scholarship amounts have not. And many who qualify for the state's need-based financial aid do not receive it at all due to lack of funds. While the new budget does increase funding for need-based scholarships — the equivalent of about 16,000 additional scholarship over the biennium — they remain underfunded. In large part as a result of rising tuition and inadequate financial aid, the average student loan debt for Kentucky students graduating from public and private four-year universities increased from $15,951 in 2008 to $28,910 in 2016.
Quality of Higher Education Declining Due to Cuts
Multiple rounds of budget cuts have an impact on classrooms and students. Here are some examples of what universities have done to reduce costs in the past five years:
Eastern Kentucky University (EKU) has reduced its academic programs and personnel.
Kentucky State University (KSU) has eliminated positions and reduced student scholarships by 10 percent.
Morehead State University (MoSU) has eliminated faculty and staff positions, furloughed staff and frozen pay for employees.
Murray State University (MSU) has:

Eliminated faculty and staff positions, including 52 full-time-equivalent academic positions in just 2 years.
Reduced many staff positions from 12 months to 9, 10 or 11 months — primarily in student services positions such as in the counseling center.
Reduced student health services.

Northern Kentucky University (NKU) has reduced full-time staff positions by over 100 since 2014 and reduced full-time faculty positions by 50 since 2014.
WKU recently announced it is eliminating 62 filled positions and 57 vacant ones due to funding issues.
The Kentucky Community and Technical College System (KCTCS) has eliminated more than 800 faculty and staff positions. They have also increased the use of adjunct faculty and reduced staff positions from full-time to half-time or less to avoid having to pay health insurance benefits.
Some institutions have already made plans for coping with the new cuts in the state budget for 2019 and 2020. EKU is planning to cut 200 additional positions and further eliminate a number of academic programs, among other changes. These reductions in staff, academic programs and student support services affect public postsecondary institutions' ability to provide a high-quality education.
Cuts Will Worsen Inequities in Degree Attainment
During this more than a decade of underfunding, Kentucky has not seen improvement in its higher education achievement gaps. The most recent analysis shows that in 2014, 35.9 percent of minority students and 36.5 percent of low-income students completed a bachelor's degree within 6 years, compared to 49.2 percent of all Kentucky students; low-income and minority students seeking an associate's degree similarly had low degree completion rates compared to the rest of their cohort. These 2014 rates showed little to no improvement over earlier baseline years and far from the state's goals. More recent data available from individual institutions indicates a lack of progress since 2014.
Low-income students and students of color are less likely to enroll in college and graduate, especially when costs increase. These students face more financial difficulties — and are more likely to have student loan debt — even when they attend community college and receive Pell Grants. A growing body of research shows many of these students also face hunger and homelessness in college, undermining progress on closing achievement gaps.
The final budget does include some additional monies in the Postsecondary Education Performance Fund for which institutions can compete. However, performance funding can have a negative impact on low-income and minority students if cash-strapped institutions reduce access to higher education in an attempt to be more competitive on performance metrics. Among the institutions currently disadvantaged in the performance funding model are MoSU and KSU, which serve a greater share of low-income students and students of color.