The December federal relief law provided checks of $600 per person, though many argued at the time for the larger amount of $2,000 per person. Now President-elect Biden and the new Congress should make that happen. Kentucky's economy and families would benefit greatly from this expansion of direct aid during the crisis of a lifetime.
Increased checks will support a weakened economy
The relief deal that was enacted in December contains many important measures, but is not large enough and does not last long enough to support the economy through the remainder of the downturn. Increasing the direct payments would be a major additional help to Kentuckians struggling to make ends meet in the crisis, and would further stimulate an economy that remains mired in a deep recession.
An estimated 4.2 million Kentuckians will receive $600 stimulus checks under the recently-passed aid package, according to analysis by the Institute on Taxation and Economic Policy. Providing another $1,400 will grow the state-wide impact from $2.3 billion to approximately $8.5 billion — an increase of $6.15 billion.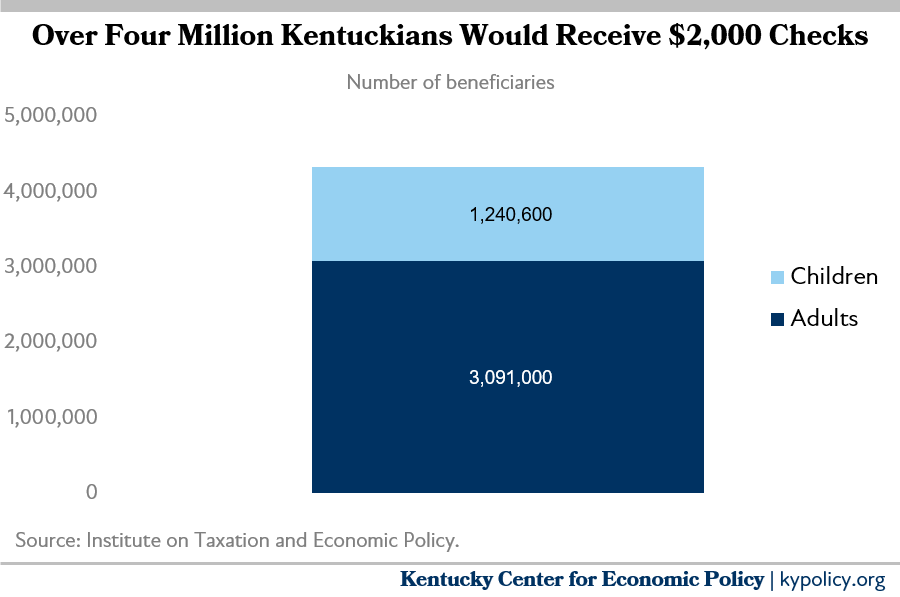 The stimulus provided through the CARES Act — including the last round of direct payments — was crucial to a partial return of Kentucky consumer spending in the summer, and the checks were used in ways vital to survival in this crisis. Nearly two-thirds of Kentucky adults said they used their payments primarily for expenses and 13% to pay off debt; 90% of those with household income below $25,000 reported using them mostly for expenses. However, the economic boost from those checks is now gone, and the end of CARES Act aid was the major cause of slowing state job growth through the fall.
Bigger checks would help many Kentuckians struggling to get by, especially families with children and low-income people
The proposal is notable for the extent it helps families with children, who would also receive an additional $1,400 per child for the 1.2 million eligible Kentucky kids (meaning, for example, a family of three would receive another $4,200 beyond the $1,800 they are already eligible to receive). That element is important because poverty is especially concentrated among kids: while the overall state poverty rate is 16.3%, it is 21.7% for children. Under the CARES Act, kids received only $500 payments while adults received $1,200.
The payments will be available to many Kentuckians, phasing out only at incomes over $75,000 for individuals, $112,500 for single parents and $150,000 for married couples. They should also be made available to immigrant families with a taxpayer identification number left out of the CARES Act checks (mixed-status families received the $600 checks), as well as to adult dependents left out of the $600 including people with disabilities, college students and elderly people who depend on help from family members.
Because so many Kentuckians have low incomes and struggle to pay the bills, the increased payments will be a major help to many in serious need of support. The majority of dollars will go to Kentucky families making less than $59,400 a year, according to ITEP's analysis. Checks of $2,000 would total $1.5 billion in aid to the 20% of Kentucky families making less than $19,600 a year, and the average check will equal 33.6% of annual income for that group.
Kentucky needs the new Congress to finish the job
Kentuckians continue facing enormous hardship in this crisis. Nearly 1 in 5 adults report children in their household aren't getting enough to eat, and 21% are behind on rent. The aid package that passed in December contains measures that provide a critical short-term lifeline, including extended and expanded unemployment benefits and food and housing aid. But some of those measures run out soon, with the bill's eviction moratorium expiring January 31 and pandemic unemployment benefits ending March 14 (which the new Congress must also extend).
The $2,000 checks are very popular among Americans, with 78% of likely voters either strongly or somewhat in support. And there was broad bi-partisan support of $2,000 checks in the House, with the bill passing 275-134. Voting yes among the Kentucky House delegation were Representatives Rogers, Yarmuth and Comer; voting no were Guthrie and Massie; and not voting was Barr.
People and the economy need a major additional relief package that includes extended unemployment benefits, state and local aid, vaccination distribution monies and much more. That package must also include increasing the stimulus payments to $2,000 per person.