New employment data for October shows Kentucky's recovery continues at too slow a pace to get the economy back on its feet any time soon. The expiration of federal aid from the CARES Act is taking dollars out of the economy, weakening overall growth. Although the announcement of successful vaccine trials is good news down the road, the short-term outlook is bleak. The soaring increase in COVID-19 cases will limit consumer activity and is resulting in new restrictions, while more federal aid will expire between now and the end of December, putting a major drag on growth.
Kentucky needs Congress to come through with a robust round of aid in the lame duck session or workers and families are in for a very difficult winter.
Job growth remains too slow
Kentucky added 10,900 net new jobs in October according to the Bureau of Labor Statistics' monthly survey of businesses. Increases included construction (2,700), accommodation and food services (2,400), retail (2,200) and administrative and support services (1,800), many of which are temporary agency jobs. But those gains were partially offset by losses in industries like educational services (-1,700) and federal government employment (-1,600).
The overall result is a slowing of the recovery compared to the period from May to August. The state is still missing 1/3 of the employment lost at the worst point in the crisis, a gap of 109,000 jobs.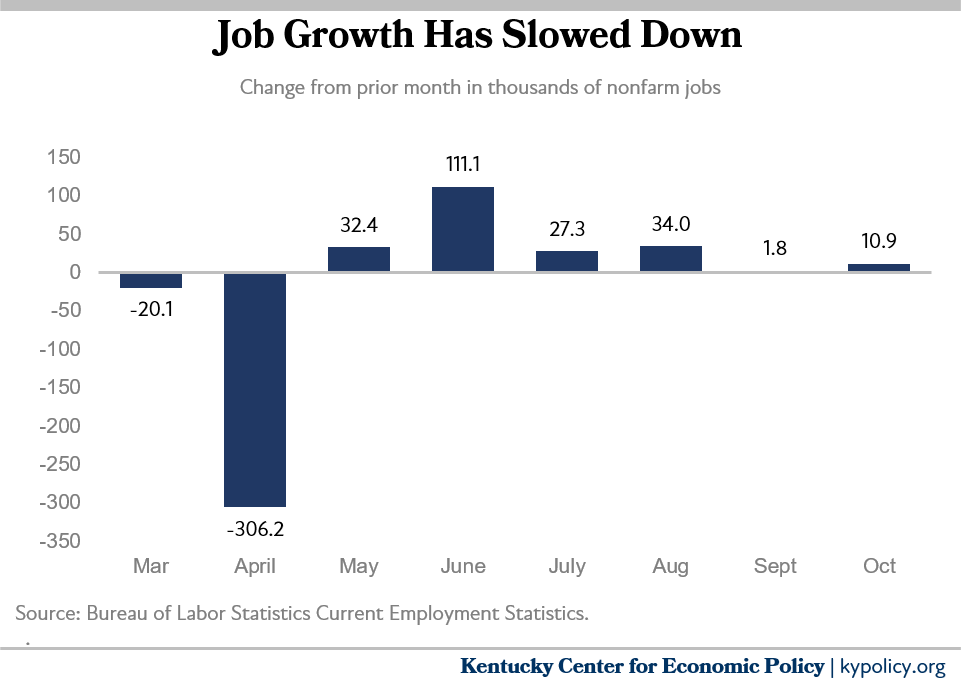 Real unemployment remains very high, especially for Black Kentuckians
The unemployment rate in a separate Bureau of Labor Statistics survey of households rose from 5.6% to 7.4%. The rate went up despite rising employment because more people entered the labor force and were looking for work, a good sign. However, an estimate of the real unemployment rate that includes those unemployed and looking for work and those who have left the labor force since February remains an extraordinarily high 12.7%, or three times what it was in February.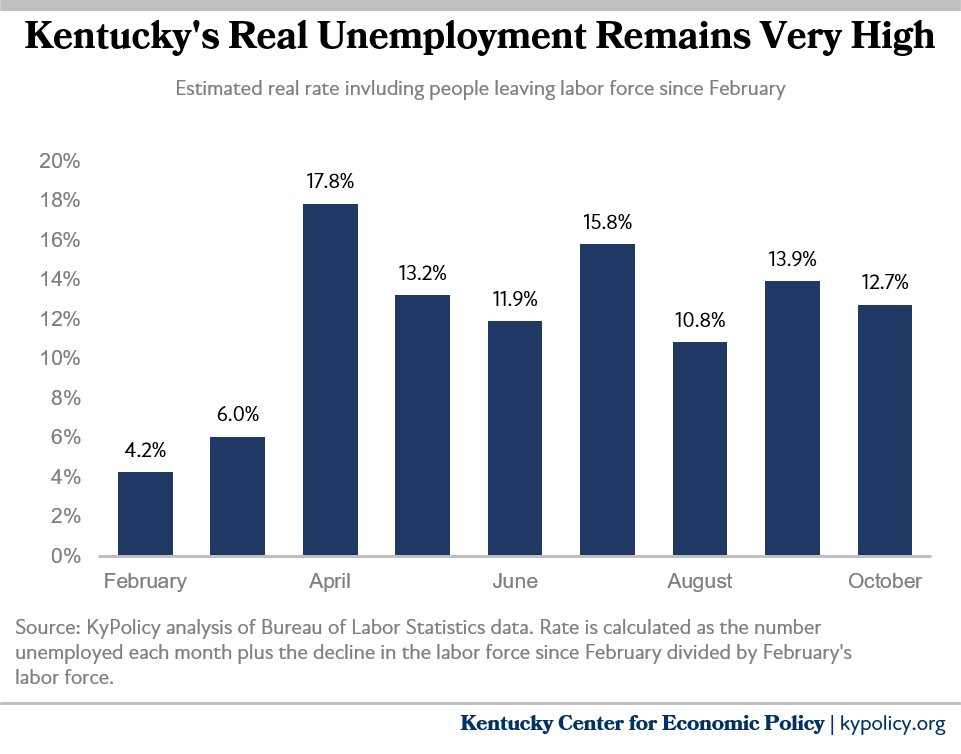 Massive job losses and the lack of a robust recovery have widened existing inequities. A long history of discriminatory policies and practices have led to Black Kentucky workers being more likely to be laid off in this crisis, and less likely to be hired back in the recovery. In September, 16.7% of Kentucky unemployment insurance claimants were Black when only 9.8% of Kentucky workers covered by unemployment are Black.
Exponential growth in COVID-19 cases and more expiration of federal aid spells trouble
The prospect of even a slow recovery going forward is threatened by serious headwinds. The exponential community spread of COVID-19 cases will limit economic activity as people avoid public places. Because states with greater restrictions have been more effective in combatting the disease and saving lives, and because hospitals are filling up to dangerous levels, Governor Beshear yesterday announced new rules including the closure of restaurants and bars to indoor seating for three weeks and of most in-person schooling for the remainder of the semester. We will see more short-term job losses and people unable to work due to care responsibilities. Our failure as a country to stop the spread of COVID-19 will have harmful ripple effects on the economy as a whole.
The end of federal aid is also seriously damaging the recovery. The July loss of the $600 a week in supplemental unemployment benefits is a drag, and now the extra $400 a week the Beshear administration chose to provide with federal matching funds has come to an end. That leaves jobless workers with only $281 a week on average in unemployment benefits.
And more critical aid is set to expire between now and the end of the year. Pandemic Unemployment Assistance for the self-employed, independent contractors and gig workers will end at or before December 26. Pandemic Emergency Unemployment Compensation, which has provided up to 13 weeks in additional unemployment benefits beyond the 26 weeks the state provides to laid-off workers, will also end December 26. Those expirations and others mean an estimated 101,927 Kentuckians will lose all unemployment benefits between now and the day after Christmas.
At the same time, rent and utility assistance are running out and the moratorium on evictions and program providing paid sick leave and family leave will all expire December 31. The 575,000 Kentuckians with federal student loans who have had their payments suspended during this crisis will see those payments start up again on January 1. And the state and local governments will run out of the $1.7 billion in CARES Act funds they have been using to fight COVID-19. All of these expirations will weaken the economy, harm the fight against the virus and push many families past the brink in the middle of the winter.
Congress must pass a new aid package
Congress returned for a lame duck session this week in which it must pass a bill to keep the government open. Lawmakers must not leave town until they agree to a new relief package that provides the help the country needs. That includes aid to state and local governments to protect from further job losses and fight the raging coronavirus, as well as assistance to families and laid-off workers through expanded and extended unemployment benefits, food assistance, housing aid and small business support.