Black Kentuckians are experiencing job loss at a higher rate than white Kentuckians in the COVID-19 pandemic. A long history of racist policies ranging from slavery and Jim Crow to white-favoring hiring practices, tax policies and labor standards has led to Black Kentuckians being disproportionately underpaid, underemployed and less financially able to weather economic shocks. The data point to the need for much more in federal aid in order to prevent racial disparities from growing deeper and protect all Kentuckians during the pandemic and recession.
According to recently released data for July, Black Kentuckians made up 16.2% of those who received unemployment insurance (UI) benefits even though they make up only 9.8% of workers whose employer pays for UI – or who are "covered." The share of UI claimants who are white was 81.7% even though they made up 86.6% of covered workers.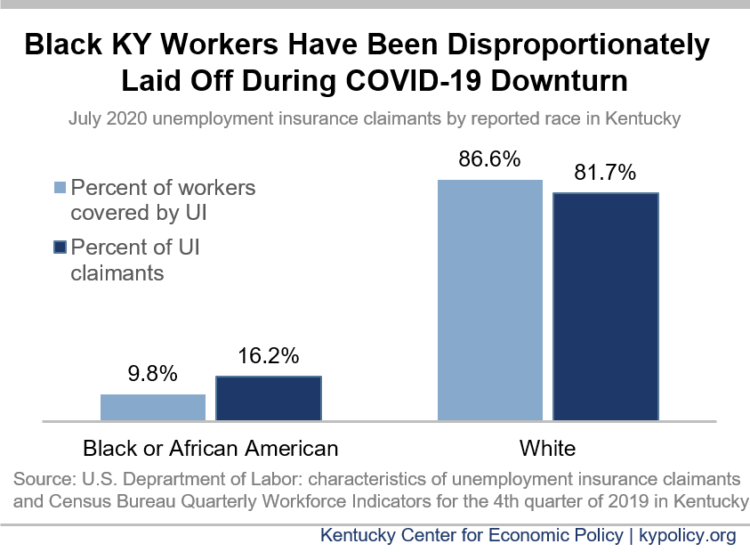 It's also the case that the modest rehiring that happened over the summer was less likely to benefit Black workers. While the total number of Black UI claimants has only decreased 4.1% since April, the total number of UI claimants who are white has decreased 29.3%. This suggests white Kentuckians were more likely to quickly find new jobs or start back at old jobs after being temporarily laid off in April. The same historical and structural barriers that created and perpetuated already-existing inequalities in wages and employment are now likely causing Black Kentuckians to face higher rates of long-term layoffs (and permanent layoffs are on the rise nationally) and protracted job searches.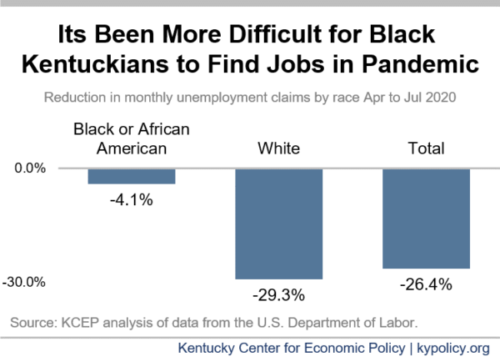 A likely contributing factor is structural barriers that have led to Black Kentuckians disproportionately working in service-sector jobs that saw significant job losses immediately following the economic shutdown in April, and that have been slow to return. Black Kentuckians are overrepresented in three industries that still have far fewer jobs than in February, before the pandemic hit Kentucky. Overall, as of July, 52.1% of jobs have returned since the low point in April, but the recovery rates are depressed in industries where Black workers comprise a disproportionate share of employees (their share of all covered workers is 9.8%):
19.2% of Kentucky workers in Administrative, Support, Waste Management and Remediation Services (many of which are temporary agency jobs) are Black, but the industry has only recovered 22.2% of jobs lost.
13.9% of Kentucky workers in Transportation, Warehousing and Utilities are Black, but the industry has only recovered 15.0% of jobs lost.
13.6% of Kentucky workers in Accommodation and Food Services (the industry hardest hit by the COVID-19 recession) are Black, and while the industry has recovered 70.7% of jobs lost, there are still 23,700 fewer jobs than there were before COVID-19-related job loss began.
Additionally, the share of Kentucky UI claims that are women rose slightly from 48.6% in April to 53.3% in July. Wage replacement is critically important to address the overrepresentation in layoffs for women, especially Black women who tend to have less to fall back on in hard times.
Without significant, continued and even expanded federal assistance to individuals and to states, Black Kentuckians will continue to bear a disparate share of the immediate as well as long-term economic harm. The Lost Wages Assistance program that provides $300 a week in federal funds for some unemployed Kentuckians is ultimately insufficient and short-lived. Rather, Congress, and specifically the Senate, must provide robust additional federal aid to prevent racial and gender inequities from growing further and to help all Kentuckians get by during this unprecedented economic crisis.