A troubling new jobs report points to a potential slowing of Kentucky's recovery with the pandemic continuing to rage, increasing the need for much more in federal aid from Congress.
The Bureau of Labor Statistics' monthly survey of businesses shows the state added 26,400 jobs in July (or just 1.6% growth), a substantial decline from the 111,100 jobs that were added in June. That slowdown means we are still 156,400 jobs behind where we were in February, or a gap of nearly 1 in 12 Kentucky jobs.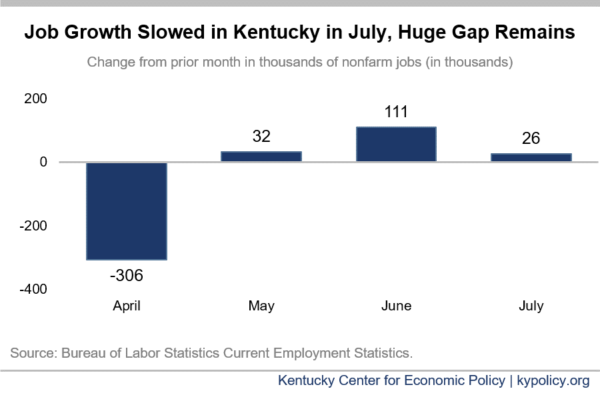 The story is even worse in the monthly survey of households (which asks individuals whether they are employed or self-employed, whereas the business survey asks employers how many people were currently on payroll). In that report, the number of Kentuckians employed fell by another 80,243 jobs in July, and is down a net total of 240,165 since February. Although the report shows Kentucky has an unemployment rate of just 5.7%, that number doesn't count the 222,232 Kentuckians who have temporarily left the labor force since COVID-19 hit (meaning they have not actively looked for work recently, though many would prefer to work), including 58,934 individuals just last month. Taking those people into account means the real unemployment rate is likely around 16%.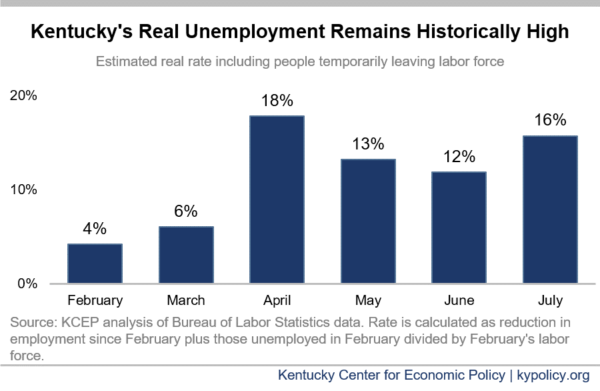 Importantly, the economy is taking a new hit since these numbers were collected with Congress letting the critical stimulus of $600 a week in supplemental unemployment benefits expire on July 24. That program had pumped $2.9 billion into Kentucky's economy over the last few months, but its end has already resulted in a drop in state consumer spending. The governor is moving forward with implementing the president's action to provide $400 a week to a smaller group of workers, but that benefit won't be implemented until September, puts approximately $50 million a week less into the Kentucky economy and will run out entirely within 5-6 weeks.
The economy is historically weak, and the pandemic is far from over. More trouble is coming as state and local governments face budget cuts due to declining revenues. The U. S. Senate should join with the House and pass an aid package that meets real needs, including an extension of supplemental unemployment benefits until the economy is truly recovering, robust aid to state and local governments, help with housing and food assistance and more.