Kids heading back to school this month will benefit from supports made possible by federal COVID relief. Against the backdrop of more than a decade of deep cuts to state funding for education as well as heightened need due to the pandemic, these funds are meaningfully increasing school resources in the short term. But in order to give all Kentucky students the education they deserve on an ongoing basis, these resources need to be a springboard to more adequate and equitable funding for our schools in the next state budget.
Federal funds are helping with COVID-related needs
Because of the COVID pandemic, many Kentucky students have experienced increased food and housing insecurity, learning challenges and mental health issues. Through several rounds of federal recovery legislation, Kentucky school districts are receiving considerable resources in order to address COVID-19- related needs.
These funds are provided to districts through two primary grant programs: ESSER (Elementary and Secondary School Emergency Relief Fund) and GEER (Governor's Emergency Education Relief). All funds must be used to "prevent, prepare for and respond to the coronavirus pandemic." ESSER funds can be used:
To address needs arising from the COVID-19 pandemic including the needs of children from low-income families, children with disabilities, students of color, students experiencing homelessness and youth in foster care.
For strategies to implement public health protocols in line with guidance from the Centers for Disease Control and Prevention (CDC) on reopening and operating schools to effectively maintain health and safety; this includes improving indoor air quality, training staff, purchasing educational technology, providing mental health services and supports, activities related to summer learning and supplemental after-school programs.
You can view the state's plan for the most recent round of ESSER funds here. District-level amounts for all three rounds of ESSER can be viewed here.
GEER funds are allocated by governors to provide emergency support to educational institutions. The majority of Kentucky's GEER I funds went to school districts for technology and nutrition needs, and a portion went to higher education. And while GEER II funds aren't directly going to districts, they will benefit districts as they are primarily allocated to support Family Resource and Youth Services Centers ($15 million), which provide critical supports to students in schools where at least 20% of students qualify for Free and Reduced Price Lunch.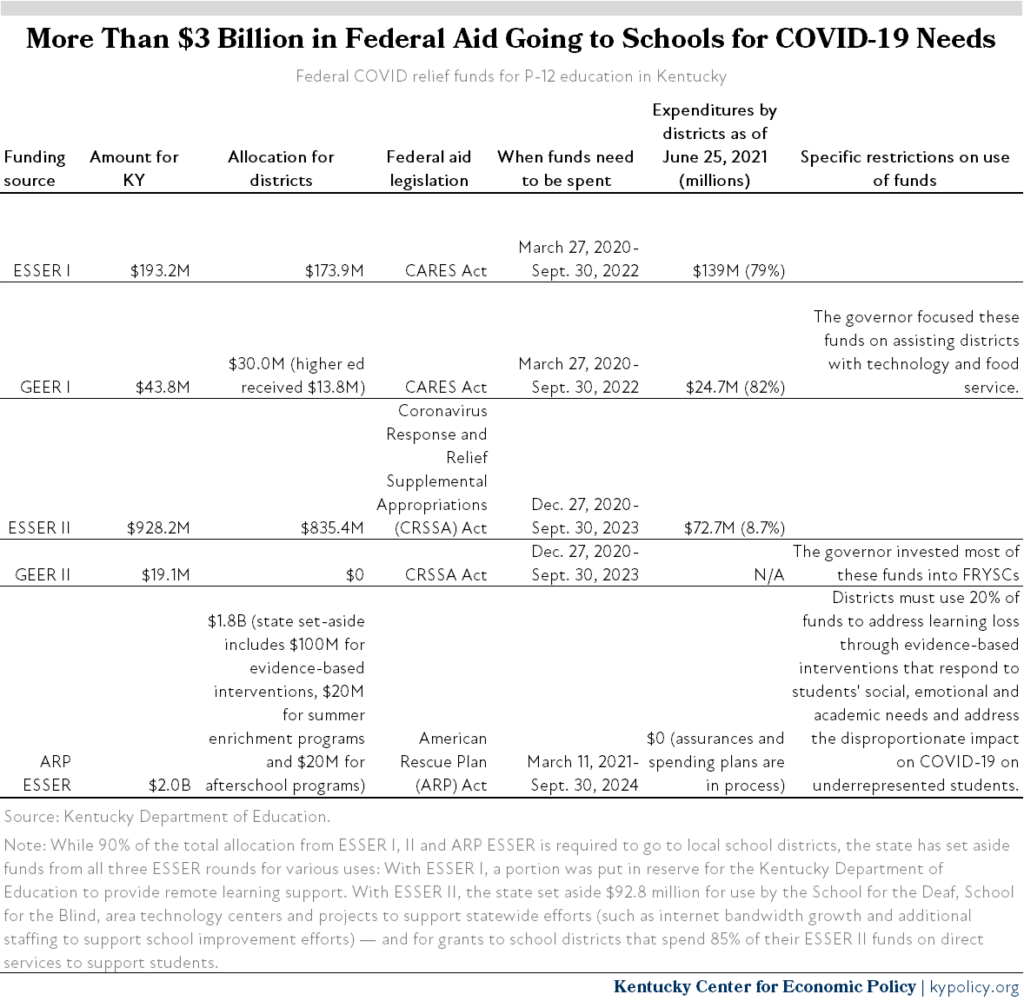 At a recent legislative meeting, superintendents from three Kentucky school districts described some of the ways they have been utilizing federal COVID relief funds:
Rockcastle County Schools has provided targeted instruction through summer camp ("Camp Rock") at all five schools in the district (targeting more than 600 students), with core standards-based instruction, enrichment and individual and small group counseling.
Daviess County Public Schools has substantially increased mental health supports including staff.
Johnson County Schools highlighted their use of federal funds for instructional technology and digital platforms to support consistent communications among all stakeholders.
The Kentucky Department of Education has also been tracking district use of CARES Act funds, which can be viewed here by searching for grants (i.e., 2020 – CARES – ESSER) and viewing spending plans by district. Here's an excerpt from Allen County for ESSER I as an example: The district formed a working group to assess need, determining that funds would provide "PPE equipment and sterilizing equipment, additional employees that will screen and conduct temperature checks, additional employees in each school to assist in preparation for any illness and assist in student learning, flexible learning options for all students by providing a continuum of learning options. Staff will also be trained on infectious disease and schools will receive floor markers and signage. Additional educational technology will be purchased and all students will have an online platform available for use along with a laptop."
In addition, the state invested some of its American Rescue Plan Act funds (that were not specifically for education) to address school construction needs, which continue to grow. Current unmet needs are estimated to be over $7 billion according to the School Facilities Construction Commission at the July School Funding Task Force meeting.
These investments will make a big difference to Kentucky kids and classrooms. However, many of the greatest needs of schools and students — mental health services, technology, academic supports, etc. — were exacerbated by the pandemic, but they existed prior to and will continue beyond COVID-19. Federal COVID relief will run out. And while there is a "Maintenance of Effort" provision tied to GEER and ESSER funds that requires state support for primary and secondary education cannot decline alongside these federal investments, the state's long-standing shortcomings in adequately and equitably funding Kentucky schools continues to erode resources critical to students' long-term success.
A temporary bright spot in kindergarten funding, but the 2022 state budget continued many harmful education funding trends
For the first time, the 2021 Kentucky General Assembly funded full-day kindergarten for the 2021-2022 school year through House Bill (HB) 382. The state has previously only funded half-day kindergarten through the core school funding formula, known as SEEK (Support Education Excellence in Kentucky). While most districts have been offering full-day kindergarten by funding it at the local level with limited resources, this one-year investment in full-day kindergarten ($140 million) is enabling all 171 school districts to offer a full-day program and frees up funds for much-needed investments in districts that were already providing this offering. However, the General Assembly did not at the same time change the SEEK formula to permanently count full-day kindergarten in future years.
Outside this improvement in school funding, the 2022 budget flatlined per-pupil base funding through the SEEK funding formula and continued to underfund school transportation.
The base SEEK per-pupil guarantee has remained at $4,000 since 2019. However, this amount is a combination of state and local funding, and the state portion has been declining over time (before and after adjusting for inflation) and therefore shifting a greater portion onto local school districts as shown in inflation-adjusted terms in the graph below.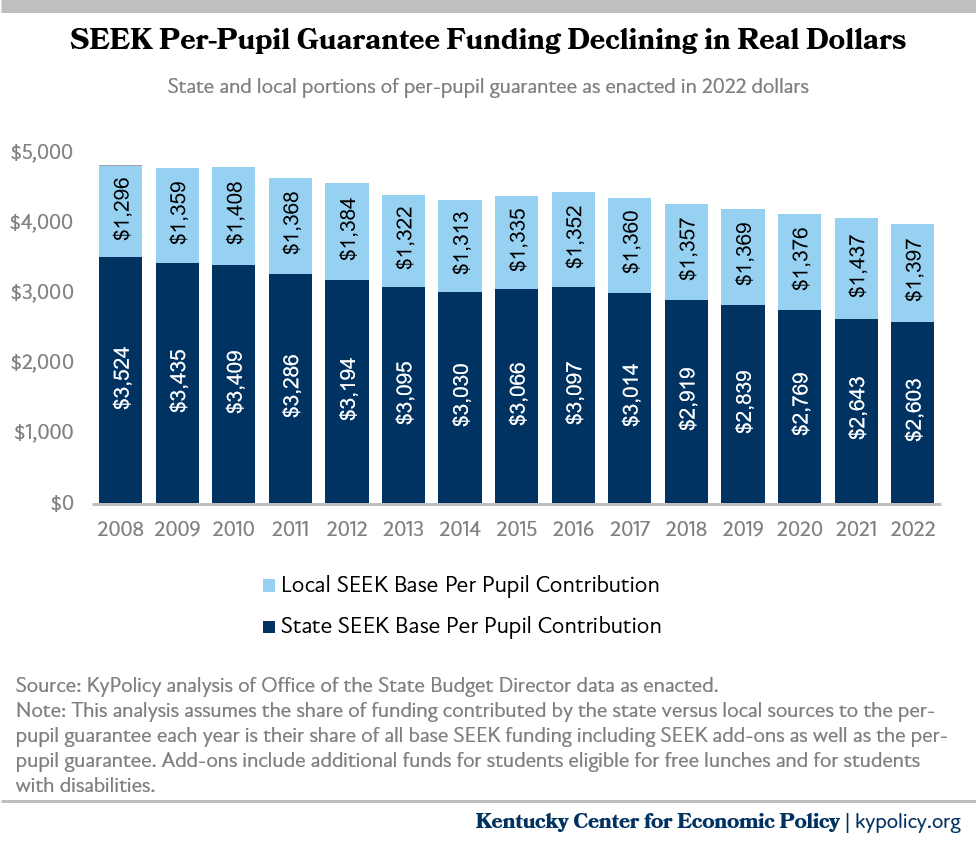 The shift of costs onto local school districts also occurs with school transportation funding. By statute, the state is required to cover 100% of the estimated costs of transportation (which aren't even the full costs of transportation). However, as shown in the graph below, the state has not been doing this for many years, and the current budget covers just 55% of the estimated costs in 2022.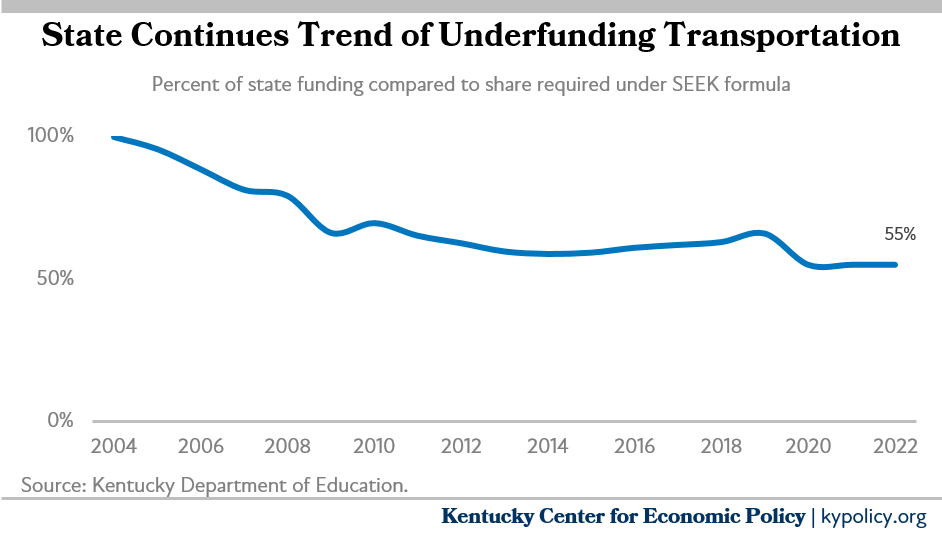 The continued shift to local funding sources for school districts due to inadequate state funding also increases funding inequities between poorer and wealthier districts. Inequity was a primary driver behind the 1990 Kentucky Education Reform Act (KERA) and the creation of the SEEK formula, and per-pupil state and local funding gaps are now close to the level they were prior to KERA.
School districts across the state have borne the weight of state budget cuts. Our 2018 survey of superintendents showed that districts had reduced course offerings, student supports and the number of staff, and were unable to provide needed raises and address often critical facility needs. The 2022 state budget did not address many of these challenges, including a lack of raises for teachers (the last state-mandated teacher pay raise was a 2% raise in 2016) and other school staff.
Next state budget should recommit to adequate and equitable state investments
Full-day kindergarten impacts reading and math achievement in elementary school. It's an important investment for our state and should be made permanent in the SEEK formula with continued funding in the budget.
More generally, adequate school funding from the state supports high-quality instruction, reduced class sizes, extended learning time and other key components of student success, especially in districts that can't raise needed revenue from their smaller local tax base. In the upcoming state budget for 2023 and 2024, the General Assembly must reinvest in all Kentucky schools.
This year's and next year's (anticipated) unprecedented revenue surpluses provide an opportunity to begin the reinvestment of state dollars in schools that is needed. Short-term federal relief to schools is a boon and helps deal with the immediate fallout of the pandemic, but a recommitment to fulfilling the state's responsibility for education is necessary to bring about the progress Kentucky needs.