In 2021, the Kentucky General Assembly created a School Funding Task Force to meet in the interim to review funding for K-12 education in Kentucky and other states and identify recommendations "to ensure the equitable and efficient funding of Kentucky's common schools." The recommendations released this week address several areas that need greater investment — including making full-day Kindergarten funding permanent, moving toward full school transportation funding, and increasing investment in Family Resource and Youth Services Centers (FRYSCs).
If the 2022 Kentucky General Assembly acted on these recommendations, it would mean modest steps forward for school funding adequacy and equity. But without significant additional state investment in the base SEEK (Support Education Excellence in Kentucky) formula, an investment that is possible because of a record budget surplus, the resource gaps between wealthy and poor districts will continue to grow and funding will continue to be inadequate.
School funding in Kentucky is inadequate and inequitable
State funding for Kentucky's P-12 education system has been declining for more than a decade, in inflation-adjusted terms, which has meant a decrease in funding adequacy and equity.
Core funding for school districts is distributed through the SEEK formula, which was created as part of the Kentucky Education Reform Act (KERA) in 1990 in order to more adequately and equitably fund the public school system. Over the years, SEEK funding has eroded in several ways — including underfunding of the formula's transportation component, which is discussed below, as well as a decline in the state's portion of the base "per-pupil guarantee," which is a combination of both state and local dollars. The state contribution to the formula is crucial to ensuring equity among districts because it has the power to "equalize" the differing abilities of local districts to raise revenues by providing more to districts that have smaller tax bases. When the state underfunds its portion of the formula, the burden shifts to local districts, and because of their varying ability to generate revenues, this increases the inequities among districts.
The graph below shows that the funding gap per-pupil between the poorest property wealth districts and the wealthiest property wealth districts was $2,949 in 2020, very close the pre-KERA level of disparity.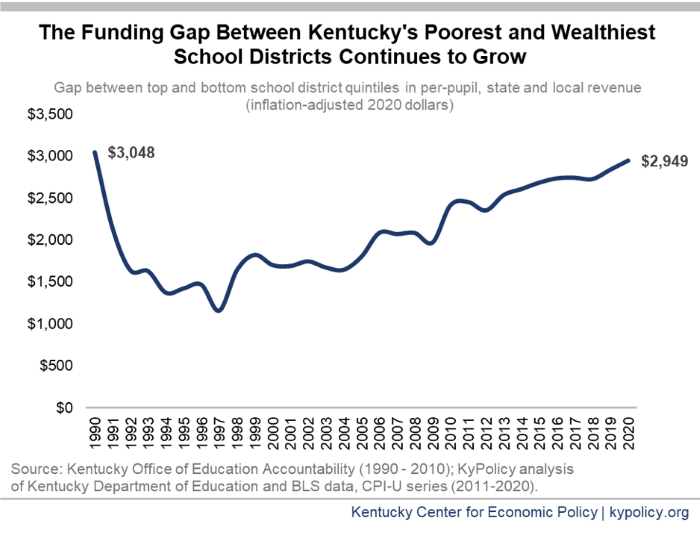 Underfunding by the state has had consequences in the classroom, as we documented in a 2018 report based on survey research. It showed that since 2008, 54% of districts responding had cut instructional time, about a third had cut art, music and other course offerings and 42% had reduced extended learning services, among many other harmful consequences of state underfunding.
Task force recommends full-day Kindergarten funding made permanent
A key recommendation of the task force is to make full-day Kindergarten funding permanent, and Representative Tipton has already pre-filed a bill that would make this change. The SEEK formula currently only includes funding for half-day Kindergarten, but the legislature in 2021 provided one year of full-day Kindergarten funding, a $140 million investment.
Full-day Kindergarten has been shown to improve the likelihood of academic success in later grades. For this reason, prior to the 2022 school year, almost all school districts in Kentucky already offered a full-day Kindergarten program, paying for the difference with local funds.
So then why is it so important to make this change permanent? According to testimony by several superintendents at the September 24th meeting of the Interim Budget Review Subcommittee on Education, districts have prioritized full-day Kindergarten because of the known benefits of an all-day program, but this has meant significant sacrifices in other areas. Having the state cover the cost of full-day Kindergarten would free up funds and enable districts to make important other investments:
In Daviess County Public Schools, the district would be able to make additional investments in early learning opportunities so that more students are "Kindergarten ready" when they get off the bus for their first day.
Lee County School District could make teacher salaries more adequate and competitive. In order to provide full-day Kindergarten there have been sacrifices, including the salary scale topping out at 20 years, which leads some staff to leave and find other jobs where better pay is possible.
At Covington Independent, Superintendent Garrison stated: "For my district, full-day Kindergarten is an absolute must if our students are to compete with surrounding districts. In the more [economically] fortunate districts families are able to pay for tutoring or private early childhood learning opportunities. This is just not available for my students as we are 90% free and reduced price lunch. If we did not invest in full-day Kindergarten our children would most likely return home being supervised by a babysitter or a relative or someone else while their parents are out trying to make a living, therefore widening the achievement gap." He said that freed up funds by the state covering full-day Kindergarten could improve teacher recruitment and retention, as well as enable some updates to the district's aging buildings.
Proposal to fully fund transportation
The Task Force also recommended that the state create a plan to return to full state funding for district transportation. By statute, the state is required to cover 100% of the estimated costs of transportation for school districts. However, as shown in the graph below, the state has not been doing this for many years, and the current budget covers just 55% of the estimated costs in 2022. This considerable gap is one that school districts have had to cover with local funds.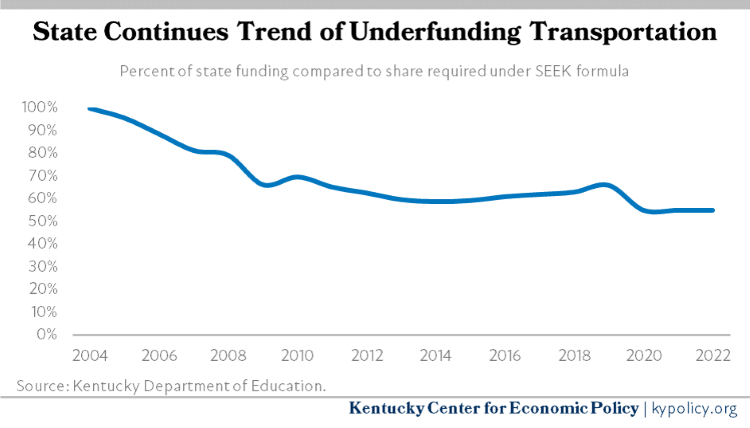 Increased recommended funding for Family Resource and Youth Services Centers
Another area of investment identified in the Task Force recommendations is a non-SEEK education program, the Family Resource and Youth Services Centers (FRYSCs). FRYSCs work to minimize the impacts of hunger and poverty on student learning by providing critical supports to students in schools where at least 20% of students qualify for Free and Reduced Price Lunch. FRYSCs have been especially important in serving school families during the pandemic, and received an additional $15 million in federal funding from the Governor's Emergency Education Relief fund. State funding for FRYSCs, however, is 17% lower in 2022 than in 2008 in inflation-adjust terms.
Plan for fully funding "school safety" provisions
The Task Force also recommended developing a plan to fully fund the provisions included in "the School Safety and Resiliency Act of 2019," which currently includes both mental health staff in schools as well as School Resource Officers (SROs). Investing in additional mental health counselors and other resources to support growing student mental health needs in schools is a critical priority that has grown even more important as schools, families and communities address the emotional toll of COVID. On the other hand, funding for more SROs provided in the "school safety" legislation should be reconsidered in light of recent research that the presence of SROs can actually make schools less safe.
Other recommendations
Another Task Force recommendation is that the General Assembly consider transitioning school funding from being tied to a district's Average Daily Attendance (ADA), which is based on actual attendance, to being based on "membership," which is a count of the number of students attending school in a district. The Office of Education Accountability identified this calculation as a funding equity issue, as low attendance is a greater challenge in districts with more students whose families have incomes below the poverty line. Tying school funding to ADA disadvantages these school districts and makes it difficult for districts to predict funding levels.
The other four recommendations involved additional study of funding adequacy issues by the Education Assessment and Accountability Review Subcommittee and the Legislative Research Commission; exploring the development of a School District Impact Statement to better inform lawmakers about the financial impacts of legislative proposals on school districts; and a recommendation to send a report prepared by the Kentucky Department of Education to the Appropriation and Revenue Committees related to the "equitable transfer of education funds" between resident and nonresident school districts as required by 2021 House Bills 405 and 563.
Additional investments are needed, and we have an opportunity to make them
If the General Assembly acts on the Task Force recommendations highlighted above, they would be taking important steps toward funding adequacy and equity. But these steps are not enough, and Kentucky has the opportunity to make even more significant investments in P-12 education in the 2022-2024 budget. It's important that the state invest a substantial portion of its historic revenue surplus in restoring education budget cuts and providing relief and stimulus to help schools emerge out of the COVID-19 pandemic and past decade of harm.
Such critical areas for investment include:
Making additional investments in the state portion of the base per-pupil guarantee. The per-pupil guarantee is currently $4,000, where it has been stuck for several years. The state portion of the guarantee continues to decline while the local portion grows. This trend contributes to the funding inequity and inadequacy described previously. While adjusting the per-pupil guarantee for inflation and other methods of increasing base SEEK funding were discussed by the Task Force as potential recommendations, they were ultimately not adopted. Regardless, it should be a priority of the Kentucky General Assembly in 2022 to move toward adequate and equitable base SEEK funding by making up for erosion caused by the state's failure to keep up with inflation. While the state's share of the base per-pupil guarantee will be $2,603 in 2022, in 2008, it was $3,524 in inflation-adjusted dollars.
Addressing school facilities needs, which continue to grow. Building maintenance issues and other facilities needs emerged as a serious concern for many districts in our 2018 school funding survey report. Current unmet school facilities needs are estimated to be over $7 billion according to the School Facilities Construction Commission at the July School Funding Task Force meeting. While the state invested some of its American Rescue Plan Act funds to address school construction needs, they are large and continue to grow.
Providing teacher and staff raises. Kentucky teachers and other school staff are long overdue for a state-mandated (and funded) raise. The last state-mandated teacher pay raise was a 2% raise in 2016.