New monthly jobs data shows the state lost jobs in December for the first time since the recovery began in the spring of 2020. The end of federal CARES Act aid and a rise in COVID-19 cases combined to weaken the economy. After months of stalled negotiations in Congress, a new short-term federal aid package passed in December, but Kentucky needs the new Congress to quickly agree to a bigger, long-term round of aid that builds a bridge across the remainder of this crisis.
End of aid and spike in COVID cases caused economy to falter
The new monthly employer survey shows Kentucky lost 9,100 nonfarm jobs in December. That continues the weakening trend in the recovery that started in July when an extra $600 in supplemental unemployment benefits expired and stimulus checks were spent. But alarmingly, it is the first month since April in which jobs actually declined. The state is still 113,800 jobs short of where it was in February 2020.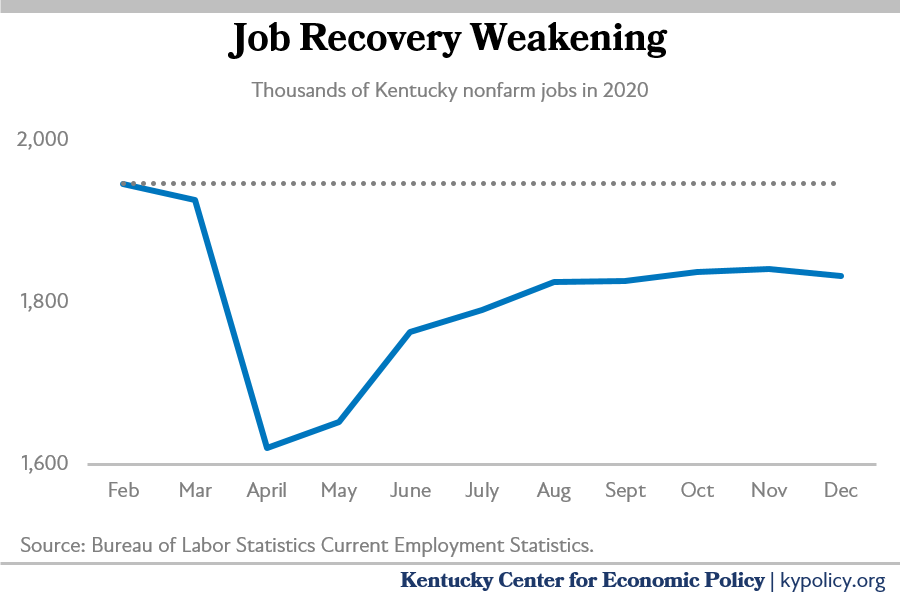 Especially hard hit were accommodation and food services jobs (-12,700), with colder weather having an impact as well as restaurants being required to close during the first half of December due to spiking COVID-19 cases. Also declining were jobs in state and local government (-5,800), educational services (-1,800), administrative and support and waste management (mostly temporary agency jobs) (-1,600) and other services (-1,300). Those jobs losses offset gains in sectors like retail trade (+4,200), healthcare and social assistance (+3,600) and transportation, warehousing and utilities (+2,100).
A separate survey of households also showed 6,835 fewer Kentuckians employed in December than in November, and 5,768 more people categorized as unemployed (meaning jobless but looking for work). In addition, there were still 66,854 fewer Kentuckians in the labor market than there were in February, reflecting the lack of job opportunities as well as caregiving constraints many people, especially women, face due to closed schools and childcare centers and sick family members. Black Kentucky workers also continue to be laid off at higher rates than their representation in the workforce in the latest data from November.
Rising unemployment claims in January indicate the recovery may be continuing to weaken.
Short-term aid is coming, but much more is needed
Congress finally passed and the President signed an aid package at the end of December that provides some short-term relief. It restores an extra $300 a week in unemployment benefits and extends special pandemic unemployment programs through March 14th. The new law also sent out $600 per person checks, extended rental and food aid, and provided assistance to businesses, schools and childcare centers and for vaccination and testing.
But with the recovery weakening and hardship remaining extraordinarily high, Kentucky needs the new Congress and President to do much more. President Biden has proposed an additional aid package that would extend a necessary lifeline including by:
Increasing supplemental unemployment benefits to $400 a week and extending the supplement along with pandemic benefits at least through September;
Providing $1,400 per person survival checks to supplement the $600 checks sent earlier;
Increasing resources for rental assistance and to address homelessness and utility bills;
Extending increased SNAP food assistance benefits at least through September;
Providing aid to state and local governments, an element missing from the package in December despite the continuing loss of public sector jobs;
Increasing the child tax credit and making it available to people in deep poverty, and expanding the earned income tax credit;
Increasing the minimum wage to $15 an hour;
Extending the pandemic paid sick days and paid medical and family leave program now expired, and providing additional childcare funding.
Congress should quickly pass a package at least as big as the Biden proposal and continue providing aid until families are back on their feet and the economy is recovered. To forestall hardship and achieve an equitable recovery after the virus is defeated, Congress must ignore discredited myths about debts and deficits that led to a premature end of federal aid after the Great Recession and caused that recovery to be slow and painful. Relief and stimulus are the morally correct and economically sound way forward.