Kentucky is a standout state in reducing the share of people without health insurance, rocketing from 39th to 11th among the states in its rate of uninsured according to a new Gallup poll.
The poll shows that Kentucky's uninsured rate dropped from 20.4 percent in 2013 to 9.8 percent in 2014; even better than a midyear estimate from Gallup of 11.9 percent. Kentucky had the second sharpest one-year reduction in uninsurance rates for adults in the nation.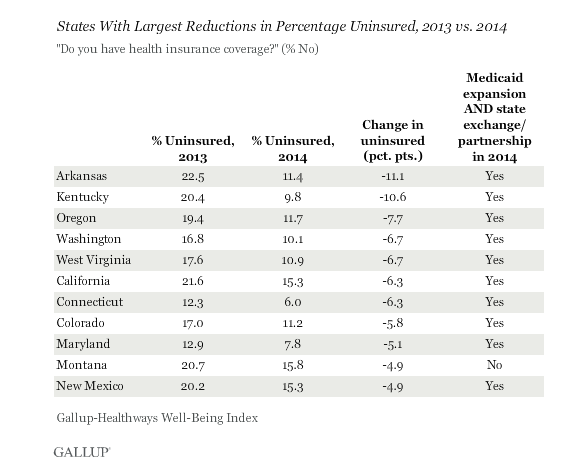 A big reason for Kentucky ranking so high is the state's decision to expand Medicaid. A recent independent study on the Medicaid expansion in Kentucky showed that 310,000 Kentuckians enrolled in Medicaid through the expansion—compared to initial projections of 147,634. The new study also indicates that the expansion is making an important contribution to the state's economy; it is now estimated to have a positive cumulative impact of $30.1 billion on Kentucky's economy through 2021 (the original projection was $15.6 billion).
Kentucky choosing to set up its own state health insurance exchange, Kynect, may also be a factor in the state's success in dramatically lowering uninsurance rates. According to Gallup, the uninsured rate declined more in states that both chose to expand Medicaid and set up their own state exchanges or partnerships in the health insurance marketplace. In the 21 states that implemented both of these actions, the uninsured rate declined 4.8 points, compared with just a 2.7-point drop across the states that implemented only one or neither. For states that did not participate in either, the gap in uninsured rates existing in 2013 between them and those that both expanded Medicaid and set up their own state exchanges or partnerships nearly doubled in 2014.
Two surveys—by the Centers for Disease Control and the Urban Institute—have been collecting health insurance data quarterly, and their latest reports also indicate further gains in health insurance coverage in 2014, particularly for states that expanded Medicaid. However, state level data is largely unreported by these surveys. Census data won't show the full effect of the ACA thus far until September.
But the Gallup poll, coupled with the recent report of the economic impact of Medicaid expansion, suggests remarkable success.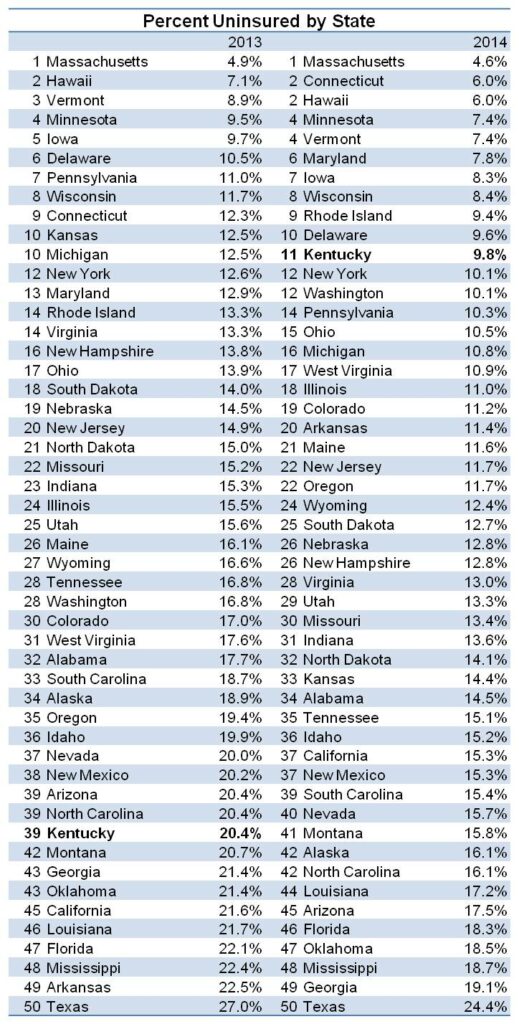 Source: Gallup