In recent months, some have expressed concern that the cost of Kentucky's Medicaid expansion may exceed its benefits—especially in light of greater than expected participation by low-income Kentuckians. However, a new independent report from Deloitte and the University of Louisville's Urban Studies Institute shows that a net positive fiscal benefit to Kentucky is still anticipated because greater enrollment also means higher than projected job creation from more federal dollars flowing in to the state.
The report shows that a total of 310,000 Kentuckians enrolled in the Medicaid expansion in 2014 (compared to initial projections of 147,634), and the expansion is now estimated to have a positive cumulative impact of $30.1 billion on the state's economy through 2021 (the original projection was $15.6 billion). The net cumulative impact on the budget is also positive over the first eight years—becoming only slightly negative in 2021 when the state's share is fully phased in at $45 million net costs.
The $30.1 billion positive economic impact between 2014 and 2021 largely results from:
Increased Revenues for Healthcare Providers – There were $1.16 billion in new Medicaid revenues to healthcare providers just in 2014—with $506.6 million going to hospitals alone.
Job Growth – One of the most important impacts of the Medicaid expansion is the resulting growth in jobs. The report estimates that the expansion resulted in 12,000 new jobs in Kentucky in 2014 due to related spending—and 5,400 of them were healthcare sector jobs. Through 2021 more than 40,000 jobs are expected to be created, resulting in more than $1 billion in income, sales and occupational tax revenues over the next eight years.
Federal Funds Replacing Some General Fund Dollars – The Medicaid expansion has enabled General Fund budget reductions to several state agencies—Department for Public Health; Department for Behavioral Health, Developmental and Intellectual Disabilities; and Department of Corrections—because under expanded Medicaid some of the costs are covered by federal money. For instance, adults under 138 percent of the Federal Poverty Level can now receive medical treatment at local health departments through Medicaid rather than exclusively through General Fund dollars.
Reduction of State and Local Expenditures for Uncompensated Care – The Quality Care Charity Trust Fund (QCCT) at the University of Louisville Hospital has been in place—and funded by the state, local government and university—to cover the medical expenses of those who cannot afford to pay for their care. Budgeted contributions to the QCCT are now being reduced because of the Medicaid expansion's coverage of more low-income Kentuckians.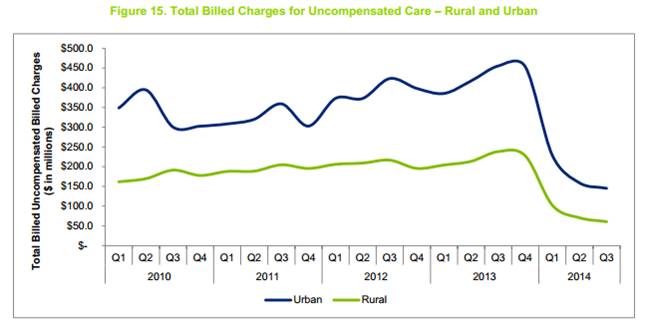 Source: Deloitte, "Commonwealth of Kentucky Medicaid Expansion Report 2014."
Avoiding $99.5 Million Cost to the State of Not Expanding – The report makes the point that it would cost the state money not to expand, noting that "without Medicaid expansion, the state may not experience some of the near-term direct costs associated with the Medicaid expansion population, but the result of such a decision could be the forfeiture of the economic benefits associated with increased jobs and tax revenue."
Of course, in addition to the Medicaid expansion's direct economic payoff, expanded health coverage can be expected to improve the health of the population as well. However, the estimates in the report do not take into account the potential economic benefits of improved health through increased coverage.
Kentucky's decision to expand Medicaid has played an important role in the state's uninsurance rate dropping so substantially—according to Gallup, from 20.4 percent in 2013 to 11.9 percent in mid-2014, the second largest drop in the nation. In addition to the 310,000 Kentuckians enrolled in Medicaid in 2014 through the expansion, an additional 36,702 enrolled in Medicaid under the traditional (pre-expansion) qualification guidelines.
The report also shows that participants in Kentucky's Medicaid expansion are seeking out preventive care, which will likely positively impact health outcomes. For instance, in 2014:
232,000 members had a non-annual physician office visit;
90,000 members received cholesterol screening;
80,000 members received preventive dental services;
46,000 members participated in diabetes screening;
34,000 members had cervical cancer screening;
26,000 members had breast cancer screening.
And the report indicates that the Medicaid expansion is providing better access to substance abuse treatment in our state. A least 13,000 people with a substance use disorder diagnosis have received treatment services, and more than 300 new behavioral health providers have enrolled in Medicaid.
The new study of the state's Medicaid expansion more than confirms that it was a smart move for Kentucky. The analysis overwhelmingly shows that the expansion is proving to be good for the state's economy as well as the health of its citizens.