New data shows that Kentuckians leaving college with student loan debt have among the highest default rates in the country, a problem stemming in part from the rising cost of college due to declining state and federal funding.
Data released today by the U.S. Department of Education shows the rate of default among student loan borrowers in Kentucky is now 16.3 percent. This makes Kentucky's three-year student loan default rate the third highest in the nation — surpassed only by New Mexico's (20 percent) and West Virginia's (18.2 percent). The national default rate is 11.8 percent.
This new data on student debt in Kentucky points to the need for greater state investment in higher education in order to help keep tuition rates down and provide more scholarships to Kentucky's low-income students. It also underscores the importance of more federal efforts to address the student loan crisis and make college more affordable.
The newly released three-year default rate is a calculation of the share of students whose loans entered repayment in 2012 who, within three years, missed payments for at least nine months. Last year's three-year student loan default rate, for Kentuckians whose loans entered repayment in 2011, was 17.5 percent. While this year's default rate marks a decrease from the previous year, Kentucky went from fourth highest default rate last year to third highest this year.
While the three-year student loan default rate provides insight into the financial struggles of many student loan borrowers, this measure underestimates how many borrowers have difficult repaying loans. It does not count students who are not making progress in paying off their loans, although they have not defaulted — for instance, students who have their loans in forbearance where they are not required to make loan payments for a period of time, but the loans continue to accrue interest.
The U.S. Department of Education's new College Scorecard provides a fuller picture of the situation, by including the share of borrowers at an institution that are making progress in paying down their debt. The scorecard also provides important contextual information for understanding student debt — for instance, the share of students who take out federal student loans, typical total debt and graduation rates at each school.
The table below shows how students at Kentucky's four-year public universities are faring on some of these measures.
Selected College Scorecard Data for Kentucky's Public 4-Year Colleges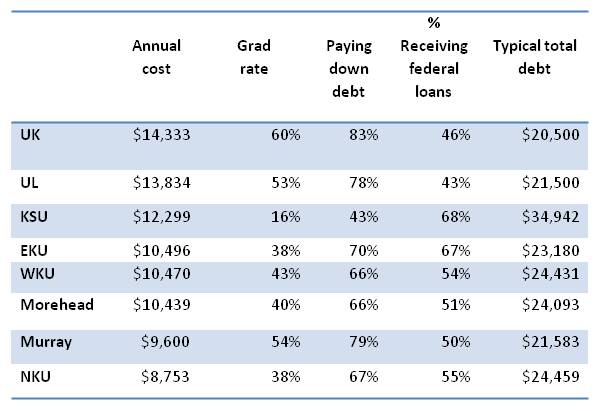 Source: College Scorecard, U.S. Department of Education
This scorecard data shows that a large share of students at Kentucky's public universities are borrowing to attend — 43 percent to 68 percent, depending on the institution. The schools' 6-year graduation rates range from 60 percent at the University of Kentucky to just 16 percent at Kentucky State University, which suggests that many who owe may have left school without earning a degree — making it particularly difficult to repay their student loans. In fact, while Kentucky's student loan default rate is 16.3 percent, the scorecard shows only 43 percent to 85 percent of those who attended one of the state's public universities are making progress in paying off their loans. It's important to note that community colleges and for-profit schools typically perform even worse on these measures.
The College Scorecard, however, also doesn't fully capture the student loan crisis — with "paying down debt" being defined as a student paying at least a dollar toward the principal balance of his/her loan within three years of leaving school. This is a very modest benchmark for making progress on paying down debt.
This latest data indicates the importance of reinvesting in higher education, something Kentucky lawmakers haven't been doing. Unlike most other states, Kentucky has not yet begun to restore funding for higher education since implementing cuts as a result of the recession — which contributes to the state's college affordability problems.