As Kentucky's economy continues to grow, the state's revenue intake reflects that growth less and less. Just over the last year from fiscal year 2015 to 2016, state personal income (a good measure of economic growth) grew by 4.7 percent in the Commonwealth, but the state's General Fund grew by only 3.7 percent.
The disparity is reflective of a 25-year trend in which revenue hasn't been keeping up with the economy. That means instead of being able to reliably maintain our investments in excellent schools, affordable higher education, job training and healthy citizens and communities, we have less of what it takes to create a better future.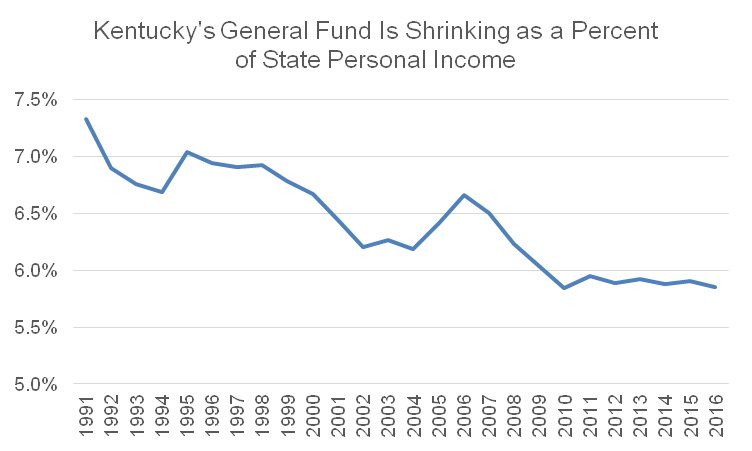 Source: KCEP analysis of Office of the State Budget Director, Bureau of Economic Analysis data
Just how much less? The General Fund as a share of the state's economy was 5.8 percent in 2016. If revenue had simply kept up with growth in the economy since 1991 – the year following the passage of the Kentucky Education Reform Act (KERA) when revenue was 7.3 percent of personal income – the Commonwealth would have raised in fiscal year 2016 alone an additional $2.6 billion. Even a small portion of those resources could have prevented across-the-board budget cuts in 2016, as well as a "lost decade" of investments in our state.
Ideally, a tax code fosters robust investments in education, infrastructure, workforce development and other areas, creating a "virtuous cycle," in which smart allocation of resources today produces an even greater amount of growth and resources tomorrow. In reality in Kentucky, tax breaks for powerful interests siphon off billions of dollars each year, subsidizing the highest incomes in the state; and as a result of our "upside down" tax structure (which asks the least of those who are gaining the most in today's increasingly unequal economy) we have less to invest in that virtuous cycle.
Cleaning up some of the billions in tax breaks the state gives out each year would help restore the link between our economy and General Fund and afford stronger investments in thriving communities.