Kentucky again ranks among the worst states for rates of student loan default, according to new data released by the U.S. Department of Education. This latest data is yet another indicator Kentucky students have difficulty paying for college — largely due to public disinvestment in higher education that has a particularly damaging impact on low-income students and students of color.
Kentucky's 3-year student loan default rate is now 14 percent, which is the 9th worst in the nation. Although this is an improvement over last year's default rate of 15.5 percent, it is still above the national default rate of 11.5 percent (which is up slightly from 11.3 percent last year).
The three-year cohort default rate is a calculation of the share of students whose loans entered repayment in a particular year (in this case 2014) who, within three years, missed payments for at least nine consecutive months.
The tables below describe the three-year default rates for students, this year and last, that attended Kentucky's public postsecondary institutions. In keeping with national trends, the highest default rates for public institutions in Kentucky were at the community colleges — where more low-income students enroll — and the lowest were at the universities.
While overall the state's student loan default rate improved this year over last year, there are several universities that have higher default rates: Kentucky State University, Murray State University, Northern Kentucky University (up just slightly) and University of Kentucky. Among the community colleges just two had higher default rates this year: Big Sandy Community & Technical College and Southeast Kentucky Community & Technical College — both located in the more economically distressed eastern part of the state.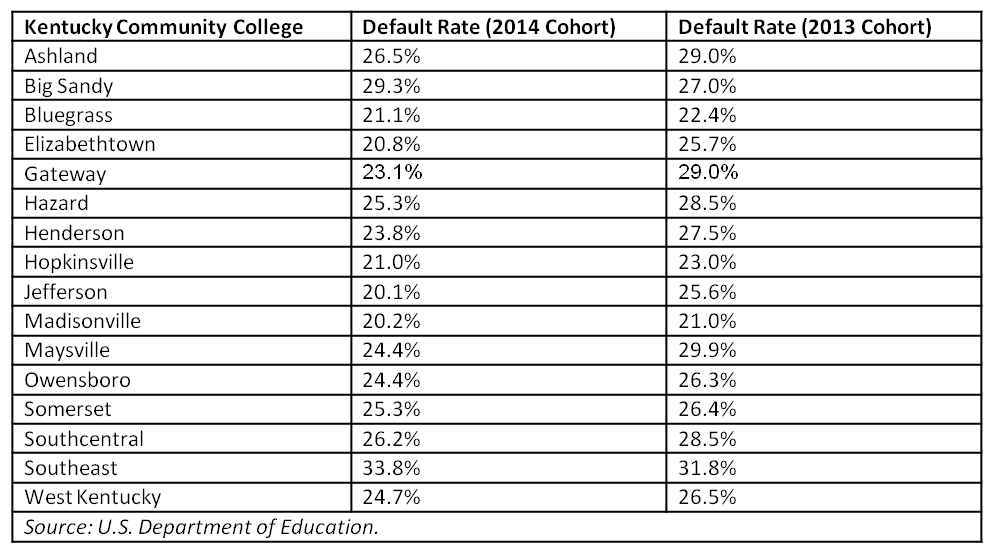 Kentucky's continued high student loan default rates are the result of many factors that include:
It should be noted that borrowing very large amounts of money is not generally a driver of student loan default. In fact, those who owe the most — often due to the high costs of professional degrees, for instance in medicine or law, that lead to jobs that pay well — are less likely to default. While student loan balances are often lower for those who default, the cost of repayment is often not manageable for those who cannot afford to complete a degree, for instance.
According to a 2016 report from the Council on Postsecondary Education, a key way to improve Kentucky's high student loan default rates is to address the state's higher education achievement gaps. The clearest way to do so is for the state to increase its investments in higher education.