New jobs numbers for September show Kentucky's economy failed to make badly-needed progress last month as the effects of federal stimulus legislation passed in March continue to fade. The state's joblessness is at a historic high, and particularly hard hit are low-wage workers and workers of color. New threats loom for sectors of the economy ranging from the airline industry to state and local governments, and more businesses are shuttering for good. Congress must agree to a new round of robust aid or the economy and Kentucky families will face major new hardship in the coming months.
Job growth nearly stops with loss in retail and public sector jobs
Kentucky added only 500 net new jobs in September according to the Bureau of Labor Statistics' monthly survey of businesses. While we saw a return to employment in some industries like restaurants (accommodation and food services added 5,400 jobs), manufacturing (1,900), wholesale trade (1,600) and construction (1,300), Kentucky saw 2,400 retail jobs disappear and lost 5,000 local government jobs last month – the latter occurring as reductions in tax revenue lead to budget cuts. For similar reasons, the state also lost 1,400 jobs in educational services.
These job losses slowed the economic recovery of recent months nearly to a halt, as shown in the graph below. The state is still missing about 1/3 of the net jobs that were eliminated in the spring.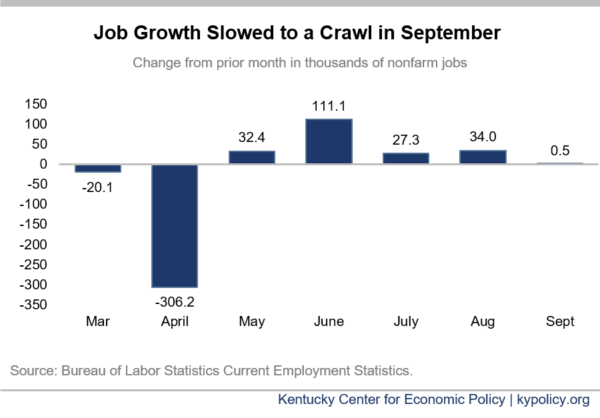 Lack of job opportunities keeps real unemployment historically high
While the unemployment rate in a separate Bureau of Labor Statistics survey of households improved from 7.5% in August to 5.6% in September, it was for the wrong reasons. The report shows that 41,523 fewer Kentuckians were employed in September than in August. The rate only went down because the labor force shrank substantially, declining by 83,590 people. An estimate of a real unemployment rate that includes those unemployed and looking for work and those who have left the labor force since February is a painfully high 12.8%.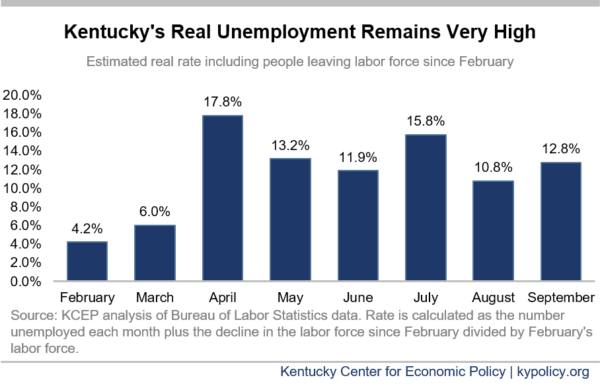 A persistent and historic lack of jobs remains the overwhelming barrier to employment, with job seekers far exceeding job openings. Closed schools and child care centers and the presence and threat of COVID-19 are also serious impediments.
Weak economy is widening inequities and increasing hardship
Kentucky layoffs have been concentrated among those who are least able to weather the resulting hard times. People with low-wage jobs have been hardest hit. While employment rates for Kentucky workers making over $60,000 a year have nearly returned to pre-coronavirus levels, employment for workers making less than $27,000 a year is still down 11.8%. Black Kentucky workers were more likely to be laid off than white workers in the crisis, and have had more difficulty finding jobs in the recovery. And young workers are also feeling the pain because they are more likely to be employed in industries like restaurants and retail.
Hardship is severe, with 32% of Kentucky adults in September reporting difficulty covering usual household expenses like food, rent or mortgage, car payments, medical expenses and student loans, according to Census data. An estimated 8 million Americans have fallen into poverty as federal aid has dried up.
Layoffs have happened throughout the state with some of the biggest losses in rural counties, as shown in the map below. Hopkins, Pike, Madison, Rockcastle, Boyle, Butler and Taylor counties had the largest percent decrease in jobs between February and August, all at 12% or larger. The net decline is 5% in Fayette County and 6% in Jefferson, which may reflect a higher share of white collar jobs in those cities that have been less likely to be eliminated.
End of federal aid creating a weak economy
The poor September jobs report coincides with the expiration of federal aid under the CARES Act. The $600 a week in supplemental unemployment benefits ended in July, replaced with a temporary $400 a week supplement for a smaller set of unemployed workers. The benefits of the $1,200 stimulus checks for the economy have largely faded. And a lack of general aid to state and local governments is forcing cutbacks that send public sector workers to the unemployment rolls. An end to relief reduces spending that weakens the economy overall. Last week Federal Reserve Chair Jerome Powell urged Congress to provide more aid, saying "too little support would lead to a weak recovery, creating unnecessary hardship for households and businesses."
The U.S. House passed the $3.4 trillion HEROES Act back in May, which contained the kinds of relief needed to get through the next phase of this crisis. The House then offered a compromise with the U. S. Senate in passing a $2.2 trillion version that was still robust enough to make a real difference through the end of the year. However, the Senate has only proposed a very narrow plan that contains a fraction of the needed aid, leaving out assistance to state and local governments and much-needed monies for food and housing assistance among other inadequacies. Talks between the White House and the House of Representatives have not yet led to a breakthrough in negotiations, and Senator McConnell has given no indication one is forthcoming.
The economy will weaken further if Congress does not come through. Airlines are warning of major additional cuts, an industry that employs 2,843 people in Kentucky with annual wages of $216 million, according to Bureau of Labor Statistics data. The State Budget Director has told agencies to prepare for 8% budget cuts that would reduce the public sector workforce further and harm services when they are needed most.
The September jobs report should be a big red flag to decision makers of the pain that lies ahead without more relief.