For largely rural states like Kentucky, the Affordable Care Act (ACA) was a major boon for health coverage. There are 223,700 rural Medicaid expansion enrollees in Kentucky, more than any other state according to a new report by the Center on Budget and Policy Priorities. Fully half of Kentucky's expansion population lives in a rural area, compared to 15 percent of expansion enrollees across the country. But the American Health Care Act (AHCA) puts those rural gains, and much more, in jeopardy.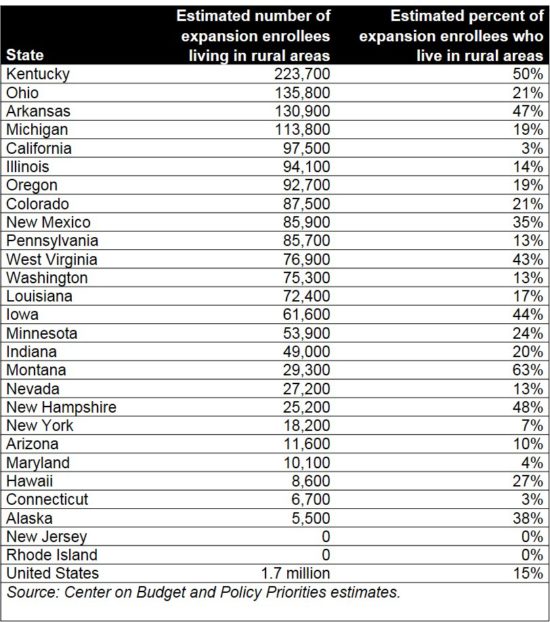 The coverage gains Kentucky's rural communities have experienced are helping them face major health challenges. The state's rural areas have been hard hit by the opioid epidemic, and Medicaid has played a critical role in providing drug treatment. In fact, according to a study tracking the ACA implementation in Kentucky, Medicaid funded drug treatment grew over 500 percent after the state expanded eligibility.
People who live in rural areas also face higher risk of death from conditions like cancer, heart disease and chronic lower-respiratory disease. But studies have shown that Medicaid expansion enrollees in Kentucky are receiving the treatment critical to improving health. A Harvard School of Public Health study found that after Medicaid expansion low-income adults in Kentucky and Arkansas were likelier to have a primary care physician, receive routine care for chronic conditions, and be screened for things like cancer and diabetes than in Texas, which did not expand Medicaid.
The high share of coverage gains that are rural means rural hospitals have also seen disproportionate benefit from expanding Medicaid. According to the Kentucky Cabinet for Health and Family Services, in the first two years of expansion rural hospitals received 300 percent more in Medicaid expansion payments than their Disproportionate Share Hospital Payments (the income source that helped compensate for indigent care before the ACA). Urban hospitals, in comparison, saw a 250 percent increase.  This lines up with the experience of rural hospitals nationally:
Rural hospitals saw a 4 percentage point increase in their operating margins since Medicaid expansion compared to a 1 percentage point increase among urban hospitals.
Most of the 78 rural hospitals that have closed since 2010 were in states that didn't expand Medicaid.
The AHCA effectively eliminates Medicaid expansion and permanently cuts traditional Medicaid. Combined, these cuts represent a $16 billion funding shift to the Kentucky state budget over 10 years, ending coverage for the 470,000 Kentuckians under Medicaid expansion and threatening coverage for nearly 1 million others covered through traditional Medicaid.
Of the Kentuckians who buy their coverage through the ACA marketplace, 45 percent live in rural areas, and they would also be disproportionately hurt by the AHCA. Rural Kentuckians in the exchange would see premiums rise dramatically – especially enrollees who are older and earn less. For example, a 60 year old Pike County woman earning $20,000 a year would see her premiums rise $6,140, while in Fayette County her premiums would rise $2,550. Also, the AHCA eliminates help with paying out-of-pocket costs, which will hurt rural residents who often require more care due to poorer health.
The AHCA is dangerous for hundreds of thousands of rural Kentuckians covered by Medicaid and through the marketplace, and for rural hospitals that have seen their finances dramatically improve. For rural parts of the commonwealth already experiencing economic hardship, it's a blow they cannot afford to take.