An estimated 31,300 workers in Lexington who would otherwise make less than $10.10 an hour will have higher wages once the newly-passed minimum wage ordinance — the second such local law in Kentucky and the third in the South — is fully implemented in 2018.
In addition to the workers who will directly benefit, another 9,700 who make slightly above $10.10 an hour could also receive a small raise when wage scales are adjusted up, based on the experience of minimum wage increases elsewhere.
While the final ordinance didn't include an increase in the $2.13 an hour that tipped workers receive, as originally proposed, tipped workers are still affected by the new law because it requires that their total wages including tips equal at least $10.10 an hour. Under previous law, wages only had to total $7.25.
Of the workers directly affected, an estimated 90 percent are at least 20 years old, and more are over the age of 50 than are teenagers. Fifty-seven percent are women, 54 percent work full-time and 26 percent have a child in the household.
Seventy-six percent of those workers with family income below the poverty line will benefit. Thirty-eight percent of affected workers are employed in either restaurants and food services or retail trade. See the table below for more detail.
The final ordinance didn't include an adjustment based on cost of living after it's fully phased in, so more work will be needed in the future to ensure the value of the minimum wage doesn't erode. But the increase is a tremendous victory for workers in Lexington and elevates the city as a leader in the state and the region.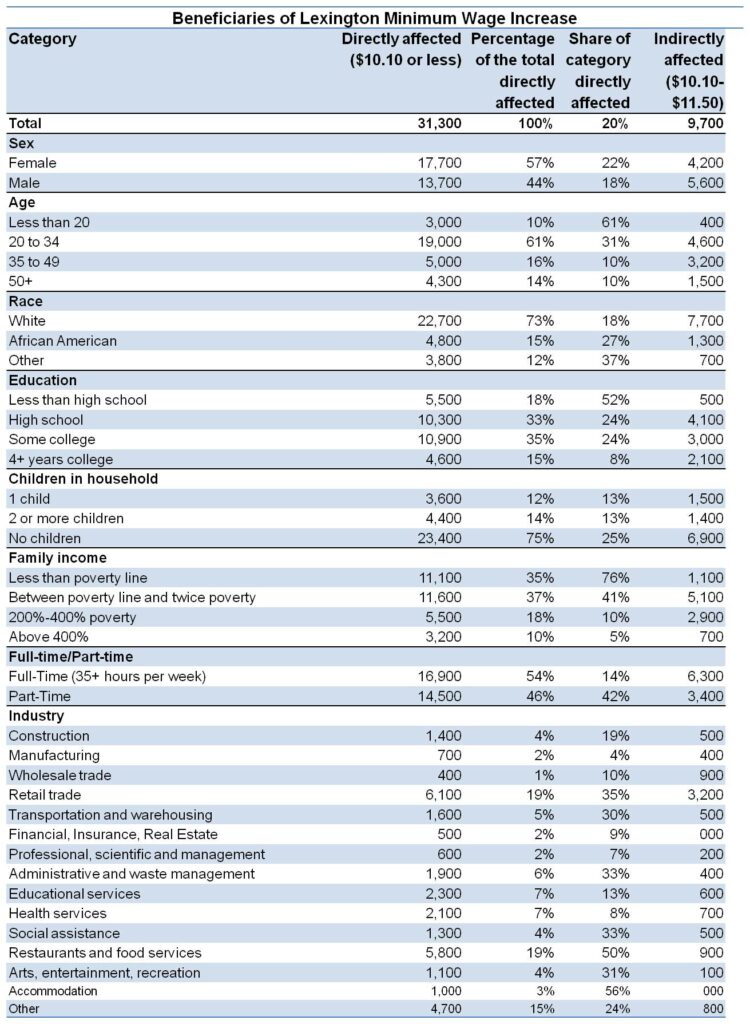 Source: Kentucky Center for Economic Policy analysis of American Community Survey data. See full report for more.