Supplemental Security Income (SSI), similar to Social Security Disability Insurance, provides a vital lifeline to blind, disabled and aged Kentuckians. Being a means-tested program, however, SSI is specifically designed for those with extremely little means. Far from some claims it is an ever-expanding program designed to create dependency, it is targeted to offer a small but critical benefit only to those who have nowhere else to turn, and encourages work among those who can. Because of the dangerously fragile position these beneficiaries are in, the Social Security Administration refers to this program as the "assistance of last resort."
Few Qualify for SSI
Kentuckians of any age are eligible to apply for SSI as long as they have very little income and next to no assets, and are either blind or have a diagnosed and significant disability. Additionally, individuals age 65 and older can receive this assistance if they too have very little income and assets.
Specifically, the asset limit is $2,000 for an individual and $3,000 for a couple. Assets include more than just savings, but things like land, life insurance policies, retirement accounts or more than one vehicle per family. These limits have been frozen since 1989, and if they were indexed to inflation would be nearly twice their current amount. The income limit is more variable, but is capped near the poverty level and depends largely on the particular circumstance of the applicant.
Although a larger share of Kentuckians have SSI than other states, it is harder to get benefits in Kentucky than in the rest of the country.
In 2015, Kentucky's award rate was 32 percent of applications, compared to 35 percent for the U.S. as a whole.
The award rate for those 18 to 64 years old was even lower, at 29 percent – meaning Kentucky was more stringent for working-aged adults than children or seniors.
SSI Benefits are Modest but Important
The average SSI monthly benefit in Kentucky was just $550 in December 2016, which is an annualized amount of just $6,600 – 55 percent of the poverty level for an individual. But even this meager benefit is crucial, especially for disabled individuals and families with disabled children. That small amount of extra income allows families to provide highly specialized care for their loved ones with a disability or those who are aging and impoverished. On average, disabled children and adults receive more income through SSI than those over age 65.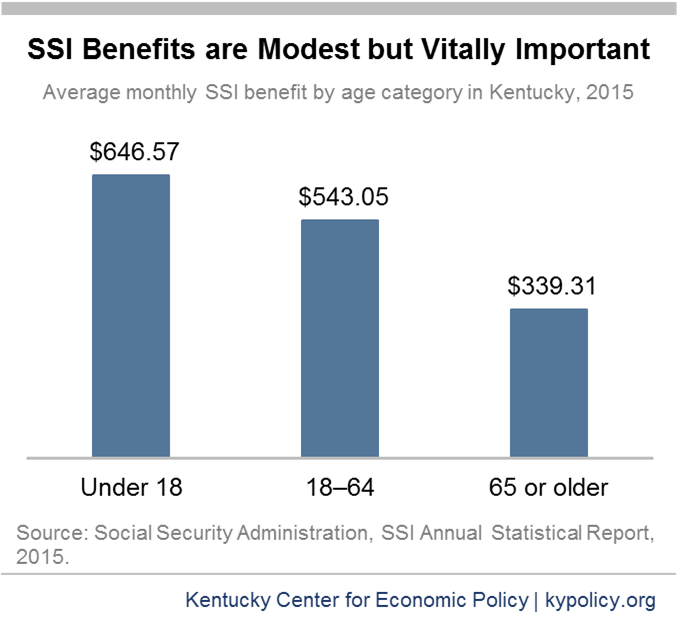 SSI Encourages Work Among Those Who Can
Through the way SSI benefits are set, beneficiaries are encouraged to work, if they can. Income limits are set by looking separately at unearned income (social security, child support or interest payments) and earned income (wages from a job). The first $20 a month of unearned income and the first $65 a month of earned income are disregarded. Then, SSI benefits are reduced dollar for dollar of unearned income and 50 cents per dollar of earned income. The extra discount for wages encourages people to return to the workforce without facing an immediate end to benefits. SSI also has special rules for young people with disabilities that encourage them to work.
Claims that people stop working so they can get SSI benefits are unfounded. SSI enrollment has not driven changes in labor force participation, as the graph below shows. Changes in the labor force are the result of broader economic conditions that have meant a scarcity of jobs over the last decade, a trend of older workers being employed longer because they cannot afford retirement and a lack of employment opportunities for younger workers.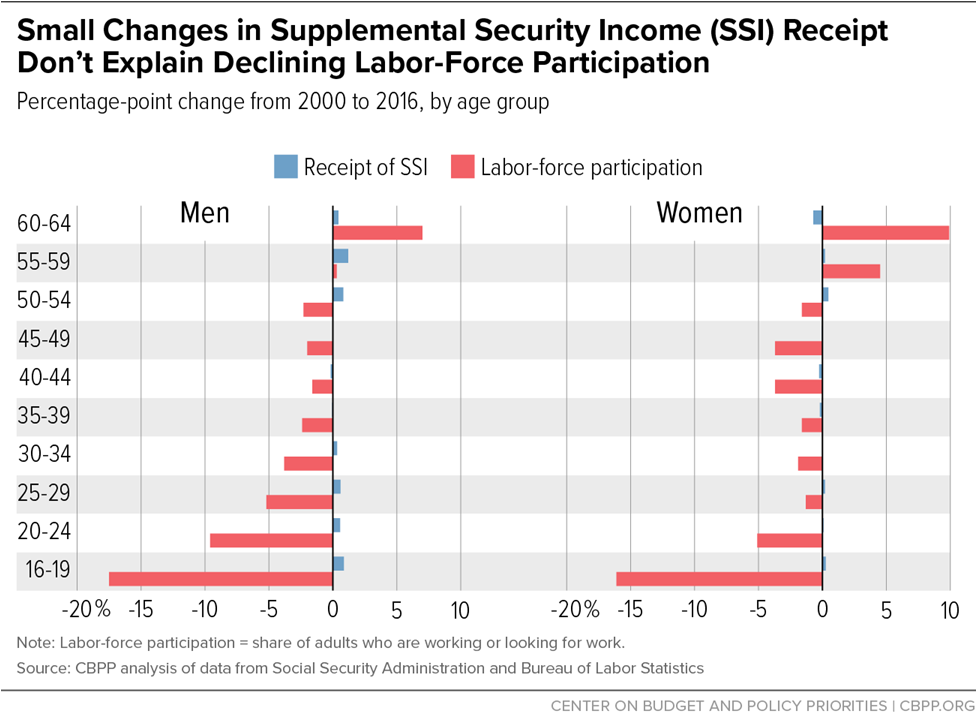 Economic Changes Drove SSI Enrollment Growth, Which is Now Shrinking
Concerns about Kentucky's growth in SSI enrollment ignore basic demographic and economic realities, and the fact that SSI enrollment has been shrinking for years now. At 18.5 percent of people living below the poverty level, Kentucky is the 4th poorest state in the country. Kentucky is also the state with the second highest share of the population who have a disability that impedes every day activities. Because of this, a particularly large share of Kentuckians qualify for SSI.
But the share of Kentucky's population with a disability or seniors without a disability who have SSI is not far from national averages:
23 percent of Kentuckians with a disability receive SSI under a "blind or disabled" determination, which is 4 percentage points higher than the average, but 10 percentage points below the highest share (Washington, DC).
2.4 percent of Kentuckians over 65 without a disability receive SSI under the "aged" category of eligibility, which is the same as the national average and 8 percentage points below the largest share (California).
Enrollment levels in SSI are closely related to changes in the economy. Because the eligibility criteria are tied to not only disability status or age, but also income and assets, the Great Recession caused more people to become eligible as incomes fell and assets were depleted. But as Kentucky's economy, and therefore wages and financial stability, slowly improved in recent years, the number of Kentuckians with SSI has fallen – just as the program was designed. In fact, the number of Kentuckians with SSI has decreased each year since 2011, and there are now fewer SSI recipients than there have been in 11 years.