The student debt crisis has been garnering increased attention recently, with calls for the federal government to forgive between $10,000 and $50,000 in student debt. In February, a group of lawmakers led by Senate Majority Leader Schumer and Senator Warren reintroduced a resolution calling on President Biden to forgive up to $50,000 in federally held student debt per borrower. In the past week, there has been some momentum around the issue as President Biden is reportedly working to clarify his authority to cancel up to $50,000 in student debt for borrowers.
Our new analysis finds that if the federal government forgives $10,000 in student loan debt, 209,400 Kentuckians, or 34% of Kentucky borrowers, will have their loans (a total of $1.09 billion) forgiven entirely; another 406,200 Kentuckians would have a portion of their student loans forgiven. And if $50,000 in student loan debt is forgiven, 489,800 Kentuckians, or 80% of Kentucky borrowers, will have their loans (a total of $8.15 billion) forgiven entirely; another 125,800 Kentuckians would have a portion of their student loans forgiven.
Amid student debt crisis, forgiveness is critical
Our new white paper outlines the worsening student debt problem, both nationally and in Kentucky. Household student loan debt in the U.S. has ballooned from nearly $500 billion to $1.7 trillion over just 15 years. A growing share of individuals and families have taken on debt as the costs of attending college have grown in part due to declining state funding for public higher educational institutions, while Pell Grant amounts — not to mention wages — have not kept pace. Scholars and advocates are calling for student debt relief as an effective policy tool for economic recovery, as well as a step toward racial equity as the rise in student debt has had disproportionately negative effects for Black borrowers.
Around 616,000 Kentucky residents have outstanding federal student loans, roughly 18% of all Kentuckians over the age of 18. That share is slightly higher than the national percentage of borrowers. The total principal and interest balance on those loans is $20.5 billion, roughly $33,300 per borrower. Most borrowers owe less than $50,000. The median amount owed is around $18,000. Still, more than 125,000 Kentucky residents owe more than $50,000 in federal student loan debt.
Kentuckians are already doing what they can to reduce and make sustainable the burden of student loan repayment. For example, 20% of Kentucky borrowers, covering 32% of the debt, are already on income-driven repayment plans that cap the monthly payment at 10% or 15% of the borrower's gross or discretionary income. Individuals on these repayment plans have an average balance of more than $53,000, and their payments without a cap might be quite high. For example, the monthly payment on $53,000 loan with a 10-year term at 5% interest would be $562 per month. The data also show that a large share of borrowers in Kentucky did not complete their degree or credential, which makes it even more difficult to afford loan payments.
At the same time that most student loan balances in Kentucky are under $50,000, the state's rising student loan default rates indicate repayment stress among borrowers. The share of outstanding student loan balances in default has risen steadily from just under 9% in 2013 to nearly 13% at the beginning of the pandemic. Those who attended institutions that do not offer a degree (they offer some type of credential but not a degree), or do not offer a degree beyond an associate's degree, have a higher default rate.
Kentuckians across demographic groups would benefit from loan forgiveness
An examination of the data indicates that student loan forgiveness would benefit hundreds of thousands of Kentuckians. While student debt is practically ubiquitous, and therefore the impacts of debt forgiveness would be felt across demographic groups, the benefits for people with low incomes and Black Kentuckians in particular should be underscored. Not only are Black Kentuckians and Kentuckians with low incomes more likely to take out federal loans to go to college, but they are also likelier to struggle to repay them.
Two thirds of borrowers are between the ages of 25 and 49, which is considered to be prime working age. The average balance is highest for the 35 to 49 age group. There are also Kentuckians beyond or near retirement age who owe federal student loans, with an average debt of $38,000, although there are only about 20,000 such borrowers. It is likely that a significant portion of them are parents who borrowed to support the education of one or more children.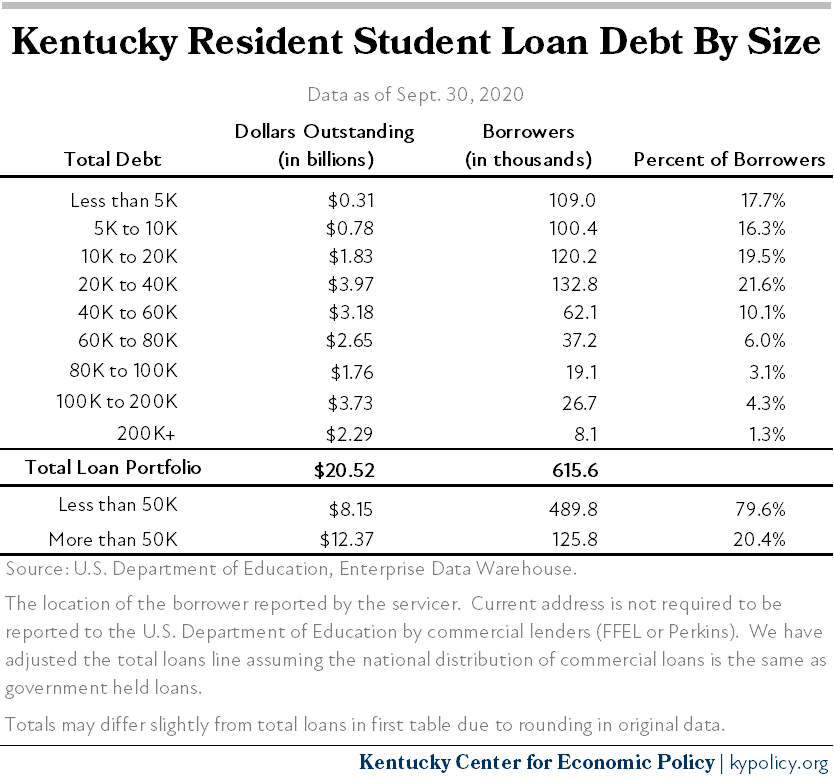 In terms of public colleges and universities specifically, it is illuminating to look in-depth at people recently enrolled — the 223,457 students who started college in 2012 or later, were not enrolled during 2019, and worked in Kentucky during 2019 and 2020 (and didn't go to a private college at all):
Black students were more likely to have student debt: Black students received Pell Grants and took out student loans significantly more often than students of other races, but their median loan amounts were not significantly higher than students of most other races.
A large share of those with student loans have not yet earned a degree or credential: About 62% of the recently enrolled students have not received a degree, certificate or diploma from their efforts, while 18% have attained a Bachelor's degree or higher. Of those who did not receive a degree, certificate or diploma, 48.6% received federal loans. Students who took out loans and earned a degree were more likely to have higher wages than those that did not earn a degree, or that earned a certificate/diploma. For certificate or diploma holders, 60% of former students earned less than $30,000 compared to just 38% of former students with an Associate's degree and 35% with a Bachelor's degree.
Kentuckians with student loan debt have few economic resources with which to pay them back: Over half of the former students had 2020 incomes under $30,000, with a quarter more between $30,000 and $48,000. Only 4.6% had incomes above $75,000. This reflects youth and early career status as well as lack of degree attainment overall. Disaggregated by race, a higher percentage of Black students who received federal student loans earned less than $30,000 than any other race or ethnic group. Only 10.6% of Black former students who received student loan aid earned more than $48,000 in 2020. For students from other racial and ethnic groups, between 18% and 21% earned more than $48,000 in 2020.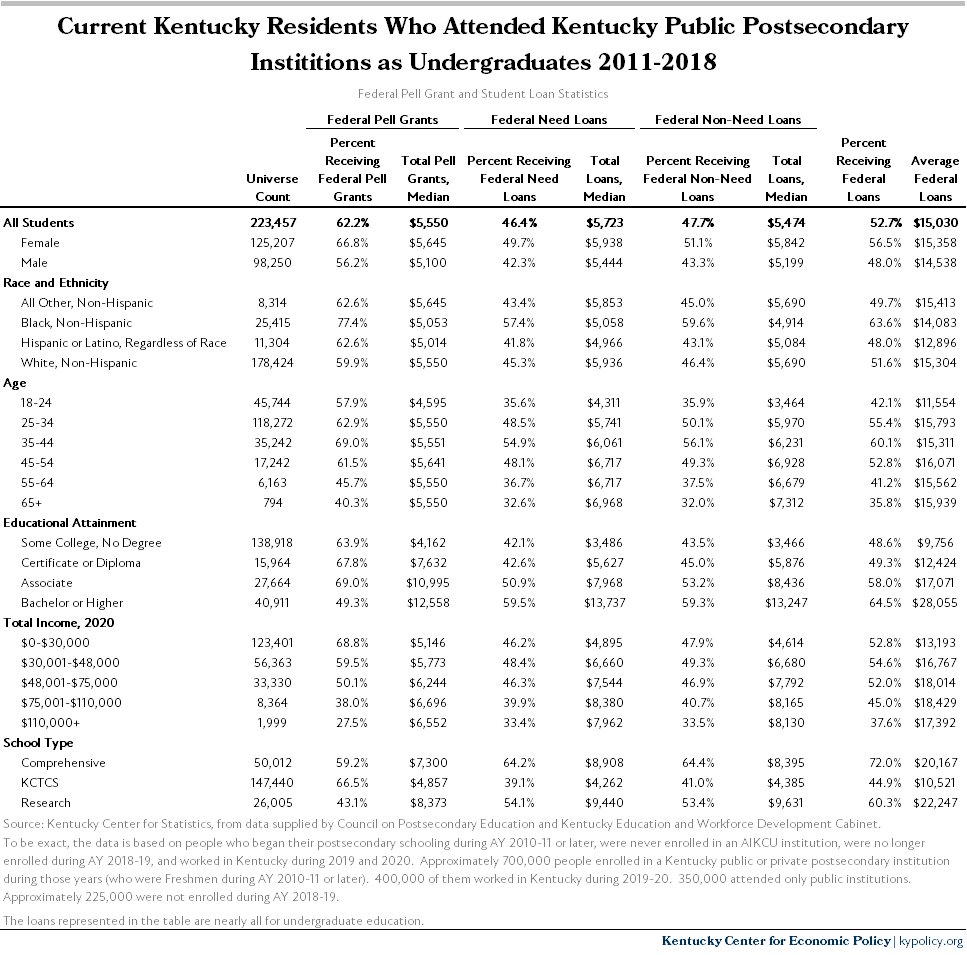 Student loan forgiveness would help with economic recovery and improve longstanding racial inequities in wealth
The data presented in this paper points to the severity of the student debt crisis in Kentucky, and that hundreds of thousands of Kentuckians (not to mention the state's economy) would benefit from federal student loan forgiveness proposals. In addition, such a policy would likely lead to some improvement in longstanding racial inequities in wealth. At the same time, additional investment in making public higher education more affordable is needed in Kentucky so that this problematic system isn't perpetuated.
---