Betting using instant wagering machines, which resemble and operate similar to slot machines, has exploded across Kentucky and thousands more machines will come online in the near future. Yet the state taxes them at very low rates compared to slot machines in other states and even compared to live racing within Kentucky at comparable levels of betting. Especially in the face of more state budget cuts next session unless new revenue is generated, taxing these machines appropriately is an action the 2020 General Assembly should take.
Lost revenue is substantial
In May, we wrote about the missed opportunities and lost revenues because of Kentucky's failure to uniformly tax betting that is already happening in our state. At that time, we estimated the potential new revenues from taxing all betting at a uniform 3.5% of average daily handle (the average amount bet daily), and depositing all the resulting new revenues in the General Fund, at over $40 million.
Since then, instant racing machine use has continued to grow rapidly. Based on new information, we now estimate the potential new revenues at over $60 million annually, excluding the expansion of instant racing machines described below. If the tax rate is increased and the planned expansions occur, potential new revenues over the next two years could increase to as much as $80 –$100 million, providing significant support to much-needed investments in the commonwealth.
Casinos are here—in the form of "instant racing" slot machine parlors
Between 2018 and 2019, the amount bet through instant racing machines increased by 80%, or just over $900 million, primarily due to the addition of 900 new machines at Derby City Gaming in Louisville in September of 2018. Existing instant racing venues also experienced double–digit growth in the amount bet and gross commission per day, per machine.
Moving forward, there will be a more than tripling of the number of instant racing machines operating in the state. On top of the 2,800 machines now in use, the Kentucky Horse Racing Commission has approved the addition of over 7,000 new machines that will likely become operational over the next 24 months, including the following: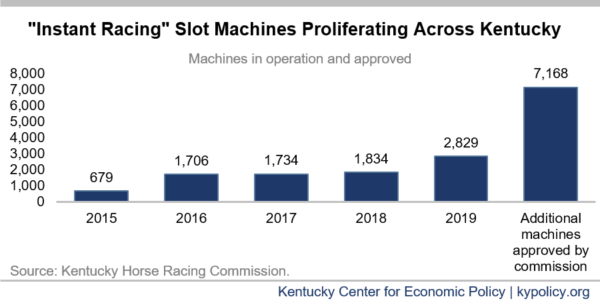 Kentucky's tax rates on slots are extremely low
Kentucky's tax rate on instant racing is very low compared to the rate imposed on live racing in the state at tracks with comparable average daily handles. Instant racing is currently taxed at just 1.5% of the average daily handle, compared to a rate of 3.5% imposed against betting at tracks with an average daily handle of over $1.2 million (2 of the 4 instant racing facilities currently operating have an average daily handle of over $1.2 million, with Keeneland/Red Mile likely to hit that level in 2020).
Kentucky's tax on instant racing slot machines is also low compared to how other states tax slots. Most states impose gambling taxes based on "gross revenues," which are generally defined as the amount that remains after paying winning bets. Our surrounding states impose taxes on gross revenues from slot machines at rates ranging from 26% in Missouri to 53.5% in West Virginia. In comparison, Kentucky's effective tax rate on instant racing, calculated on the same base used by other states, is just 18%. But that number overstates what Kentucky collects because most of the tax receipts are required by statute to be distributed back to the industry. For example, in 2019, 60% of the taxes collected were distributed to purse support funds, backside improvement funds for race tracks and other industry-related endeavors. The effective tax rate based on revenues deposited in the General Fund is even lower at just 8%.
Given the significant growth that has already occurred, the planned expansions that are currently underway, and current tax rates that are well below industry averages, and which primarily benefit the horse industry, there is significant room to generate additional revenues while still providing strong support for the industry. Taxing these rapidly proliferating casino-style slot machines and investing the revenues in the commonwealth is an opportunity the 2020 Kentucky General Assembly should not miss.
Note: The legality of instant racing machines remains at issue. A lawsuit challenging whether bets made through instant racing machines constitute pari-mutuel wagering, the only form of betting that is legal in Kentucky, other than the lottery, is currently before the Kentucky Supreme Court on appeal from a 2018 ruling of the Franklin Circuit Court which found instant racing bets to be pari-mutuel. The court is expected to hear oral arguments and to rule on the case in early 2020.