Early in 2017, the Department for Health and Human Services (HHS) cut the Healthcare.gov open enrollment period in half, from 14 to 7 weeks. Despite this and other impediments described below holding back enrollment, 9,000 more Kentuckians signed up for health insurance than last year, a 12 percent increase, outpacing all other healthcare.gov states. Across the board, demand for affordable coverage through Healthcare.gov was strong this year, ending at similar levels of enrollment to last year.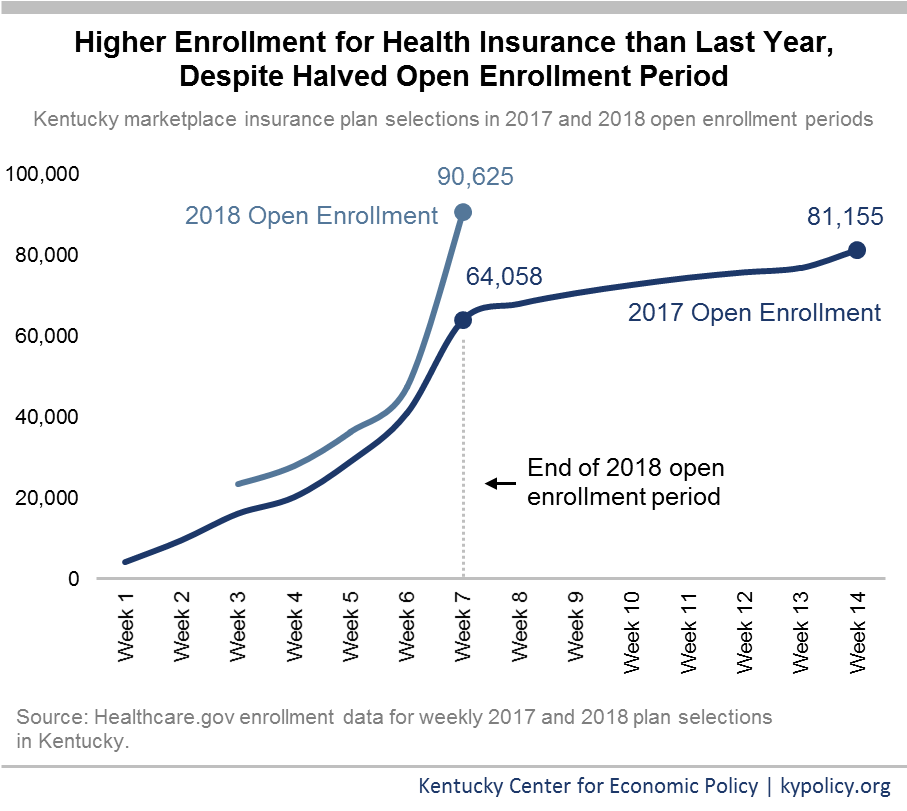 Automatic renewal may have helped enrollment numbers, but ending Kynect was setback
While the federal open enrollment period ended on December 15, states that operate their own exchanges separately from Healthcare.gov have the option to extend their open enrollment periods. In fact, 9 states and Washington, D.C. decided to do so, with open enrollment ending between December 22 and January 31. Kentucky dismantled its state-managed exchange called Kynect in 2016, opting instead for a hybrid exchange that is facilitated through Healthcare.gov. Without the longer enrollment window afforded by a state-run exchange and with the shorter federal enrollment period, Kentuckians had a shorter time frame to get insured through the individual market this year.
Despite these restrictions, enrollment increased for plan year 2018 compared to 2017. In addition to strong demand for coverage, the increase is likely due, in part, to this year's automatic renewals compared to last year's full re-enrollment process. During the 2017 open enrollment period – the first for Kentucky using Healthcare.gov – consumers were not eligible for auto-renewal, which contributed to a large drop in enrollment. This year, Kentuckians either kept their plan or were placed in a similar plan if their old one was no longer available, if they didn't cancel or change their plan on their own. While more detailed data will become available later this year, it is very likely that auto-enrollment heavily contributed to the 43,000 signups in the final week of open enrollment, putting this year's total above last year's – though still below two of the three years when Kentucky used the Kynect.
Federal sabotage likely kept numbers from being even higher
Although more Kentuckians signed up for qualified health plans than last year it is likely even more Kentuckians would have purchased coverage through the marketplace were it not for the ending of Kynect and specific actions at the federal level. In addition to the shorter open enrollment period, the individual market has been hampered in other ways that have made insurance policies unnecessarily more expensive and kept some health insurance customers away from the exchanges altogether.
These steps don't include other hindrances to the individual health insurance market, like several executive orders directing various agencies to ease a variety of insurance restrictions and the confusion caused by the numerous attempts to repeal the ACA over this past year. With the end of the requirement that individuals purchase insurance or else pay a fine, insurance premiums are likely to go up 10 percent next year, further undermining the individual insurance market.
Kentucky has experienced a historic, nation-leading decrease in its uninsured, and that is due in part to our success in getting people covered in the individual market. Because more people have coverage, more are able to get to the doctor, manage chronic conditions and afford their medical bills. The robustness of the marketplace in Kentucky suggests that people continue to need and value the coverage offered through to the ACA. But despite this year's success, the intentional and unintentional degradation of the individual insurance market may put an even greater damper on coverage in the future.