The proposed changes to Kentucky's Medicaid expansion include the elimination of dental coverage from the package of benefits for adults. Reducing access to dental care would likely lead to other, more serious health problems and cost the state more in overall Medicaid spending through greater use of emergency room services.
Dental care makes up a small portion of the overall budget, but is a very efficient preventative medical service that is critical in Kentucky given our poor oral health.
What does Medicaid currently cover?
Medicaid has long covered extensive dental services for children under 21. While eligible adults' coverage is more limited, it includes routine services like exams, fillings, x-rays and extractions. As of late 2015, Medicaid dental visits had risen 31 percent in Kentucky thanks largely to Medicaid expansion. Currently, 29 states offer dental benefits beyond emergency services.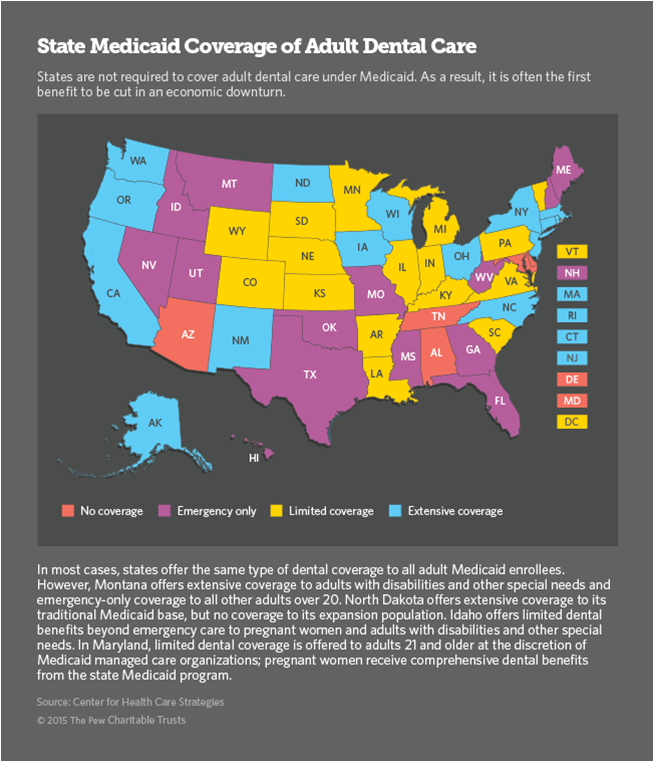 Kentucky's dental health
The American Dental Association recommends that good oral health requires a minimum of one cleaning and check-up per year. The 2013 Kentucky Health Issues Poll found that individuals are much more likely to see a dentist if they are insured, or well off:
48 percent of Kentuckians at or below 138 of the Federal Poverty Level (or those eligible for Medicaid under the expansion) have seen a dentist in the past year versus 81 percent for those at or above 200 percent of the Federal Poverty Level.
Only 43 percent of uninsured Kentuckians saw a dentist during that time, versus 70 percent of those who were insured.
On the whole, 64 percent of Kentuckians went to a dentist in the past year.
According to a Gallup poll in 2014, Kentucky ranked 43rd in the nation for adults who said they had visited a dentist in the past year.
Kentucky's oral health reflects these low levels of dental care. A study by the Center for Health Workforce Studies shows:
Kentucky ranked eighth in 2012 for adults who had a tooth extracted because of tooth decay or gum disease.
Kentucky ranked 5th in 2012 for adults 65 years or older who had 6 or more teeth extracted for the same reasons. While this population is largely covered by Medicare, tooth decay is a long-term preventable condition that would have started much earlier.
Similarly, for Kentuckians aged 65 or older, 23.5 percent had untreated dental cavities, 19.3 had oral pain within the last 3 months and 22.1 percent had trouble chewing food.
Low income Kentuckians are disproportionately affected by bad oral health
A poll conducted by the American Dental Association looked at oral health status, attitudes, and utilization in all 50 states. In Kentucky, nearly every category of health and access were worse for people with low-incomes (at or below 138 percent of the federal poverty level) than for middle or high income Kentuckians:
Low income Kentuckians were more likely to report that life was less satisfying because of a dental condition.
28 percent of low income Kentuckians said the appearance of their mouth and teeth affects their ability to interview for a job, versus 17 percent of middle and high income Kentuckians.
Low income Kentuckians were more likely to have problems like dry mouth, difficulty biting and chewing, pain, avoiding smiling, embarrassment, anxiety, problems sleeping, reduced social participation, difficulty with speech, difficulty doing usual activities and taking days off from work due to oral conditions.
Low income Kentuckians were more likely to go without visiting a dentist over the course of a year because of cost, or because the dentist is in an inconvenient location.
Oral health has an impact on overall health
Although poor dental health can be debilitating on its own, there are several ways in which oral health has an impact on overall well being. Problems with oral health have been linked to diabetes, stroke, adverse pregnancy outcomes and cardiovascular disease. Dental cavities left untreated often lead to secondary infections that can become life-threatening. Routine oral exams can also lead to early detection of other diseases that display symptoms in the mouth, enabling less costly diagnosis and treatment.
Trips to the emergency room (ER) for dental-related conditions (which are covered by Medicaid) are expensive and often preventable through routine trips to the dentist. Dental-related ER care is at least 3 times as expensive as a dental visit – $749 for non-hospitalized care. Nationally, these kinds of visits are becoming more frequent. States that report ER visits show large numbers of patients who receive costly care for conditions that could have been prevented in a dentist's office. Medicaid is the primary payer for 35 percent of all dental-related ER visits, which amounted to $540 million in 2012, but it only makes up 28.1 of non-dental-related ER visits. According to Pew, when California ended its dental care for 3.5 million low-income adults in 2009, ER use for dental pain increased 68 percent; in 2014 adult dental benefits to eligible Californians were restored.
ER visits do not typically treat the underlying dental disease, so issues like infection can reoccur, leading to costlier emergency room visits.
The only subset of the population that saw a national decline in dental-related ER usage was young adults aged 19-25. A provision of the Affordable Care Act allows young adults up to 26 to remain on their parents' insurance policy, which one study found resulted in an increase in young adults going to the dentist. The authors cite the removal of cost barriers as a reason for the uptick in dental visits. The 2013 Kentucky Health Issues Poll showed this trend is true for Kentucky as well, with young adults aged 18-24 being the adult age bracket most likely to have visited a dentist in the last year (69.3 percent).
Dental care costs are a small portion of Medicaid spending
Dental care is relatively inexpensive as a Medicaid benefit. Given current Medicaid spending per patient, utilization rates and reimbursement rates in states that offer dental benefits, the Health Policy Institute estimated that it would cost an extra 0.7 percent to 1.9 percent for the other states to begin offering that benefit. In 2014, the 29 states that offered some dental benefit through Medicaid collectively spent $10.1 of $327.5 billion on dental care. This means only three percent of Medicaid expenditures were spent on dental care.
Kentucky's utilization and reimbursement rates are generally lower than the national average for dental care, but if it followed the national trend, Kentucky spent just over $54 million out of the $1.5 billion in General Fund dollars on dental care through Medicaid in 2014.
In fact, Kentucky already skimps on payments to dental providers to keep costs down. Medicaid reimbursement rates paid to providers are set at the state level, and dental care reimbursement rates in Kentucky are just over 40 percent of what private insurers pay. This low payment contributes to the fact that only 24 percent of dentists accept Medicaid patients in Kentucky. Nationally, 77 percent of Federally Qualified Health Centers (FQHCs) – medical safety net clinics – provided dental care in 2013, but only 52 percent of FQHCs in Kentucky offered any such services, most of which are concentrated in southern and eastern Kentucky. Dentists are already thin across the state – 51.9 per 100,000 people, as opposed to the national average of 59.2.
Kentucky is healthier with dental care
Cutting dental benefits will lead to a less healthy population, costing Kentucky more in the long term. Conditions easily prevented by regular cleanings and screenings often lead to costly trips to the emergency department and debilitating pain. Kentucky already ranks low nationally on its oral health, and many low-income Kentuckians have difficulty getting to a dentist because so many don't accept Medicaid. Dental care should not be seen as an extra bonus but as an essential element of overall health.