New Census data released yesterday showed Kentucky led the nation in its drop in the share of people who are uninsured.  More detailed Census data released today shows it's in Appalachian Kentucky where the biggest gains were seen.
The state as a whole saw its uninsured rate fall from 14.3 percent in 2013 to 8.5 percent in 2014, a gain of 5.8 percentage points. Among congressional districts, the biggest drop was in eastern Kentucky's 5th district, where the rate fell 8.7 percentage points — from 17.1 percent in 2013 to 8.4 percent in 2014.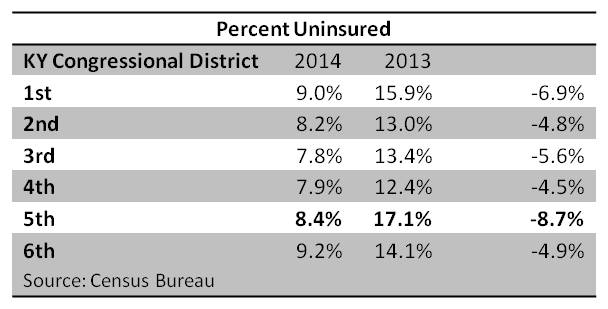 This good news for Appalachian Kentucky is dampened, however, by the bad news that the poverty rate rose in eastern Kentucky last year even while there was no statistically significant change in every other congressional district. The poverty rate in the Fifth District rose from 26.7 percent in 2013 to 29.2 percent in 2014. Child poverty rose from 34.3 percent to 39.8 percent. The region's economic transition away from coal is undoubtedly a major factor in this rise.
The Medicaid expansion and the creation of the Kynect have hugely benefited the poorest region of the state in terms of access to insurance and the opportunity to improve its health status. Now we must build on that success with stronger efforts to create jobs and raise incomes in the region, including through efforts like the Power+ Plan that can put people to work immediately in jobs that improve land and quality of life.