The period to give input to the Cabinet for Health and Human Services (HHS) on Governor Bevin's proposed changes to Medicaid ended last Saturday with a total of 1,749 responses. The responses were overwhelmingly in opposition to the changes the governor proposed and in support of the program as it currently exists, as shown in the graph below: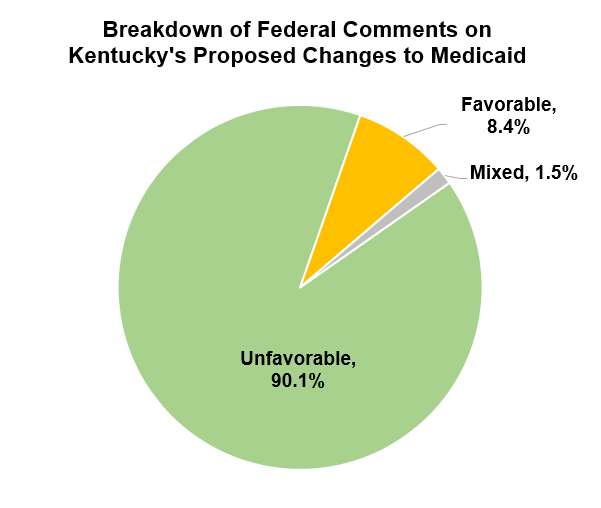 Source: KCEP Analysis 1 of Comments made to HHS on Kentucky's 1115 Waiver Request (https://public.medicaid.gov/connect.ti/public.comments/questionnaireResults?qid=1888067)
After removing identical responses submitted from the same commenter, responses that weren't related to the waiver request and responses that were left blank, there were a total of 1,643 individual comments. Of those:
1,483 were unfavorable, or 90.1 percent
135 were favorable, or 8.4 percent
25 were mixed, or 1.5 percent
To put the number of comments on Kentucky's proposed waiver in context, the last two waivers HHS responded to were Ohio and Arizona, which had 103 and 97 federal comments respectively.
A large portion of the "unfavorable" comments were personal stories from people who received treatment because of the Medicaid expansion or had a friend or loved one whom they felt was better off because of their Medicaid coverage. Other "unfavorable" responses took issue with specific aspects of the waiver request such as premiums, work requirements, the lock-out period and added administrative complexity and cost (including our own submitted comments here). Kentucky's status as a leader in Medicaid expansion was reflected in the number of national organizations who submitted detailed comments in opposition, including:
The American Diabetes Association
The American Lung Association
The Center on Budget and Policy Priorities
Enroll America
Families USA
The Georgetown University Center for Children and Families
March of Dimes
The National Alliance on Mental Illness
The National Employment Law Project
The National Health Law Program
The National Women's Law Center
Service Employees International Union
The "favorable" comments focused mainly on the cost-sharing elements of the waiver. The relatively small number of individuals who urged that HHS accept the waiver expressed support for things like premiums, co-pays and employer sponsored insurance premium assistance. Only three organizations wrote in support of the waiver. The 25 "mixed" responses varied widely in what they supported and cautioned against.
The 9:1 ratio of unfavorable to favorable responses is well founded. The waiver would not likely save the money it claims, would cover fewer people, and would roll back the historic healthcare gains we've made as a Commonwealth. As negotiations begin between officials from Kentucky and Washington, the outpouring of concern should be a key factor to consider.
Methodology: All comments that testified to the positive impact of the current Medicaid Expansion as is, expressed concerns over the proposed changes, and/or asked HHS to reject the waiver were categorized as "Unfavorable;" All comments that expressed support for the changes and/or asked HHS to accept the waiver were categorized as "Favorable;" All comments that expressed concerns over some elements of the waiver and support for others were considered "Mixed." Any responses that were identical and submitted from the same commenter, left blank, or were not in reference to Medicaid and the proposed changes were omitted from the analysis. ↩