Recently released population estimates from the Census document how much Kentucky has continued to urbanize over the last eight years. Rural eastern and western counties' populations have dropped while the "golden triangle" and south-central Kentucky counties grew.
Overall, between July 2010 and July 2018 (the month these estimates use), Kentucky grew by an estimated 120,200 people or 2.8 percent, and only 0.3 percent since July 2017. But nearly all of that growth was concentrated in urban areas.
By percent, the counties (all rural) that saw the largest loss of population between 2010 and 2018 were:
Martin (-12.3 percent)
Letcher (-10.7 percent)
Pike (-10.3 percent)
Floyd (-10.2 percent)
Fulton (-10.1 percent)
The counties (all urban) that saw the largest percent growth were:
Scott (+18.5 percent)
Warren (+14.8 percent)
Shelby (+14.8 percent)
Jessamine (+10.8 percent)
Madison (+10.7 percent)
Overall, the growth in urban counties was 132,690, or 5.3 percent, while the population dropped 12,472, or -0.7 percent, in rural counties between 2010 and 2018. The national trend of urbanization is longstanding, but the hastening decline of coal and certain types of manufacturing jobs in Kentucky have led to a stagnant rural job market, especially since the Great Recession.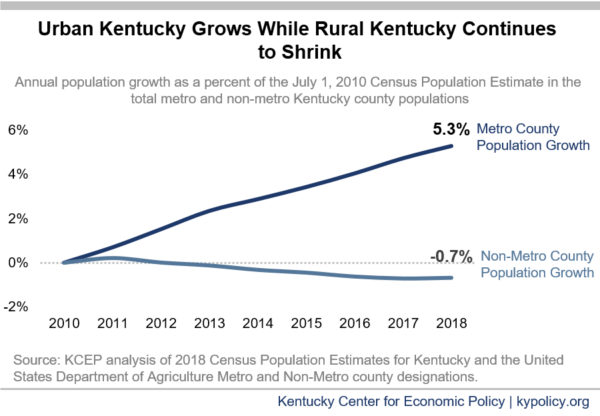 The economic challenges facing rural Kentucky further highlight the importance of public investment, as half of the top 10 industries in rural counties are either in the public sector (like schools, universities or public safety) or are deeply connected to the public sector (like hospitals and other health services). People tend to move where there are jobs, and if Kentucky continues to shrink the public sector, it will exacerbate migration from, and increase hardship in, our rural counties.