Kentucky saw improved health insurance coverage, and no change in income or poverty measures, despite the pandemic.
For Immediate Release: Sept. 15, 2022
Media Contact: Dustin Pugel, Policy Director, Kentucky Center for Economic Policy, dustin@kypolicy.org, 859-230-0098
The Census Bureau released annual data today for Kentucky showing improvements in health insurance coverage for Kentuckians in 2021 and no statistically significant change in the median household income or the rate of Kentuckians in poverty compared to before the pandemic. The data confirms the critical economic importance of federal pandemic relief — including the increased child tax credit (CTC), expanded unemployment benefits, stimulus checks and more — in preventing a severe drop in overall economic well-being despite job loss due to COVID-19.
This release of the American Community Survey (ACS) 1-year estimates for 2021 is the first in two years, highlighting for the first time how Kentuckians' economic well-being fared during the pandemic compared to 2019 before it hit.
Critical federal and state actions kept Kentuckians covered and prevented household incomes from falling behind, but those sources of aid are drying up. Pandemic-era protections for health coverage and financial security have already expired or will expire soon, pointing to the need for permanent policy improvements modeled off of those that worked so well in 2021.
"The last two years have been a case study for how powerfully targeted aid helps to keep people from economic ruin," said Dustin Pugel, policy director at the Kentucky Center for Economic Policy. "The economic benefits of boosted unemployment insurance, stimulus checks, Medicaid continuous enrollment protections, increased ACA marketplace subsidies and other pandemic relief measures all worked together to give Kentuckians an unprecedented level of support during an extremely precarious time."
At $55,573, median household income did not change by a statistically significant amount between 2021 compared to 2019 (when it was an inflation-adjusted $55,420). Kentucky's incomes overall remain low, with the median below what experts consider to be a simple yet secure budget for families. Median household income for Black Kentuckians was $39,247 compared to $58,040 for white Kentuckians (neither of which had grown a statistically significant amount since 2019). However, the ACS income data does not directly count non-cash aid programs such as the boosted CTC, stimulus checks, or increased SNAP benefits (except to the extent their spending boosts the overall economy), meaning Kentucky households were financially better off in 2021 than the ACS data would suggest.
Although the median income for households was unchanged, the median earnings for workers did see a modest but statistically significant improvement, rising from $34,113 in 2019 to $34,928 in 2021. This is in line with other data sources showing that a tight labor market has helped to push wages higher for workers over the past two years.
The share of Kentuckians who were uninsured decreased from 6.4% in 2019 to 5.7% in 2021. After dramatic health coverage gains thanks to the Affordable Care Act (ACA), the state had been moving backward due to a variety of state and federal policy actions that created barriers to coverage. But beginning in 2020, a combination of quick action taken by the state to provide a special, temporary form of Medicaid known as presumptive eligibility, and the federal moratorium on disenrolling those on the regular Medicaid program, meant Medicaid covered 18.4% more people by the end of 2021 than it did in February 2020. These Medicaid provisions and additional coverage opportunities through the ACA marketplace enacted through the American Rescue Plan Act kept many Kentuckians from falling through the cracks after significant job loss meant many had lost their health insurance, too.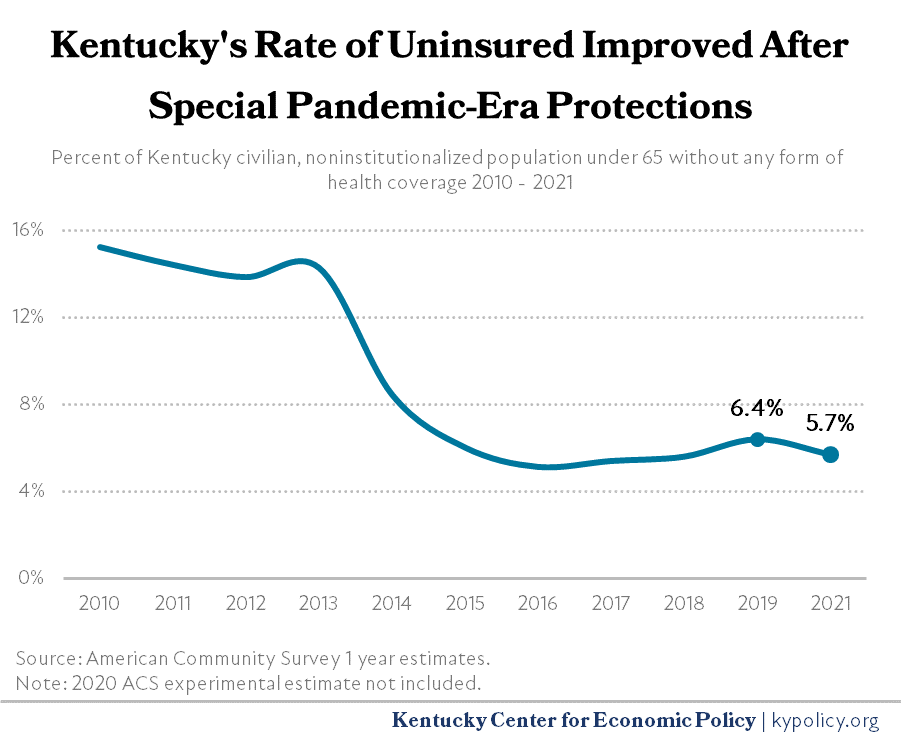 According to data from the ACS for Kentucky, the state's poverty rate of 16.5% in 2021 wasn't a statistically significant difference from 16.3% in 2019. The state's poverty rate continues to be among the highest in the country, and the poverty rate was 22.1% for children and 24.1% for Black Kentuckians (compared to 15.4% for white Kentuckians). When looking at specific parts of the state, only the 4th Congressional District (northern Kentucky) and the 6th Congressional District (central Kentucky) saw statistically significant improvements in their poverty rates, dropping 1.2 and 2.6 percentage points respectively. The 5th Congressional District (eastern Kentucky) remains the region with the highest poverty rate at 27.9% of the population.
The ACS measures the official poverty measure, which does not take into account the direct impact of non-cash forms of assistance (though it does account for indirect impacts on the economy as the aid is spent), unlike the Supplemental Poverty Measure (SPM) released for the U.S. earlier this week. The SPM showed a deep reduction in child poverty nationally from 2020 to 2021, especially among Black and Hispanic children, thanks to the boosted, monthly CTC.
While the jobs recovery is rapid and wages are rising, not all sectors, counties, races and sexes have benefited equally. Long-standing inequities baked into our economy continue to present barriers for women, Black Kentuckians and rural residents. Each faces a different set of barriers, but all benefit from robust supports such as a healthy unemployment insurance system, monthly child tax credits and improved health coverage. Yet all of those critical supports have been cut back, expired, or are set to end in the near future.
"Getting back to normal isn't good enough because normal was never adequate for raising a family or avoiding catastrophe after a lost job or a trip to the doctor," said Pugel. "We should learn the lessons of the past two years and provide a permanent and significant set of supports for Kentucky workers and their families like the monthly child tax credit, better health coverage options, and by rolling back the devastating cuts to unemployment insurance in House Bill 4."