The American Health Care Act (AHCA) makes massive cuts to Medicaid, which currently covers 537,736 Kentucky children – 42 percent of kids in the commonwealth when combined with the Kentucky Children's Health Insurance Program. Medicaid is a vital source of health care for children that provides both immediate care and long-term benefits.
Medicaid Works for Kentucky's Kids
Medicaid has always been used as a tool for providing care to kids from low-income families. In Kentucky, a kid's family income level and his or her age determines whether he or she can get coverage:
Ages 0-1: 200 percent of the federal poverty level (FPL) or $49,200 for a family of 4.
Ages 1-5: 142 percent of FPL or $34,932 for a family of 4.
Ages 6-18: 138 percent of FPL or 32,718 for a family of 4.
The eligibility threshold for adults is 138 percent of FPL, so the more generous threshold for young children means more kids can get health care early in life. In fact, in Kentucky Medicaid pays for:
46 percent of births.
Coverage for 48 percent of infants, toddlers & pre-school aged children.
Coverage for 56 percent of children with physical, intellectual and developmental disabilities
Coverage for 81 percent of children living at or near the poverty line.
Thanks to Medicaid and the Kentucky Children's Health Insurance Program (KCHIP), which commonly supplements Medicaid and employer coverage but also can stand alone as coverage for children up to 218 percent of FPL, the percent of uninsured children is lower than the rest of the population – 4 percent versus 6 percent respectively. The uninsured rate for children in Kentucky is now lower than it has ever been.
This high rate of coverage means that kids are getting care, which is especially important at a young age when conditions that could worsen down the road can be caught early and treated more easily. Medicaid coverage for kids includes a suite of benefits known as Early and Periodic Screening, Diagnostic and Treatment (EPSDT) enacted in 1967 that consists of developmentally-appropriate care. Through EPSDT, physical, mental, social and emotional assessments are regularly provided as well as necessary treatments for the conditions those assessments may reveal. These services are critical for kids from low-income families who often report having poorer health, are at higher risk of having a developmental or behavioral delay and are more likely to develop a chronic condition.
Kids with Medicaid See Benefits into Adulthood
While Medicaid is effective at providing needed care to kids when they need it, research shows the effects are long-lasting. Kids who are covered by Medicaid are more academically successful in school, are healthier as adults and are more financially successful as adults than kids from a comparable background without Medicaid.
These same studies show that the rate of hospitalization for kids covered by Medicaid is lower, leading to lower government spending on health care. Also, because children covered by Medicaid grow to earn more than they would have otherwise, tax revenue and economic activity increase. When people are healthier and more financially secure, not only do individuals and families benefit, but entire communities and economies are better off.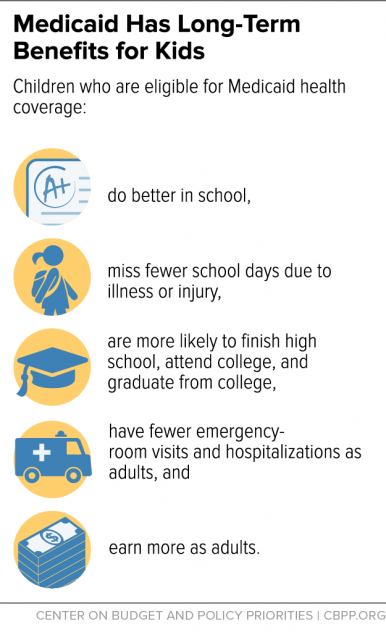 The AHCA Medicaid Cuts will Hurt Kid's Coverage
Kentucky kids are at risk of losing Medicaid coverage and an associated higher quality of life under the AHCA. The Medicaid per-capita-cap and the elimination of the Medicaid expansion would shift $16 billion in cost to Kentucky over ten years. In the tenth year, the per-capita cap would cut traditional Medicaid funding alone by 25 percent, squeezing Kentucky's ability to provide coverage for people and children who need it.
Medicaid cuts will take coverage from kids.
An estimated 3 million children nationwide will lose coverage if the Medicaid cuts and the cuts to subsidies for families who buy insurance on the exchanges are passed. In total, the Urban Institute estimates Kentucky will see 535,400 Medicaid enrollees lose coverage. Some of these would be because the Medicaid expansion is eliminated under the bill, but many would come from the per-capita-cap, which would force state lawmakers to ration care and end coverage for traditional enrollees including, potentially, children. Furthermore, as parents covered by the Medicaid expansion lose coverage, their children could also lose coverage; research has shown that when parents are uninsured, their kids often go without insurance too, even if they qualify.
Another reason why so many children would lose coverage is that the Affordable Care Act (ACA) increased the minimum eligibility threshold for older children (6-18) from 100 percent of FPL to where it is today at 138 percent. Repealing that would affect 38,630 Kentucky kids in that income and age range and are covered by Medicaid, according to 2015 Census data.
In-home health care services for kids with disabilities will be rolled back.
While nursing home care is mandatory under Medicaid, in-home health care is limited and discretionary and administered under what are called Home and Community Based Services (HCBS) Waivers. Kentucky has several of these waivers – and already vast waiting lists for each – which help physically, intellectually and developmentally disabled Kentuckians, many of whom are children, get care and remain in their communities. With less Medicaid funding, optional services like these are likely to be scaled back even further or eliminated. Also, 89 percent of children with special health care needs are 6 years old or older, a group for whom the Medicaid income eligibility threshold will fall from 138 to 100 percent of FPL as already explained. If low-income families in this group also lose waiver access to in-home services as a consequence of Medicaid cuts, they'll be left without care.
EPSDT services could be scaled back.
In addition to this financial squeeze, the AHCA would allow states to make EPSDT optional except for disabled children. In addition to reducing enrollment and cutting provider payments even more, Kentucky lawmakers charged with balancing the state budget will have the ability to slash benefits like EPSDT in order to make up the funding gap. That would save money short-term, but would also harm children immediately and in the long-run would almost certainly result in an increase in the number of Kentuckians with chronic conditions that are debilitating and expensive to treat.
Medicaid funding for Kentucky schools' health programs could be eliminated.
Medicaid pays for $34.5 million worth of health services in Kentucky schools; of that, $20.8 million is from federal dollars. This money pays for supports for children with special needs under the Individuals with Disabilities in Education Act, health-monitoring services provided to Medicaid-eligible children in schools and school-based dental clinics. These are optional services that would likely be on the chopping block if a per-capita-cap is enacted and funding diminishes over time. Without this money, superintendents across the commonwealth would have to make choices about pulling funding from other areas of their budgets or scaling back vital health services.
The Senate is preparing to vote on cuts to Medicaid that are permanent and would grow over time. Also, funding for CHIP will soon be up for reauthorization and President Trump's budget proposes a $5.8 billion cut to the program over ten years. These cuts are a dangerous prospect for Kentucky's most vulnerable who count on Medicaid and KCHIP as their way to get needed care, especially kids. The investment we make in children's health has very real returns for them and our communities as a whole; to pass the AHCA would be to divest in our children's immediate health and future potential.