For Immediate Release:
New U.S. Census data shows many thousands of Kentucky workers are at-risk of losing health coverage if changes to Kentucky's Medicaid expansion occur, as detailed in a new brief by the Kentucky Center for Economic Policy.
Low-wage workers in a wide array of industries, including restaurants, construction, temp agencies and retail stores have gained health coverage due to Kentucky's decision to expand Medicaid to 138 percent of the federal poverty line. The Census data shows 73,800 more low-wage workers who were eligible for Medicaid expansion were covered in 2014 than the prior year and workers were the majority of the low-income adults who gained coverage.
Changing from the current model to a waiver-based approach designed to make it harder for low-income people to get and keep coverage will put these workers at risk.
"Contrary to belief, those covered by Medicaid expansion do have 'skin in the game' as many are hard-working Kentuckians who weren't offered coverage or couldn't afford coverage provided by their employer," Kenny Colston, communications director for the Kentucky Center for Economic Policy, said. "Trying to change Kentucky's Medicaid expansion could leave many thousands of hardworking Kentuckians without coverage. We shouldn't try to break a working system."
While most of the adults gaining insurance are working, they are in jobs that do not offer them affordable coverage. The share of Kentucky workers who receive health insurance through their employer has gradually fallen over the decades from 70 percent in 1980-1982 to only 53.7 percent in 2011-2013. Medicaid and access to private insurance with the help of tax credits through Kynect, the state's marketplace, are helping fill the gaps for workers.
Kentucky ranks near the bottom on many health measures, making our decision to expand Medicaid that much more important. Thousands more Kentuckians are getting the preventive care that can keep them healthy and on the job. To see the full research on how expanded Medicaid has helped Kentucky workers, click here.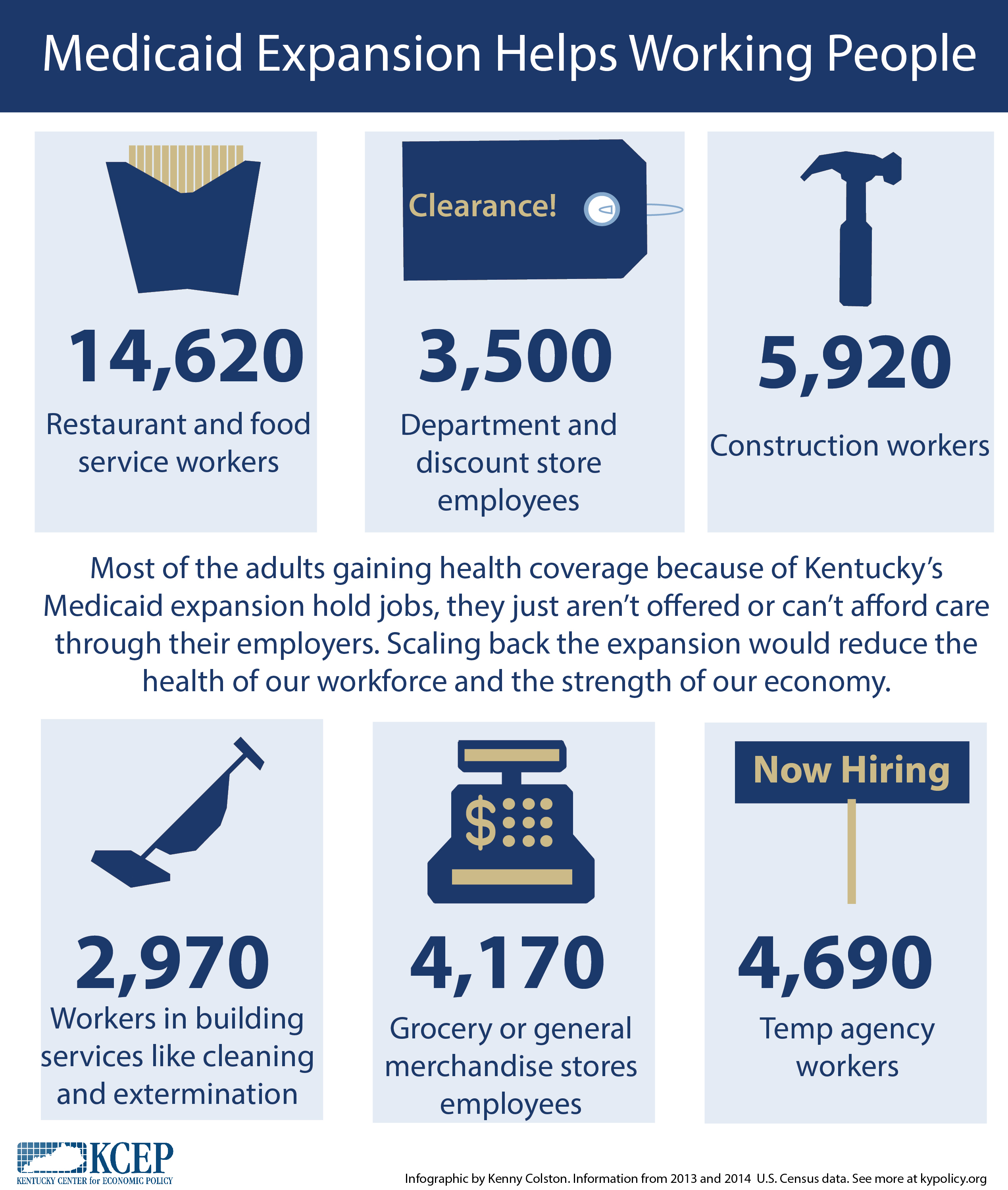 For more information, contact Kenny Colston at kcolston@kypolicy.org