A close look at the employment level of Kentucky's working age population shows more progress is needed to reach full economic recovery, as we recently noted. Another measure, called the underemployment rate, also shows there remain many Kentuckians who want more work than they are able to find.
Three groups of people make up the underemployment rate. The first is those classified as unemployed, meaning they are without a job but have looked for work in the past four weeks. The second group consists of "marginally attached workers," meaning individuals who are not in the labor force but report they want to work, are available for employment and have looked for a job within the last year. And a third group is those who are working part-time for economic reasons, meaning they work less than 35 hours a week but report wanting to work full-time and being available for full-time employment.
In 2016, 9.7 percent of Kentucky's labor force was underemployed, as shown in the graph below. While that number has improved substantially from the depths of the Great Recession, it is still above the 9.3 percent rate of 2007 and significantly above the 6.9 percent rate reached in 2000.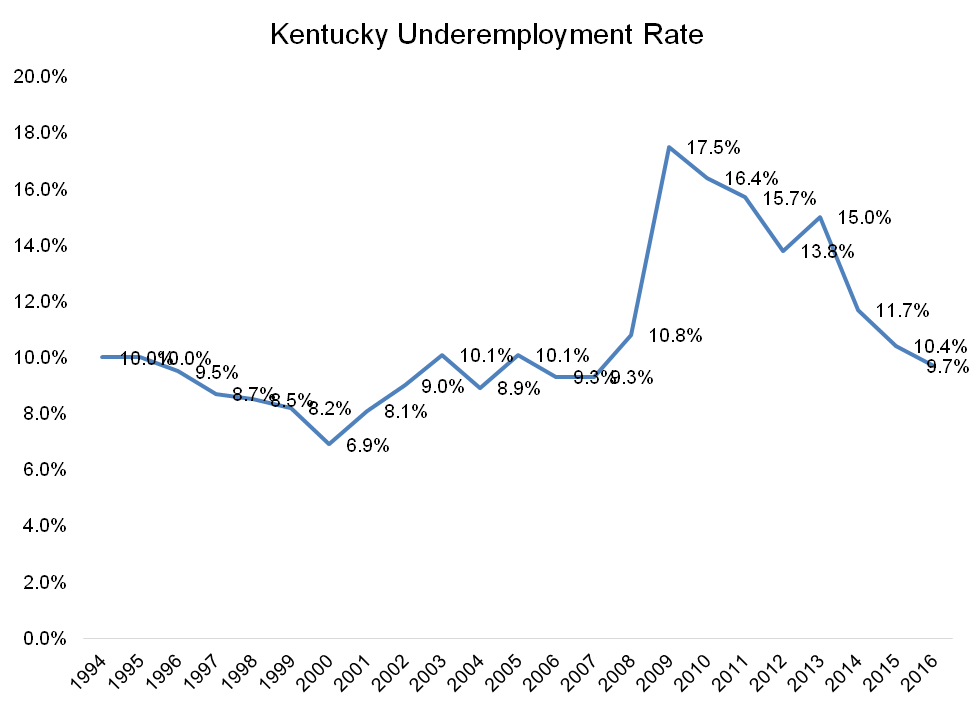 Source: Economic Policy Institute analysis of Current Population Survey data.
A still-high share of part-time workers who would rather be full-time is a piece of the problem. In 2016, 23.1 percent of Kentucky workers were part time, about the same share as the last few decades. But the percentage of part-time workers who report doing so for economic reasons remains elevated at 16.8 percent in 2016, as shown in the graph below (and no, this has nothing to do with the Affordable Care Act). In contrast, that share was only 14.7 percent in 2008 and as low as 9.2 percent in 2000.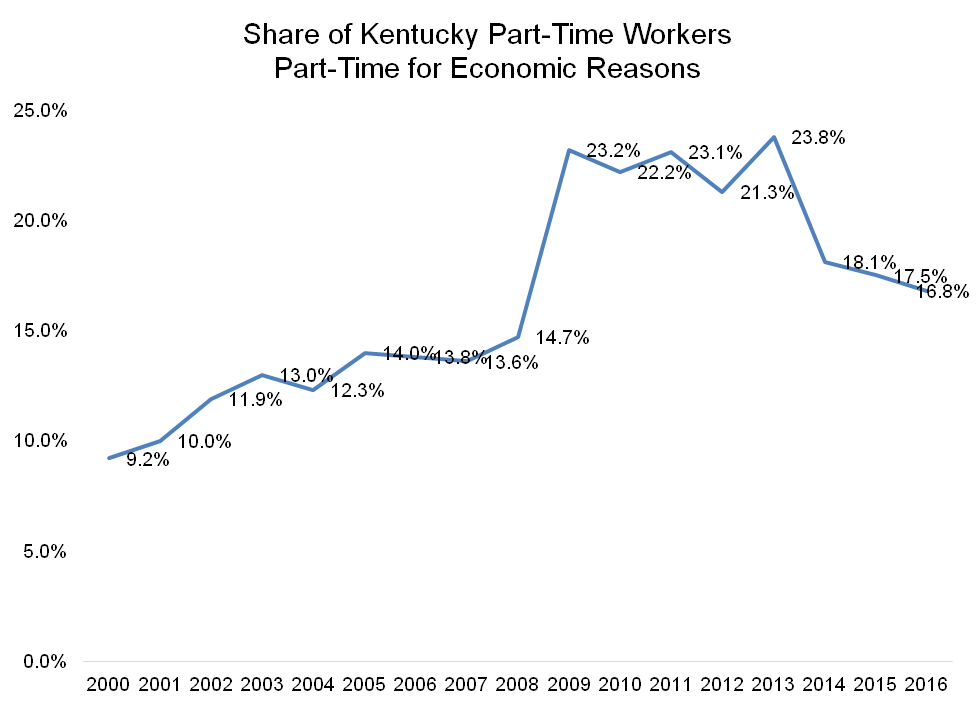 Source: Economic Policy Institute analysis of Current Population Survey data.
These numbers remain elevated because Kentucky still lacks needed jobs, including full-time opportunities. Our situation begs for more policy efforts that spur additional job growth so we can get back to full employment, along with policies that improve job quality and remove barriers that keep people from obtaining work. We also need to guard against policies that, despite false promises, will make things worse or fail to create jobs. We outlined more about what to do, and what not to do, in our previous blog and here.