Manufacturing job losses in recent decades have hurt Kentucky communities. Two recessions and trade policies that have encouraged outsourcing and made American goods more expensive relative to other countries' have led to the loss of these relatively high-quality jobs which once provided a decent standard of living for more Kentuckians. Despite the claims of proponents of "Right-To-Work" (RTW), which was enacted in Kentucky in 2017, employment data suggests the policy hasn't led to a hiring boom in manufacturing.
In the first week of the 2017 General Assembly, the legislature passed RTW as emergency legislation based on the claim that it was needed to grow jobs in Kentucky – particularly manufacturing jobs – despite extensive evidence based on the experience of other states showing that RTW does not grow employment in manufacturing or other industries. Data from the Bureau of Labor Statistics does not suggest Kentucky's experience with RTW has been different.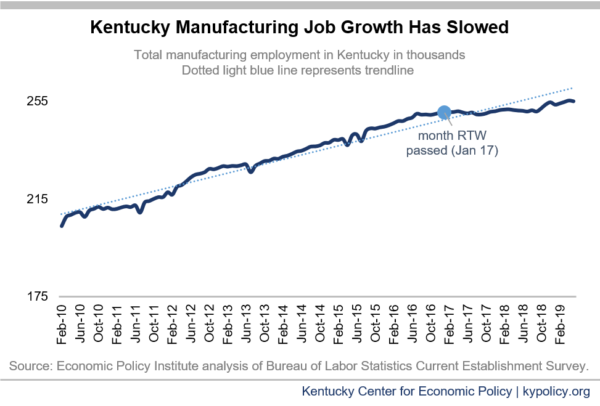 Manufacturing employment growth has slowed in Kentucky since the passage of RTW – with only 1.9% growth in the last 29 months compared to 5.8% in the 29 months before the law was passed. It has also slowed compared to other states. As the graph below shows, in the period before RTW was passed Kentucky was doing better than the East South Central region and the nation as a whole. But in the period since, manufacturing jobs in Kentucky have grown more slowly than in the region and the nation.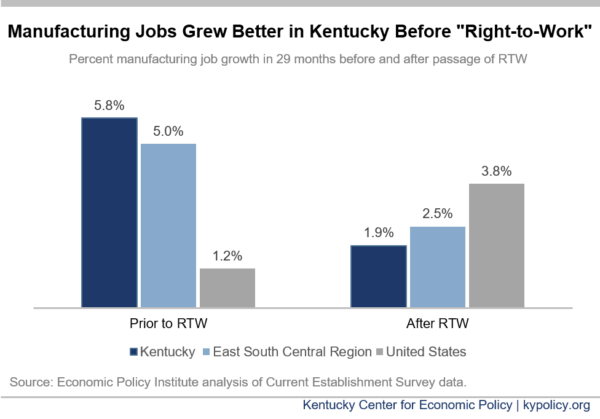 Taken by itself, the short-term descriptive data depicted above isn't sufficient to conclude that RTW has failed to boost manufacturing in Kentucky. But when viewed in the context of a body of econometric literature – research that uses the most careful methods of analysis and finds no evidence that RTW grows jobs or states' economies – it's implausible to conclude that RTW is helping restore manufacturing jobs to Kentuckians.
The research is clear that RTW is successful at one thing: lowering job quality for workers in states that pass it.