There is a lot of focus this week on what can be done to address the student loan debt crisis—with cumulative U. S. student loan debt having reached $1.2 trillion and continuing to grow. On Monday President Obama signed an executive order that will lower student loan payments for up to five million additional students and forgive their loan balances after 20 years of repayment. And the Senate is set to consider a bill to allow graduates with student loan interest rates much higher than those currently available to refinance their student loans.
The President's executive order and the Senate proposal bring needed action on and attention to the challenges of college affordability and student debt, which affect the ability of Kentuckians to earn degrees and save for retirement, homeownership and business start-up after college.
President Obama's executive order, which will go into effect at the end of 2015 at the earliest, expands eligibility for an existing program, "Pay As You Earn," that lowers student loan payments to 10 percent of low-income borrowers' monthly incomes; after 20 years of payments—if the loan isn't paid off before then—the loan balance is forgiven. Up to five million additional borrowers (including those who took out loans before October 2007) will now be eligible to participate. 
Since student loan interest rates are now set at levels slightly higher than the rates on Treasury bonds, recent graduates have gotten low interest rates on their student loans (i.e., currently 3.86 percent for undergraduates) while those who graduated in years past typically have higher interest rates on their loans (i.e., in many cases nearly 7 percent or higher for undergraduates). The bill sponsored by Senator Elizabeth Warren would enable about 25 million of those with higher interest rates—including an estimated 359,000 Kentucky borrowers—to refinance their loans at the current rate. Borrowers with federal or private student loans and high debts relative to their incomes would be eligible. The refinancing would be paid for through the closing of tax loopholes for the wealthiest Americans.
Such legislation would help many Kentuckians who have increasingly turned to loans in order to pay for college as tuition has increased dramatically at the state's public colleges and universities—tripling since 1998—as a result of state budget cuts to higher education. As seen below, the average debt for graduates at four-year colleges and universities grew from $14,250 in 2003-2004 to $22,384 in 2011-2012—a 57 percent increase in just eight years.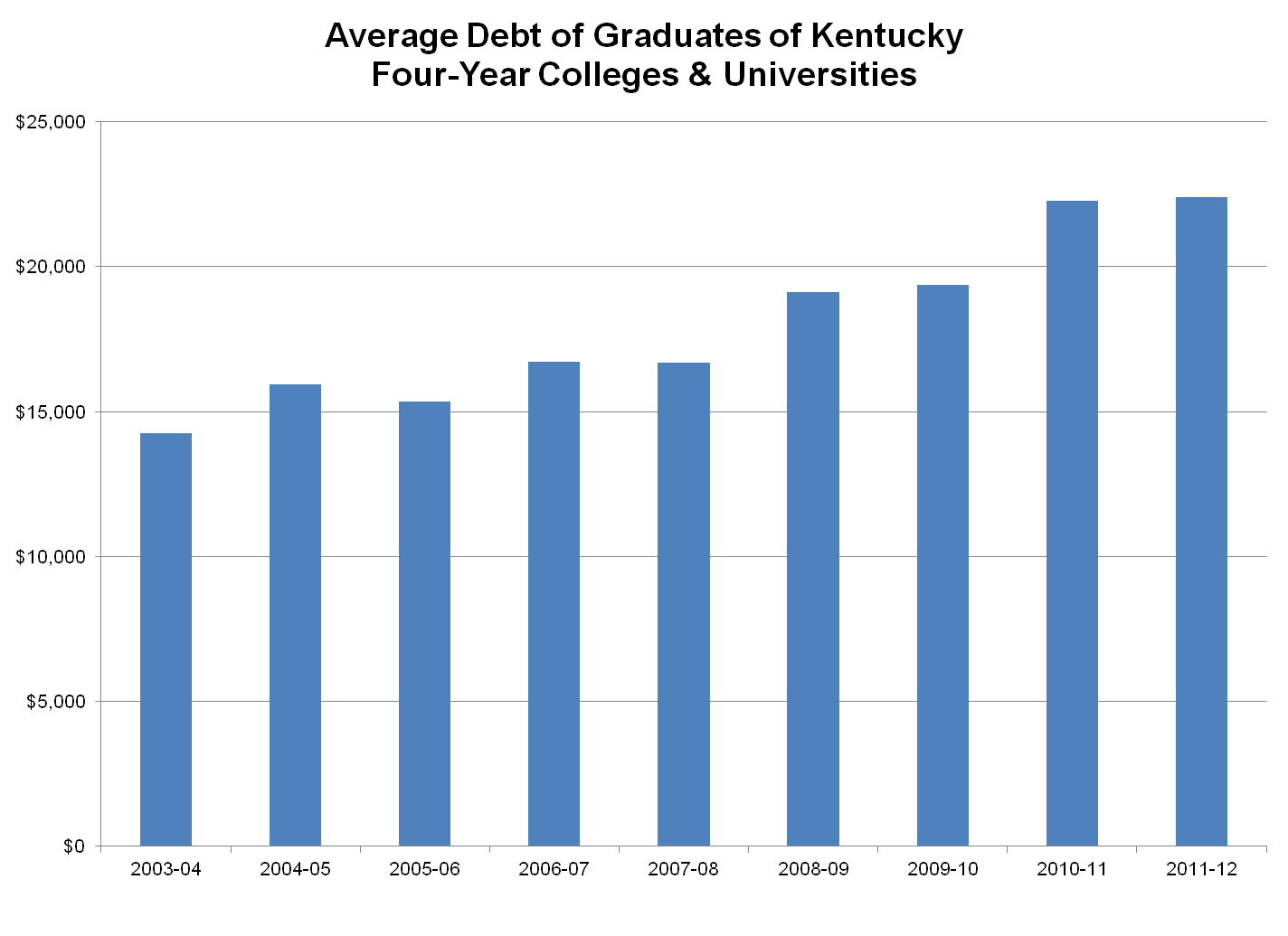 Source: College Insight
In addition to recent tuition hikes, Kentucky students are also driven into debt by the diminishing purchasing power of the Pell Grant and the dearth of state need-based financial aid. In the 1970s, a Pell Grant paid for around 80 percent of tuition, fees and room and board at a public four-year university. Today it pays just a third of those costs, and those who receive Pell grants are actually more than twice as likely to be in debt than those who do not qualify for Pell—and have greater debt. In addition, the state's need-based financial aid is so underfunded that more qualified students are denied scholarships than receive them. In 2012-2013, more than 76,000 qualified students (67 percent) in Kentucky were denied a need-based College Access Program (CAP) grant because of lack of funds.
Actions and legislation like the executive order and the Senate proposal can help make some Kentuckians struggling with large amounts of student debt better able to manage their monthly payments, qualify for mortgages and even pay a smaller total loan amount. However, they are only a step toward solving the nation's (and state's) college affordability problem. For instance, they do not keep students from going into such large amounts of debt in the first place—as a result of high tuition and inadequate need-based financial aid—or keep student loan interest rates from rising (which they are expected to do). Lowering monthly student loan payment amounts, providing debt forgiveness after decades of payments and even lowering student loan interest rates for some students helps ease the pain. But to do more, we need to begin to reinvest in higher education—something the majority of states are at least beginning to do, but Kentucky is not—and make critical investments in need-based financial aid.