Kentucky's economy experienced slight improvement in January, new monthly jobs data shows, but the employment situation remains far weaker than it was before the pandemic hit a year ago. Thankfully, additional federal aid through the newly passed American Rescue Plan includes extended unemployment benefits, stimulus checks, child assistance and other forms of aid to help Kentuckians through the coming months and prepare our economy for recovery.
Jobs up, but unemployment remains widespread
Kentucky's employers added 12,800 jobs in January according to the Bureau of Labor Statistics' monthly survey of businesses. While that uptick is an improvement on sluggish job growth in prior months, it still leaves the commonwealth with 92,400 fewer jobs than in February 2020, before the pandemic hit.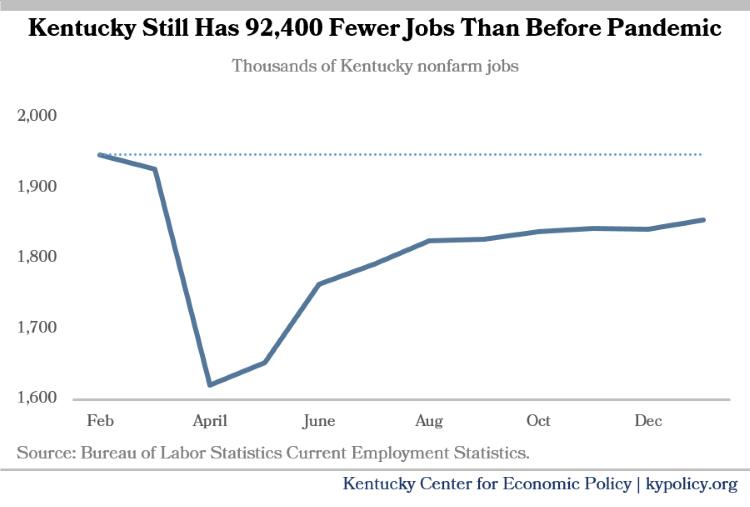 Notably, Kentucky saw a bounce-back in accommodation and food services employment, which added 8,500 jobs in January. Administration and support and waste management added 3,300 jobs (many of which are through temporary agencies), and the finance and insurance industries added 1,100 jobs.
Kentucky lost 800 state government jobs in January and 500 jobs in retail.
Kentucky's actual unemployment remains historically high
In a separate survey of households, 11,460 more Kentuckians reported being employed in January compared to December, with 4,478 fewer people reporting being unemployed. The unemployment rate improved from 5.6% to 5.3%. However, that rate doesn't count the thousands of Kentuckians who have left the labor force through the pandemic due to care responsibilities, illness or a lack of employment opportunities. Federal Reserve Chair Jerome Powell recently stated that the real national unemployment rate is probably closer to 10%. Counting the reduction in labor force since February 2020, Kentucky's real unemployment is approximately 9.6%, as shown below.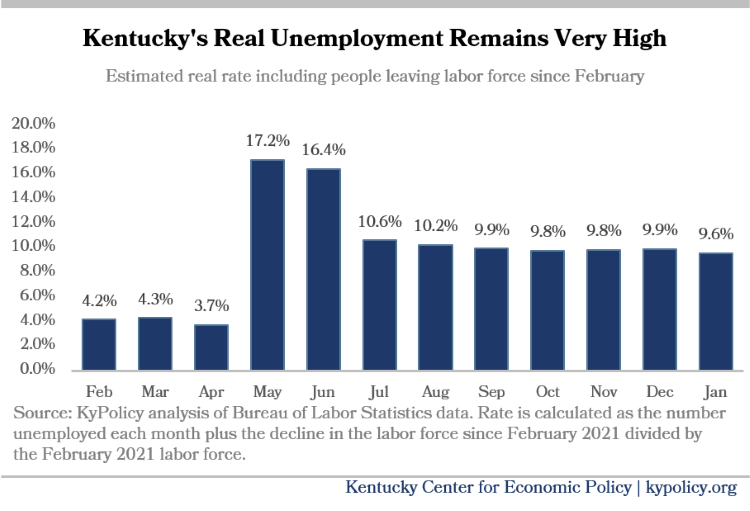 More aid is on the way
Help is coming for Kentuckians who continue to struggle in this crisis. The American Rescue Plan, which passed Congress yesterday and will be signed by President Biden this week, will send billions of dollars to Kentucky through a variety of methods. The legislation will give direct cash assistance and aid to Kentuckians in need and provide support for state and local governments to prevent additional public sector layoffs and allow investment in infrastructure. The ARP will also allow a continued acceleration in vaccinations, which will bring the defeat of the virus closer.
Key specific measures include:
$1,400 checks to every adult and child with incomes up to $75,000 for individuals and $150,000 for couples, or 92% of Kentuckians;
$300 a week in extra unemployment benefits through September 6 and a continuation of other pandemic unemployment programs, helping over 100,000 laid-off Kentuckians get by;
An expanded child allowance of up to $3,600 per kid that will go to 86% of Kentucky's children and their families, and a portion of which for the first time will be delivered monthly;
Food and rental aid for those struggling to pay for basic needs, as well as over $760 million in Kentucky for childcare assistance;
Over $4 billion in aid to Kentucky state and local governments to protect public services and restore budget cuts, allow relief to those harmed by the pandemic, support essential workers, and/or allow water, sewer and broadband infrastructure investments;
Over $2 billion to Kentucky public schools and universities to allow them to operate safely, address learning loss and support students;
Expanded assistance to make purchasing healthcare on the state's healthcare exchange more affordable for at least 78,000 Kentuckians.