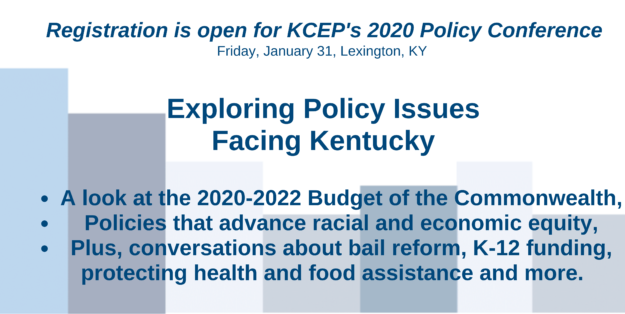 KCEP's 2020 policy conference (registration now open) will feature speakers, panels and conversations about critical issues facing the commonwealth. In addition to a presentation from KCEP about the 2020-2022 Budget of the Commonwealth and a keynote from Jared Bernstein, the four breakout sessions described below will be offered.
Advancing Criminal Justice Reform Through Addressing Cash Bail
Kentuckians presumed innocent should not have their freedom contingent on how much money they have, the color of their skin or where they are arrested. But Kentucky counties widely differ in their use of cash bail, including how high they set it. People incarcerated before they go to trial lose income and employment, are more likely to be found guilty in trial, receive long sentences and plead guilty even when innocent. High rates of pretrial incarceration also contribute to jail overcrowding. This panel explores pretrial practices in Kentucky and the policy changes that are needed.
Moderator:
Rev. Dr. Don Gillett of the Kentucky Council of Churches and Senior Pastor at East Second Street Christian Church (Disciples of Christ)
Panel Guests:
Jasmine Heiss, Campaign Director for In Our Backyards, Vera Institute of Justice
Shameka Parrish-Wright, Site Manager, The Bail Project – Louisville
Ashley Spalding, Senior Policy Analyst, Kentucky Center for Economic Policy
B. Scott West, Deputy Public Advocate, Kentucky Department of Public Advocacy
Tom Wine, Commonwealth Attorney in Jefferson County
Funding Kentucky's K-12 Schools
Kentucky's preschool and K-12 classrooms have experienced a decade of state budget cuts, and we're spending far less on students in poor districts than we are in more affluent communities. This panel will explore the consequences – especially given high poverty in many parts of the state – the need for the 2020 General Assembly to reinvest in schools and the impacts of diverting resources to charter schools and proposed private school tax breaks.
Moderator:
Anna Baumann, Senior Policy Analyst, Kentucky Center for Economic Policy
Panel Guests:
Eric Kennedy, Director of Government Relations, Kentucky School Boards Association
Dr. Julian Vasquez Heilig, Dean of the College of Education, University of Kentucky
Dr. Elaine Weiss, Research Associate, Economic Policy Institute
Protecting the Safety Net
Medical, food and cash assistance are critical to hundreds of thousands of Kentucky families who still struggle to make ends meet. Yet last legislative session there were concerning proposals to weaken these programs, and discussions continue in Frankfort about possible harmful changes. Experts from Kentucky and Washington D.C. will discuss the importance of programs like SNAP, TANF and Medicaid, attempts in other states to restrict who can use them and how Kentucky can protect our safety net moving forward. 
Moderator:
Dustin Pugel, Policy Analyst, Kentucky Center for Economic Policy
Panel Guests:
Ed Bolen, Senior Policy Analyst, Center for Budget and Policy Priorities
Jason Dunn, Policy Analyst, Kentucky Voices for Health
New this year! Budget Deep Dive Q&A
Kentucky's budget is our most important statement of our values, but is a complicated and often overwhelming topic. This year the Kentucky Center for Economic Policy has added an additional budget session to answer all of your burning questions about the budget and where the revenue we generate comes from. Conference participants will be able to text in their budget questions throughout the day and there will be be time to take additional questions during this session.
Moderators:
Anna Baumann, Senior Policy Analyst, Kentucky Center for Economic Policy
Ashley Spalding, Senior Policy Analyst, Kentucky Center for Economic Policy
Pam Thomas, Senior Fellow, Kentucky Center for Economic Policy