Last week, the U.S. Department of Agriculture announced plans to expand free breakfast and lunch to nearly every school in Kentucky through the Community Eligibility Provision (CEP) program. This means an additional 102,054 Kentucky kids in 129 schools are newly eligible to receive meals at school at no additional cost for the 2024 school year, according to the Food Research and Action Center (FRAC). The change brings total free meal eligibility to 625,000 kids in 1,198 Kentucky schools (92.5%).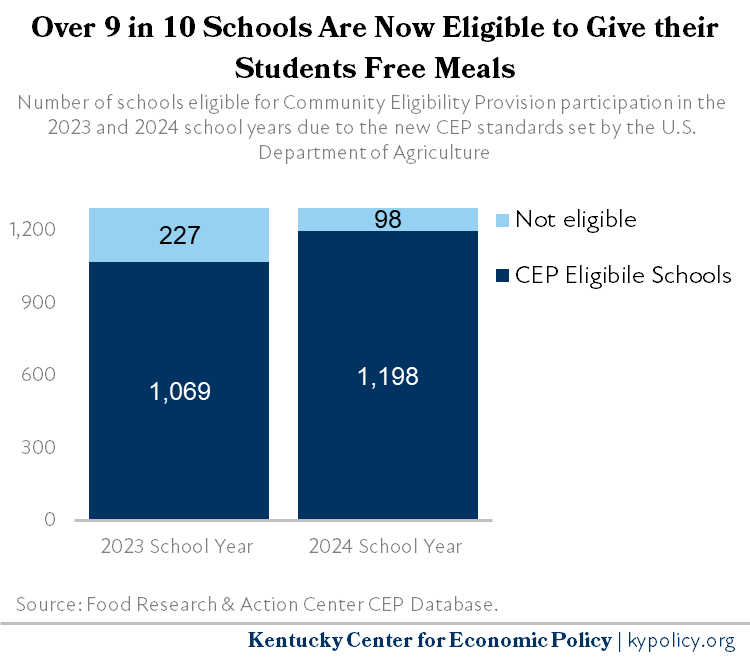 The CEP program  allows schools to serve breakfast and lunch at no cost to all students in areas with a large share of students from low-income families. Schools are determined eligible and reimbursed using a formula based on the percentage of students eligible for free or reduced meals in a school, group of schools or district, known as the Identified Student Percentage (ISP). The ISP is based on their household's participation in other means-tested programs, like the Supplemental Nutrition Assistance Program (SNAP) and Temporary Assistance for Needy Families (TANF),  as well as children who are certified for free meals without an application because they are homeless, runaway, migrant, enrolled in the Head Start program or in foster care. 
The new rule lowers the minimum ISP from 40% to 25% of a school, group of schools or district to participate in community eligibility to reach more high-need schools. That means an additional 129 Kentucky schools now qualify to participate in community eligibility to provide free meals to all 102,000 of their students. The only two districts that do not qualify on the district-level, meaning some but not all individual schools within those districts do qualify, are Oldham and Anchorage Independent.
Healthy school meals at no additional cost to students provides lifelong health and economic benefits to children facing food insecurity. Academically, free school meals have been shown to increase attendance, reduce disciplinary infractions and improve test scores. Additionally, providing free meals at no cost to all students, reduces social stigma associated with paying reduced-price or accruing student meal debt.
Newly eligible schools can work with Kentucky Department of Education to submit the necessary information to the USDA to participate. Though community eligibility reduces paperwork for schools and families because schools no longer have to collect and process individual household applications, it can be hard for our poorest school districts, which already facing funding shortfalls, to participate due to low reimbursement rates. While USDA's final rule does increase school eligibility, it failed to adjust the calculation that determines the percentage of foods schools can reimburse. This means schools, even in very high-need areas, still have to cover the costs not reimbursed by the federal assistance provided.
To reach all of our children facing food insecurity in every school, we should join the eight states that provide meals to all students by requiring schools to opt-out, rather than opt-in, to CEP. We can also make it easier for schools to participate by increasing reimbursements to ensure community eligibility is a financially viable option for all eligible schools. Meanwhile, starting October 26, 2023, the 129 newly eligible schools can choose to participate in community eligibility for the 2024 school year and use this new opportunity to ensure their students experience the health and academic benefits linked to participation.
To see if your Kentucky school is eligible to participate in community eligibility, you can search the FRAC CEP Database.