The criminal justice reform bill that follows recommendations from the state's Criminal Justice Policy Assessment Council, House Bill 396, is scheduled to be heard in committee this week. Supporters of the bill have rightly praised it for helping Kentucky families deal with addiction while not compromising public safety. The bill would also create substantial savings for the state's criminal justice system — some of which would be reinvested in local substance abuse treatment programs.
HB 396 Would Create Substantial State Savings
Among other provisions, HB 396 would reduce criminal penalties (and therefore time spent incarcerated) for low-level offenses such as drug possession and property crime, which often has addiction as the underlying cause. Because it is inefficient and ineffective for Kentucky to invest so much in incarcerating people with addiction problems – many of whom are women – reducing incarceration would produce savings.
Without such reforms, Kentucky's inmate population is projected to grow 19 percent over the next decade, with an associated cost of $600 million. Already the state will completely run out of space in all prisons and jails by May 2019 and is in the process of re-opening private prisons.
If passed in its current form, HB 396 would reduce the prison population by nearly 3,500 inmates from what is projected, averting 78 percent of the projected growth in the next 10 years as shown in the graph below; the resulting cost savings is more than $335 million through 2027.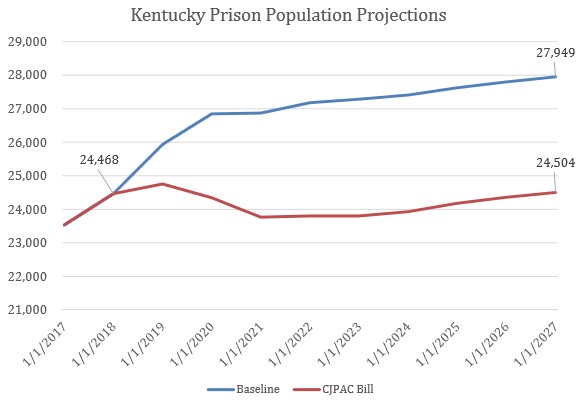 Source: Graph is from a bill summary by the Crime and Justice Institute at Community Resources for Justice.
How the Bill Creates Savings
There are several key aspects of the legislation that accomplish these savings, and changes to these through the legislative process could substantially reduce the bill's effectiveness in stabilizing the inmate population and avoiding associated costs. Here are the four main ways the bill cuts expected costs, in order of budgetary significance:
1) Limiting Sentences for Probation and Parole Violations
The revocation of supervision (i.e., probation and parole) is a major driver of Kentucky's growing inmate population. Kentuckians being incarcerated for violating parole has increased 50 percent in 5 years, with increases occurring for drug and property offenses in particular. In 2016, 61 percent of people entering jail/prison were previously on supervision. Of that population, 96 percent of parole revocations were for technical violations such as failed drug treatment or missing an appointment with a parole officer — and offenders served on average 11 months in custody as a result.
Those serving time for probation revocation for the lowest level (Class D) felony offenses receive longer sentences than those sent straight to jail for the same offenses — nine months longer, for example, in the case of drug possession.
HB 396 would reduce incarceration and the associated costs by limiting the length of time a person on probation or parole can be incarcerated for a technical violation:
For the 1st revocation, up to 30 days.
For the 2nd revocation, up to 90 days.
For the 3rd revocation, up to 180 days.
For the 4th and any subsequent revocation, up to two years.
2) Instituting Administrative Parole
Most people sent to prison are eligible for parole at some point during their sentence, but parole release rates in Kentucky have been dropping since 2013. In 2016, just 41 percent of parole-eligible inmates were released on parole. Parole is especially underutilized for low-level offenders — in part due to the limited time and resources of the parole board.
HB 396 establishes an administrative parole process that allows inmates serving a sentence for a Class C or D offense that is not a violent or sexual offense to be released at their parole eligibility date without a hearing in most cases.
3) Lowering Drug Possession to Misdemeanor
Admissions to jail or prison in Kentucky for low-level Class D felony drug possession charges alone increased 102 percent between 2012 and 2016.
HB 396 would make drug possession a misdemeanor for first and second offenses. Many other states — including Tennessee and South Carolina— already classify simple drug possession as a misdemeanor. This change would mean fewer Kentuckians are incarcerated and for much shorter periods of time.  Collateral consequences for Kentuckians with a felony conviction, such as difficulties with employment and housing, would also be reduced. Similarly, there are more opportunities with misdemeanor drug offenses than felonies for a court to order a defendant to a substance abuse assessment and treatment as a condition of probation.
4) Raising Felony Theft Level
Currently theft in Kentucky is considered to be a felony if it is for more than $500, roughly the cost of a cell phone. Many of these property crimes have drug addiction as an underlying cause.
HB 396 would raise the felony threshold to $2,000, resulting in fewer people incarcerated and for shorter amounts of time as well as fewer Kentuckians with felony convictions.
Other Important Aspects of the Bill
Other critically important aspects of the bill that have less of a fiscal impact are: improvements to pre-trial release that would reduce the number of low-risk individuals in jail awaiting trial due to lack of money; expanded eligibility for home incarceration; changes to the reentry process that reduce financial barriers; and a parole option for long-term geriatric inmates.