More than one out of every three dollars Kentucky spends each year on health care, education, job training, child care, transportation and other critical programs comes from the federal government. These resources are now at risk of being cut deeply in President Trump's forthcoming budget proposal this week, the ACA repeal and other looming Congressional attempts to slash programs Americans rely on.
A new report from the Center on Budget and Policy Priorities shows that 37 percent of total spending by the Commonwealth comes from the federal government, compared to 31 percent nationally, meaning Kentuckians will be especially hard hit by anticipated cuts.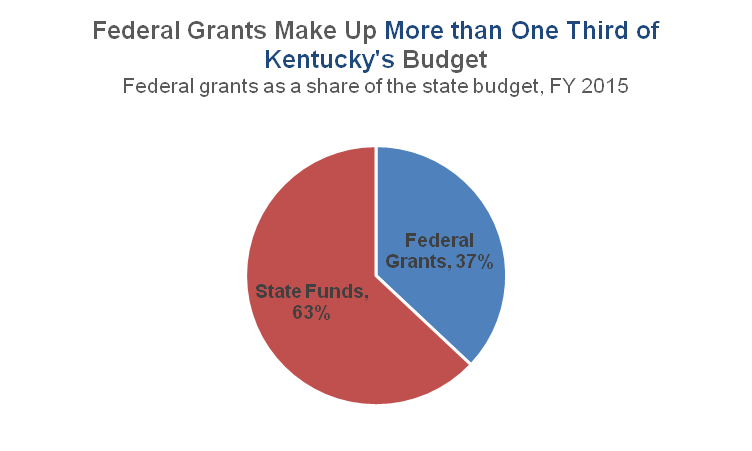 Source: Center on Budget and Policy Priorities.
Federal dollars flow through a variety of programs that benefit Kentucky, some that change as needs change and others that are fixed amounts determined by Congress. Spending on mandatory or "ongoing" programs like school lunch and breakfast, Medicaid and the Children's Health Insurance Program (CHIP) is based on the number of eligible residents in a state, and eligibility is determined by law. Discretionary programs such as Title 1 grants for high-poverty schools, IDEA funds for special education, highway planning and construction grants and supplemental nutrition for women, infants and children (WIC) are funded through annual appropriations processes.
Both mandatory and discretionary grants face threats:
The plan from House Republicans to repeal and replace the Affordable Care Act would cut taxes for the wealthy and shift a large portion of Medicaid costs to states, including by capping payments to a certain per-person amount and freezing expansion enrollment in 2020. Kentucky's General Assembly is unlikely to cover the resulting gap with state dollars, meaning cuts in enrollment, benefits and/or access to care for the kids, seniors, low-income people and Kentuckians with disabilities that receive Medicaid.
Congress may try to use the budget reconciliation process to cut taxes and pay for them by turning other mandatory entitlement programs such as SNAP (food stamps) into block grants. Turning our most successful anti-poverty programs into limited block grants will increase poverty in America, just like block-granting TANF has weakened our safety net.
President Trump's forthcoming budget is expected to include a $54 billion cut to non-defense discretionary spending (and an increase in defense spending by the same amount). These cuts would reduce what Kentucky spends on education, infrastructure, community development and many other core public programs and services.
More cuts will lead to a reduction in services that are already funded at historical lows. Previous cuts under the 2011 Budget Control Act and additional cuts known as sequestration will likely remain in place.
In 2016, despite the influx of federal funds from the Medicaid expansion, total federal funding in Kentucky was still 4.8 percent lower, once inflation is taken into account, than in 2010.
Excluding Medicaid and CHIP, mandatory grants comprised a smaller share of the national economy in 2015 than any year since 1980 – just 0.42 percent of GDP.
At 1.05 percent of GDP, discretionary grants were a smaller share of the national economy in 2015 than in all but one year since 1980.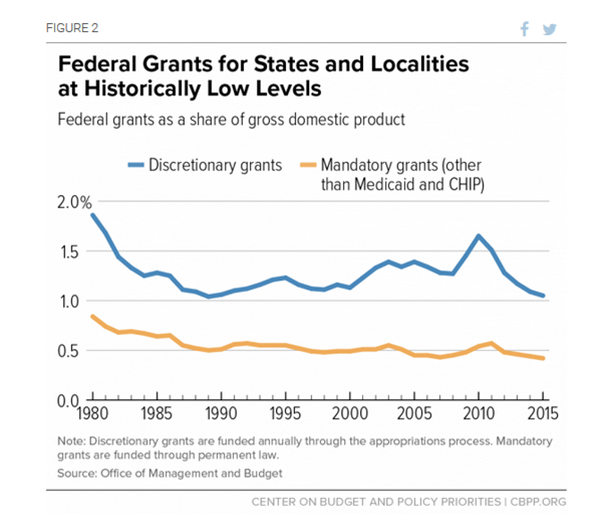 With more than a third of state spending in Kentucky coming from the federal government, Kentuckians have a lot to lose under even deeper reductions in funding. To find out more about the mandatory and discretionary grants that make up 37 percent of Kentucky's budget, go here.