Kentucky's Property Valuation Administrators (PVAs) testified to a House budget review subcommittee yesterday that proposed budget cuts could compromise the state's ability to generate property tax revenue. Such cuts may be counterproductive because by undermining our ability to collect revenue they can worsen budget problems.
Kentucky counts on property taxes to help fund state services, school districts and local governments. In 2014, total real and tangible property tax revenue to the state totaled $2.8 billion. About $1.4 billion of those dollars are generated locally for schools.
Collecting that revenue depends on the capacity of the PVAs to keep assessments of properties up to date. As the recent Lexington Herald-Leader series shows, when PVAs lack resources and vigilance it can mean millions of dollars in lost revenue for schools, infrastructure and other critical investments.
About $43 million of the PVA's $49 million budget comes from the state, with the remainder paid by cities and counties. According to Kentucky PVA's testimony, the PVA's expenses are 99 percent personnel, who are essential to the state's ability to raise property tax revenue. Budget cuts would mean laying off some of these staff.
As seen in the slide below from the PVA's presentation, over the biennium the PVA is expected to raise an additional $35.3 million in state property taxes — $24.9 million of which will require new property assessment/reassessment, which is labor intensive work.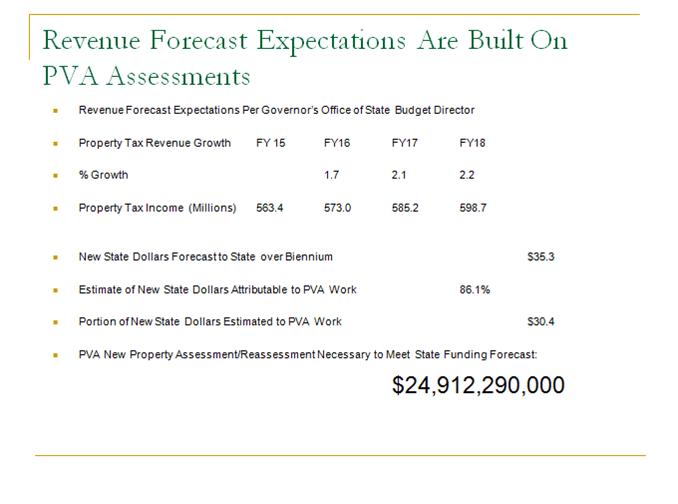 In addition to the cuts in General Fund dollars going to the PVA, the budget proposal redirects half of the agency's restricted funds from their intended purpose — which is for operating expenses in PVA offices — to cover PVA salaries that should be covered by General Fund dollars. The total cuts to the state's PVA must therefore take into account the loss in General Funds dollars as well as the redirected restricted funds. The slides from the PVA's presentation below detail these proposed cuts.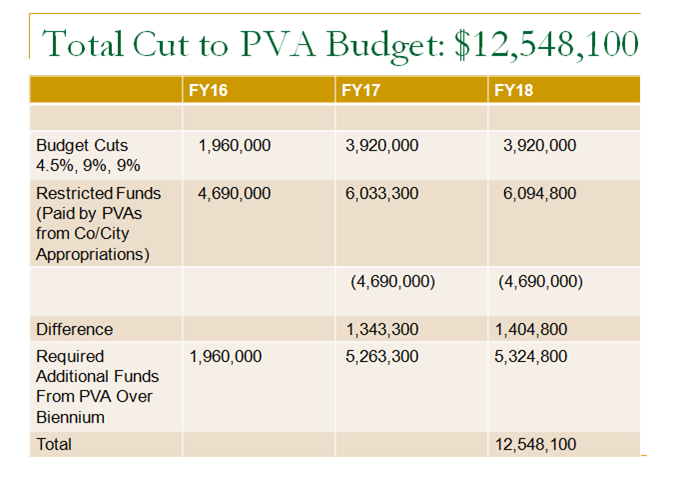 According to the PVA's association's executive director, if the restricted funds weren't swept the agency would be able to keep its existing staff. However, the PVA has already been struggling under previous budget cuts and has lost around 40 employees through attrition over last 5 years. Even if the restricted funds were restored, the PVA would not have funds for new technology or other investments to better help with assessments and other aspects of bringing in property tax revenue.