Kentucky had another month of relatively modest job growth in August, and the state continues to face a massive shortage of jobs while signs in the national economy show more temporary layoffs are becoming permanent.
The Bureau of Labor Statistics' (BLS) monthly survey of businesses shows the state added 30,800 jobs in August (or 1.7% growth), the second month of slower job growth compared to the 111,100 jobs that were added in June. That slowdown means we are still 124,700 jobs behind where we were in February.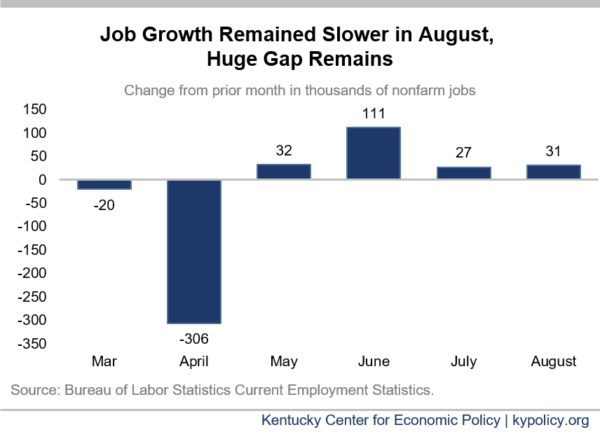 The BLS monthly survey of households suggests an increase in the number of Kentuckians who went back into the labor force to look for work in August compared to July. Since that meant more people were counted as unemployed, it actually increased the state's official unemployment rate from 4.5% in July to 7.6% in August. A more complete, realistic unemployment rate that takes into account those who have left and not returned to the labor force since February improved to a still extremely high 10.8%.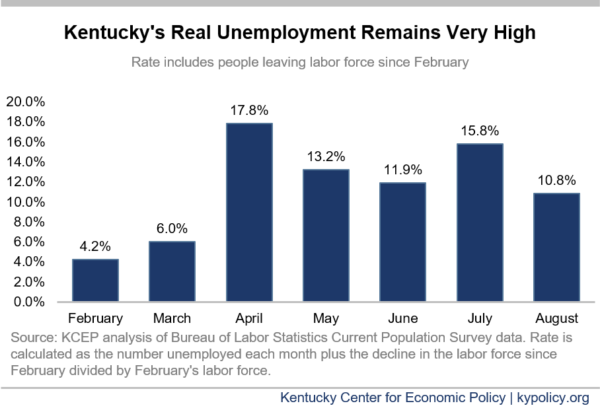 The state continues to receive significant numbers of new unemployment claims — 8,445 the week ending September 12, a number 3-4 times higher than was typical before COVID-19 hit. And as shown in the graph below, the number of continued unemployment claims, at 105,794 the week ending September 5, is still higher than it was at the peak of the Great Recession — at the time, considered the worst downturn of our lifetimes (note: whereas the pandemic hit the labor market immediately, it took time for the financial crisis to impact employment).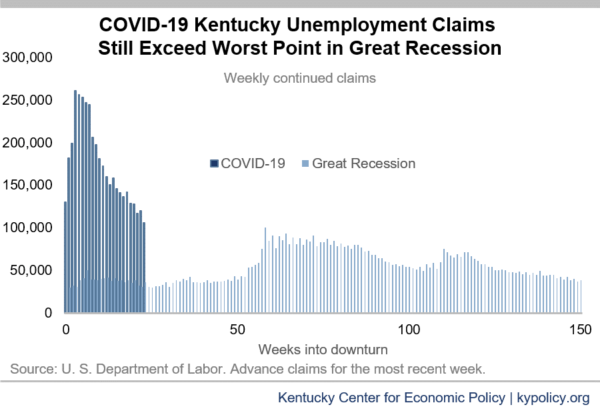 In a period of unprecedented unemployment, federal aid has been critical to helping people stay afloat. An estimated 13 million more Americans would be in poverty without the expanded unemployment benefits of $600 a week and stimulus payments provided under the CARES Act, according to analysis by the Economic Policy Institute.
However, the $600 has now expired, and the extra $400 in supplemental unemployment benefits provided by the Trump and Beshear administrations will run out in just a few weeks. Meanwhile food and housing insecurity are on the rise, revenue losses to state and local governments will spur budget cuts that further drag down the recovery, and a drop in consumer spending due to the end of CARES Act stimulus threatens private sector employment.
It is critical that Congress not adjourn at the end of the month before passing a strong aid package that keeps people and the economy going through the next phase of this crisis.