Kentucky will soon begin its implementation of the Family First Prevention Services Act — or "Family First" — federal legislation that provides funding for state efforts to ensure child welfare while keeping families together whenever safe and possible. Family First offers Kentucky a unique opportunity to more effectively address the state's opioid epidemic and expand existing "2 Generation" approaches that successfully address the needs of both parents and children, including effective treatment for parents' substance use disorders (SUDs).
Too many Kentucky families are separated because of substance use disorder
Kentucky's struggles with SUDs, and the resulting growth in the number of children who have been removed from their parents' homes is well known. There are currently more than 9,500 children in Kentucky's foster care system, as shown in the graph below from the Department for Community Based Services (DCBS). DCBS estimates that approximately 70% of current foster care cases relate to substance use either directly or indirectly.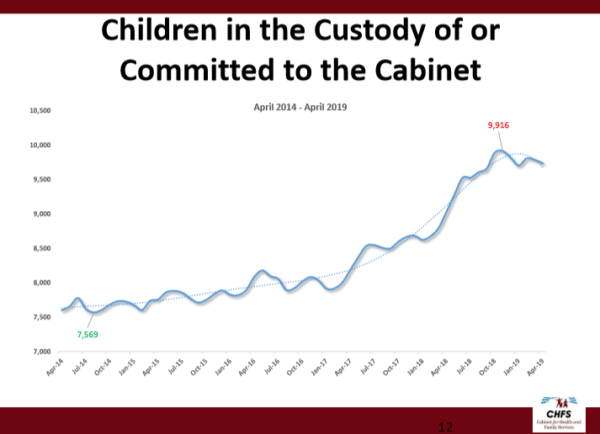 Family First Prevention Services Act supports families staying together
Family First was enacted in February 2018 as part of the Bipartisan Budget Act. It is intended to reduce the number of children being placed into foster care, including by providing funding for proven prevention and family preservation services such as several programs that already exist on a limited basis in Kentucky. In order for the state to receive a 50% reimbursement for qualifying services such as in-home parent skills-based services and SUD and mental health services, at least half of a state's expenditures have to be for evidence-based practices that are rated as "well supported." Families are eligible to receive these services for 12 months.
When it comes to child and family welfare, children's safety and well-being is of paramount concern. Family First emphasizes shifting from the default removal of children from their homes – which can have devastating long-term effects – to evidence-based ways to keep children at home and receiving services at the same time their parents participate in treatment. Family preservation services include SUD treatment and mental and behavioral health services for families and children. These investments can lead to better outcomes for children and families and reduce costs for the state in the long term. The Kentucky Cabinet for Health and Family Services (CHFS) will soon submit its state plan, with implementation expected to begin in October.
Family First shifts federal money away from out-of-home foster care settings, particularly group homes, and places more emphasis on supporting intervention services for children at risk of entering foster care. Approximately 96% of kids from families participating in the state's current Family Preservation Program stay safely in their homes while receiving wraparound services and supports. However, only around a fifth of families that need this program have received the services due to limited income qualification requirements and insufficient funding. In state Fiscal Year 2019, DCBS spent $476 million on out-of-home care costs, compared to just $18 million in preventive services designed to mitigate risk factors, promote child safety and avoid the need for foster care.
Family First is an opportunity to expand Kentucky's Sobriety Treatment and Recovery Team (START) program
One effective "2 Generation" program that could be further expanded through Family First is Kentucky's Sobriety Treatment and Recovery Teams (START), a project of DCBS that started in 2007. START is currently available in seven counties for parents struggling with SUDs who have small children (ages five and under) involved with Child Protective Services (CPS). The program helps parents access SUD treatment and keeps kids in the home when it is possible and safe. A social worker and family mentor work together on each case; the family mentor is someone in long-term addiction recovery. Strategies used by the program include small caseloads, home visits and getting parents into intensive treatment quickly (which has been shown to lead to better outcomes), among other supports.
START has been very successful and is listed on the California Evidence-Based Clearinghouse for Child Welfare, a database of proven practices for children and families involved with the child welfare system. Compared to typical CPS cases, START has roughly twice the sobriety rates and half as many kids in foster care, and for every dollar spent on START the state saves an estimated $2.52 in foster care costs. More than 75 percent of children in START remained with a biological parent or were reunited by the close of the case. The program also exceeds federal standards for preventing repeat abuse or neglect. The program was originally implemented in Jefferson, Kenton, Boyd, Daviess, and Fayette counties, and the state recently expanded START to Boone and Campbell counties with funds through the federal Substance Abuse and Mental Health Services Administration's (SAMHSA) State Opioid Response Grants.
Kentucky Strengthening Ties and Empowering Parents (KSTEP) also needs additional funding
Another important program that will likely be expanded through Family First is Kentucky Strengthening Ties and Empowering Parents (KSTEP), which could make a critical difference in the lives of kids and parents in our state. KSTEP provides services for families with children under age 10 at risk of entering foster care in which a parent has a SUD. KSTEP started in July 2017 in four counties (Carter, Greenup, Mason and Rowan) and has since been expanded to four more (Bath, Fleming, Lewis and Montgomery).  The program is similar to START in that it gets parents into treatment and provides in-home services and supports for families; a key difference is that it does not include family mentors. For those participating in KSTEP, 90% of kids stay safely in their homes at the end of the intervention. DCBS views this program as being a particularly good fit in rural parts of the state.
Dollars needed to maximize benefit from 2 Generation, Family First opportunities
The American Academy of Pediatrics notes that in the long run "Keeping families together improves outcomes and lowers costs." As described above, Kentucky has already implemented on a limited basis some programs that show promise. However, currently four of CHFS's nine state service regions do not have KSTEP or START. And in order for Kentucky to expand these and other effective "2 Generation" interventions through Family First, additional state funds will be needed in the upcoming budget in order to draw down matching federal dollars. These investments will have to be significant given how great the needs are in our state. Yet such targeted investments in children and families could be crucial to addressing the state's crisis of child abuse and neglect, rates of which are now the worst in the country due in large part to the opioid epidemic.