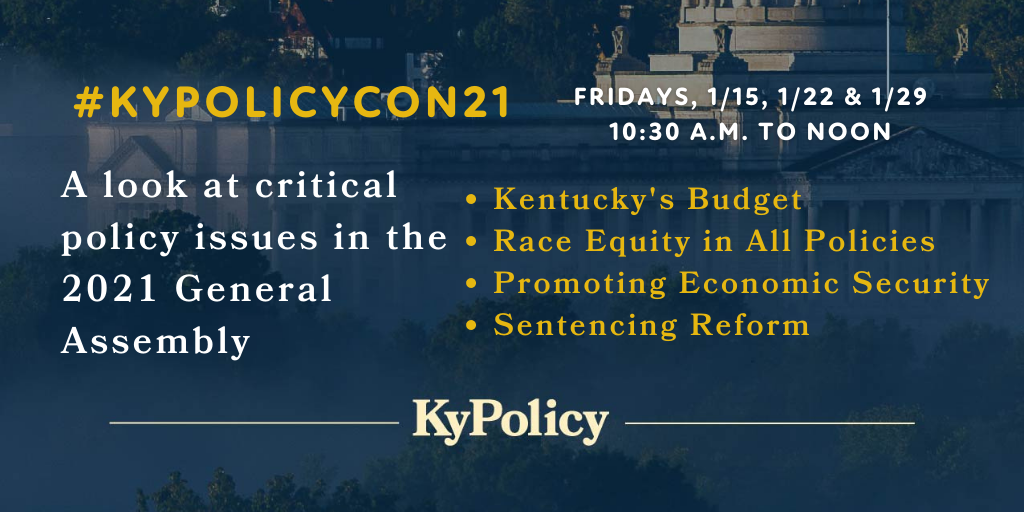 KyPolicy's annual conference is going virtual! Join us for a month-long conversation series where we will wrestle with the most relevant policy issues facing Kentucky in the 2021 General Assembly. Registration is now open.
Social Workers are eligible to receive CPUs for their participation. Please email National Association of Social Workers Kentucky chapter Executive Director, Brenda Rosen after you register for the conference. Brenda Rosen: brosen.naswky@socialworkers.org
---
The Kentucky State Budget in COVID-19
Wednesday, January 13 at 1:00 pm

The budget is the most important state policy tool Kentuckians have to build prosperity and equity in the commonwealth. But Kentucky's budget faces major longstanding challenges that have been made worse by the COVID-19 pandemic and a lack of adequate federal aid. This panel will explore the major budget issues and debates in the 2021 General Assembly and examine what is needed for a budget that helps Kentuckians through the pandemic and beyond.
Panelists:
Jason Bailey, Executive Director, Kentucky Center for Economic Policy
Dr. Ashley Spalding, Research Director, Kentucky Center for Economic Policy
Pam Thomas, Senior Fellow, Kentucky Center for Economic Policy
Race Equity and State Policy: How 2021 General Assembly Issues Affect Kentuckians Differently Based on Race
Friday, January 15, 2021 at 10:30am

Disparate economic, employment and health outcomes for Black, brown and white Kentuckians result from past and current policy choices. Regardless of intent, because current policy choices either worsen existing disparities, perpetuate the unjust status quo, or promote equity, every legislative session and each policy conversation are critical opportunities to advance race equity. This panel session will explore the importance of a race equity lens in conversations in the 2021 Kentucky General Assembly, with guest experts on criminal justice, the safety net and budget and tax policies.

Panelists:
Dr. Cherie Dawson-Edwards, Associate Dean, A&S Diversity, Equity & Inclusion and Associate Professor for the Department of Criminal Justice at the University of Louisville
Pastor Edward Palmer, The Sign of the Dove Church International
Dustin Pugel, Senior Policy Analyst, Kentucky Center for Economic Policy
Erica Williams, Vice President for State Fiscal Policy, Center on Budget and Policy Priorities
Reforming Sentencing Policy in Kentucky
Friday, January 22, 2021 at 10:30am
Changes to Kentucky's sentencing policies are among the many reforms needed to address the state's high rates of incarceration. In recent years, enacted legislation has too often increased criminal penalties and created new crimes rather than making significant needed changes in the other direction. However, momentum is emerging around policies that would make meaningful changes related to sentencing. This panel provides an overview of key issues in sentencing policy nationally and at the state level, including those specific to the 2021 Kentucky General Assembly.
Panelists:
Jasmine Heiss, Program Director, VERA Institute of Justice
Marcus Jackson, Organizing Coordinator, ACLU – Kentucky
Carmen Mitchell, Policy Analyst, Kentucky Center for Economic Policy
Nicole Porter, Director of Advocacy, Sentencing Project
Damon Preston, Public Advocate, Kentucky Department of Public Advocacy

Economic Security in the Age of COVID-19
Friday, January 29 at 10:30am
With historic and devastating levels of job loss stemming from the pandemic, programs that help Kentuckians put food on the table, get to the doctor and pay bills have become more important than ever. Kentucky should prioritize expanding access to safety net programs in the 2021 General Assembly and avoid proposals that cut them or restrict who can get assistance. This panel will discuss how much public assistance helped alleviate hardship in 2020, and how and why we should improve and avoid weakening those programs during the 2021 General Assembly and beyond.
Panelists:
Michele Evermore, Senior Policy Analyst, National Employment Law Project
Dustin Pugel, Senior Policy Analyst, Kentucky Center for Economic Policy
Betsy Davis Stone, Health Law Fellow, Kentucky Equal Justice Center
Session registration is closed.
Visit the KY Policy Facebook Page for access to video.